VA hospitals treat 135 non-veteran coronavirus patients
by
Nikki Wentling
April 14, 2020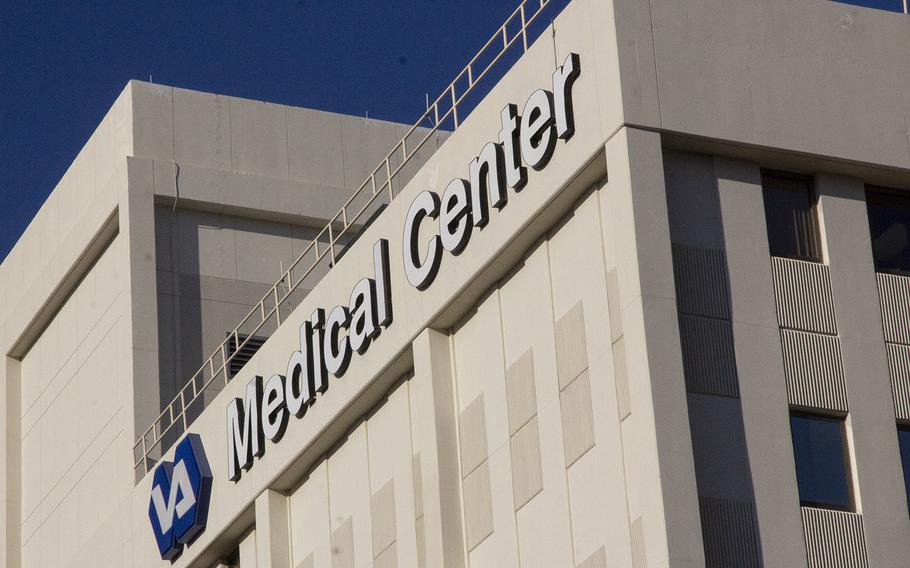 Stars and Stripes is making stories on the coronavirus pandemic available free of charge. See other free reports here. Sign up for our daily coronavirus newsletter here. Please support our journalism with a subscription.
WASHINGTON — The Department of Veterans Affairs is helping 10 states with their coronavirus response efforts by opening bed space for non-veteran patients and sending VA medical staff to private facilities.
As of this week, VA hospitals are treating 135 non-veteran patients in Albuquerque, N.M.; Detroit and Ann Arbor, Mich.; New York and New Jersey, the department said. In addition, 44 non-veteran patients in those states have been treated and discharged from VA care, and six others have died.
Though the department announced Tuesday it was expanding its assistance to non-veterans, the VA has insisted veterans will continue to come first.
Coronavirus deaths among veteran patients grew from 200 on Friday to 257 Tuesday, with the most deaths in Brooklyn and New Orleans. Positive cases of the virus among VA patients nationwide hit 4,261 on Tuesday, about one month after the VA recorded its first two cases on March 12.
Among VA employees, there were 1,530 positive cases Tuesday. Thirteen workers had died from the virus, up from nine Friday.
"VA is committed to helping the nation in this effort to combat COVID-19," VA Secretary Robert Wilkie said in a statement. "Helping veterans is our first mission, but in many locations across the country we're helping states and local communities."
In addition to providing medical care for the more than 9 million veterans, distributing benefits and operating national veterans' cemeteries, the VA has a fourth mission – to provide emergency medical care to all Americans in times of crises. After pleas from lawmakers, the VA started that mission at the end of March when it opened bed space for non-veterans in New York City, which became the epicenter of the pandemic.
As the virus spread, more states submitted requests for the VA's help. The requests go through the Federal Emergency Management Agency. Wilkie said last week that his department would make 1,500 beds available for FEMA's use.
In New York City, the VA was treating 80 non-veteran patients as of Tuesday, and 30 others had been discharged. Five patients died. In New Jersey, the VA was treating 24 non-veterans. Six had been discharged, and one patient died.
Between Ann Arbor and Detroit, the VA was treating 27 non-veterans in Michigan. Four non-veterans were being treated at the Albuquerque VA.
The VA said it had accepted new assignments from FEMA to care for non-veterans in Illinois and Louisiana. The department opened 18 beds at the Overton Brooks VA Medical Center in Shreveport, La., and it opened a total of 35 beds for non-veterans in Chicago, Hines and Marion, Ill.
The VA hospital in Providence, R.I., treated residents of a local nursing home who had contracted the virus. Six of the patients were transferred back to the nursing home, and one patient died.
Nursing homes in Massachusetts have also experienced outbreaks of the virus. A dozen VA medical staff from the Bedford, Mass., VA went to the Hunt Nursing Home in Danvers, Mass., and the Charlwell Nursing Home in Norwood, Mass., to help with response efforts.
The VA also sent a mobile pharmacy and two staff members to suburban Detroit, where the Army Corps of Engineers is establishing a field hospital.
In New Haven, Conn., three VA medical staff were sent on a state assignment to aid the homeless population.
"VA is in this fight not only for the millions of veterans we serve each day; we're in the fight for the people of the United States," Wilkie said in the statement.
The VA agency continues to face backlash about its shortage of personal protective equipment for medical staff. One federal union filed a complaint with the Occupational Safety and Health Administration, criticizing the VA for creating an unsafe working environment.
Though the VA has not shared the job titles of its employees who have died from coronavirus, the department said Tuesday that three of the 13 had jobs in which they directly cared for patients.
The employees worked at VA hospitals in Ann Arbor and Detroit; Indianapolis; Houston; Shreveport; the Bronx; Manhattan; West Palm Beach, Calif.; Denver; and Los Angeles. Three worked in Reno, Nev.
Wentling.nikki@stripes.com Twitter: @nikkiwentling