USS Little Rock departs Montreal after trapped by ice for 3 months
by
Leon Cook
April 3, 2018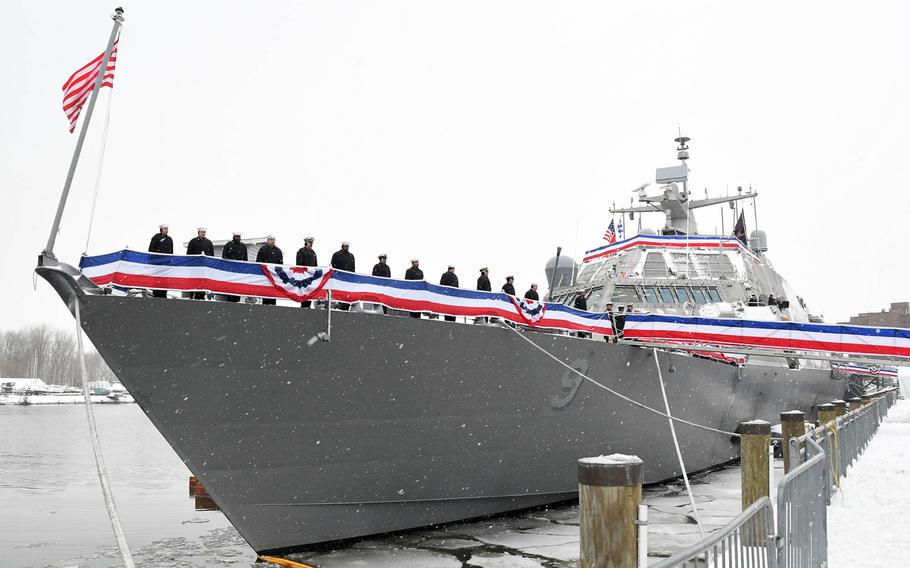 The littoral combat ship USS Little Rock is back underway after being stuck in Montreal for three months because of ice.
The Navy's newest warship left Saturday morning bound for its homeport of Mayport Naval Station, Fla., Lt. Cmdr. Courtney Hillson recently told the U.S. Naval Institute.
"The ship was moored at the Port of Montreal until weather conditions improved and the St. Lawrence Seaway melted enough for the safe passage of the ship," Hillson said. "Keeping the ship in Montreal until weather conditions improved ensured the safety of the ship and crew."
The Little Rock was commissioned Dec. 16 next to its namesake, the decommissioned guided-missile cruiser USS Little Rock, in Buffalo, N.Y. It was late leaving Buffalo due to wintry weather and stopped in Montreal a few days after Christmas for a port visit and minor repairs.
"The ship was ready to depart Montreal, but the extreme cold, subsequent condition of the St. Lawrence Seaway and availability of icebreakers and support ships caused the delay," Hillson said in January.
The Little Rock was escorted down the St. Lawrence by the Canadian Coast Guard icebreaker Des Groseilliers during its Saturday departure.
"We greatly appreciate the support and hospitality of the city of Montreal, the Montreal Port Authority, and the Canadian Coast Guard," said Cmdr. Todd Peters, the ship's commander. "We are grateful for the opportunity to further enhance our strong partnerships."
While laid up, two dozen members of the Little Rock's crew helped sort donated goods at the Welcome Hall mission in Saint Henri near the Little Rock's temporary mooring, according to a February report by the Canadian Broadcasting Corporation.
The ship's crew could explore the city in their off-hours, and their stay was mostly uneventful.
However, residents of a condo near the ship's mooring reportedly complained about noise from shore-side power generators.
"It's like the motor of a large truck that's driving at high speed," Montreal resident Alain Stanke told The Canadian Press in March. "Those two generators are detestable."
The Little Rock is expected to arrive in Florida by the end of the month after making several port calls.
cook.leon@stripes.com Twitter: @LeonCook12