USS Carl Vinson leaves Washington state for sea trials, F-35s and San Diego
by
Christian Lopez
August 26, 2020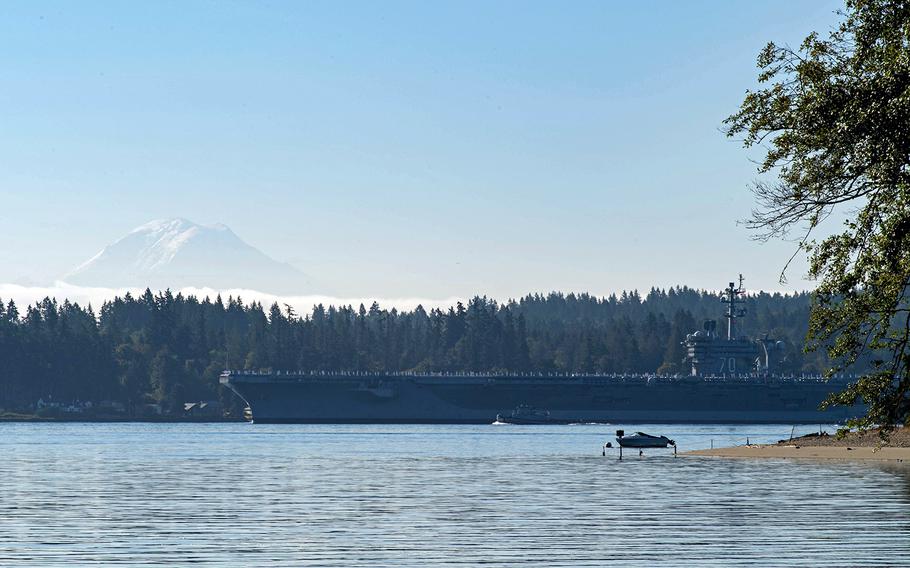 The third oldest carrier in the Navy is out for sea trials after 17 months and $34.4 million in upgrades and maintenance at Bremerton, Wash.
The USS Carl Vinson, commissioned in 1980 as the third of 10 Nimitz-class nuclear-powered carriers, was updated to accommodate the F-35C Lightning II Joint Strike Fighter. It will be the first U.S. carrier to receive the fifth-generation, multirole aircraft.
Once the sea trials are over, the carrier will shift its homeport from Naval Base Kitsap-Bremerton to San Diego, its former home. The Carl Vinson left the Puget Sound Naval Shipyard and Maintenance Facility on Sunday, according to the Navy.
General Dynamics was contracted to do the upgrades during a docking planned incremental availability, or DPIA. The work was completed despite the onset of the coronavirus pandemic.
"I am proud of all of the hard work and dedication shown by the entire crew throughout the DPIA," the Navy quoted Capt. Matthew Paradise, Carl Vinson's commanding officer, as saying in a statement Sunday, "and particularly with the added challenges we faced during this pandemic."
During the maintenance period, the Carl Vinson was outfitted with new jet-blast deflectors and classified spaces aboard the carrier to accommodate the F-35C for deployments.
Strike Fighter Squadron 147, training out of Naval Air Station Lemoore, Calif., is expected to be the first F-35C squadron to deploy aboard the Carl Vinson.
The ship's hull, rudders and shaft were completely restored, including upgrades to the electrical systems, combat systems and crew living spaces.
The carrier is expected to remain in service until the 2030s. Its replacement, designated CVN-81, is being designed.
Prior to the ship's dry-docking, the Carl Vinson deployed to the Western Pacific twice, once in 2017 to conduct routine operations in the South China Sea and again in 2018 for a scheduled visit to Vietnam. It also participated in Rim of the Pacific 2018.
Before leaving Washington, the ship's crew undertook extensive measures to prevent the spread of the coronavirus, according to the Navy statement.
"Those measures included: restriction of movement for all personnel for 14 days prior to embarking the ship, mandatory face coverings, continued cleaning and disinfecting throughout common areas, routine COVID-19 testing, and social distancing," the statement added. COVID-19 is the respiratory disease caused by the coronavirus.
Once in San Diego, the Carl Vinson will raise to three the number of carriers based there. It will join the USS Theodore Roosevelt and USS Abraham Lincoln, also Nimitz-class vessels.
lopez.christian@stripes.com Twitter: @CLopez_Stripes