USNS Mercy heads to LA to help local hospitals; five military field hospital units prepare to deploy
---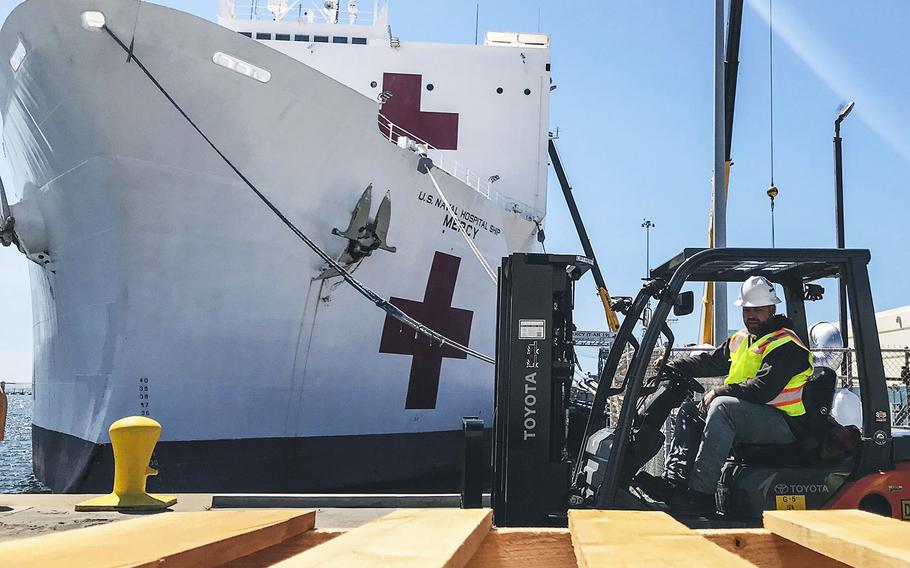 Stars and Stripes is making stories on the coronavirus pandemic available free of charge. See other free reports here. Sign up for our daily coronavirus newsletter here. Please support our journalism with a subscription.
This story has been updated.
WASHINGTON — The hospital ship USNS Mercy is departing Monday from Naval Station San Diego for Los Angeles to help with local medical efforts as the federal government predicts a surge of cases in the region and an increased need for hospital beds.
The Mercy has more than 800 Navy medical personnel and support staff and will take on non-coronavirus patients who have been referred to the ship by area hospitals, according to a Navy statement. The ship will be able to provide "a full spectrum of medical care to include critical and urgent care for adults."
The ship has 1,000 beds for patients and they are able to staff nine of the 12 operating rooms on the ship, Capt. John Rotruck, the commanding officer of the USNS Mercy medical treatment facility, said during a news briefing at the Pentagon on the deployment. The staff will not provide obstetric or pediatric care on the ship, he said.
By not treating coronavirus patients, the ship will allow local hospitals to care for people who have been infected without taxing their already strained medical system with other critical cases, officials said.
"We can take care of…trauma patients…[to] open up more rooms for patients with the [coronavirus] because what they require are special rooms that are sequestered, that have other capabilities that we don't necessarily have available to us," Defense Secretary Mark Esper said last week. "It's a different approach, but we want to make all that available so that we're doing everything we can to help the American people."
Medical staff on the ship will be screened for the virus but they will not all be tested for it unless there is reason based on guidelines by the Centers for Disease Control and Prevention, Rotruck said. If a patient is identified as positive for the virus, they will be transferred off the ship.
California Gov. Gavin Newsom announced Thursday that he had sent a letter to President Donald Trump requesting the ship be sent to the Los Angeles region, saying they expect more than half of the state's population — 25.5 million people — will be infected during an eight-week period as the coronavirus outbreak worsens in the United States.
Trump announced Sunday that the Mercy was heading to Los Angeles and not Seattle, one of the other locations considered for the ship. Peter Gaynor, the administrator of the Federal Emergency Management Agency, said the decision was based on analysis of potential hospital bed needs. Washington State was one of the first states to see an outbreak of cases and deaths from the virus.
"Even though there are more cases right now in Washington, the projected needs for beds in California is five times more that of Washington," Gaynor said.
The Mercy is expected to arrive in Los Angeles within the week, Rotruck said. The ship's travel will take a few days due to mandatory certifications that must be conducted at sea before it can arrive at the port, Rotruck said. Once the ship arrives, it will be able to accept patients the next day. The hospital ship will be in L.A. "as long as it makes sense and or as directed by higher headquarters and in coordination with FEMA," said Capt. Dan Cobian, the mission commander.
Los Angeles has 409 confirmed cases and five deaths from the coronavirus as of Monday, according to Johns Hopkins University. King County, Wash., which includes Seattle, has more than 1,000 confirmed cases and 75 deaths from the virus, according to Johns Hopkins.
New York will receive the other Navy hospital ship, the USNS Comfort. However, it is not expected to arrive until mid-April due to maintenance, according to Trump.
New York City has more than 10,700 confirmed cases and 99 deaths from the virus, according to Johns Hopkins. The New York City region has seen a surge of cases and area hospital officials are concerned about supply, including ventilators and masks, The New York Times reported Sunday.
Five military expeditionary field hospital units have "prepare to deploy orders," Esper said Monday at the Pentagon, and the department expects to send one to Seattle and one to New York. Cities such as New York need thousands of beds and the Army Corps of Engineers is working to convert buildings into medical facilities to accommodate more beds. The military's field hospitals can only provide 248 beds each, Esper said, but he believes they can be used as a stop gap while the buildings are being converted.
"So I see us playing this role where we're the gap-filler for a period of weeks with our capabilities. Once the capacity is met through these other mechanisms…we can then pull out and go to the next site and cover again that gap for the next city or locality that is ramping up," Esper said, adding the Defense Department is still working out how that model will play out as the virus spreads.
---
---
---
---