USFJ commander emphasizes 'greater number of challenges' during visit with Japan's defense chief
---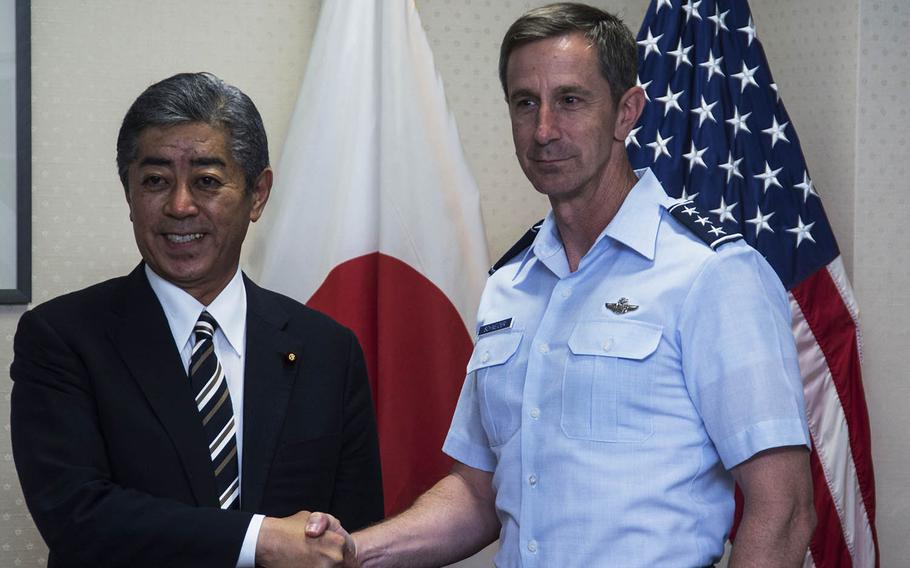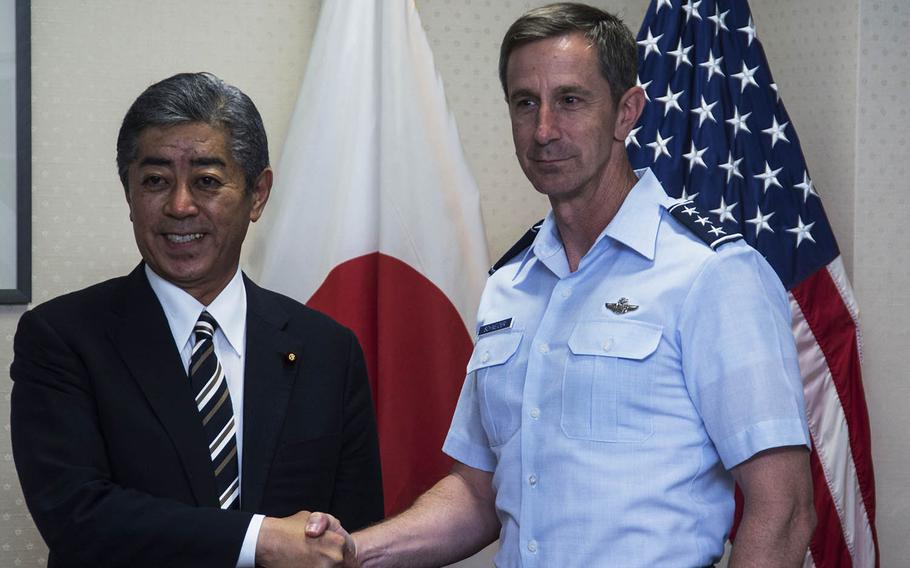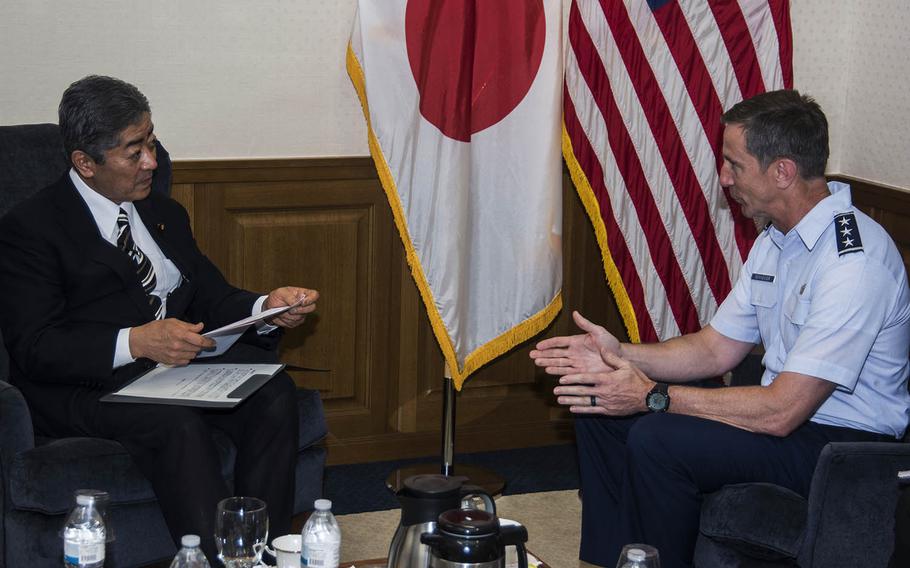 YOKOTA AIR BASE, Japan — Challenges are growing for the United States and Japan in the Far East, the commander of U.S. Forces Japan told his host nation's defense minister Wednesday in western Tokyo.
The nature of those challenges were not specified by Lt. Gen. Kevin Schneider during the initial portion of his meeting with Takeshi Iwaya, who became Japan's defense minister in October.
The pair had a short conversation in front of reporters, who were not offered a chance to ask questions, inside USFJ headquarters, which Iwaya visited after a calling on the Japan Air Self-Defense Force's Air Defense Command, also at Yokota.
"There are … a greater number of challenges that we both must contend with, which puts greater emphasis on training and readiness and the ability to respond to whatever situations may arise," Schneider told Iwaya.
Although the fighter pilot, who took over as the senior U.S. military leader in Japan in February, didn't go into detail about those challenges, China's increased military spending, the threat of North Korean nuclear weapons and sea territory disputes with Beijing and Russia are often cited by defense planners in Japan.
Schneider also said he's committed to ensuring the readiness of 54,000 U.S. military personnel stationed in Japan through rigorous and realistic training and exercises.
In November, for example, the U.S. and Japan conducted Keen Sword, described by then-USFJ commander Lt. Gen. Jerry Martinez as the allies' "largest and most complex" exercise involving 10,000 American personnel and 47,000 Japanese troops.
Schneider and Iwaya reaffirmed the strength of the U.S.–Japan alliance and the importance of their forces working together closely in pursuit of a free and open Indo-Pacific, USFJ officials said in a statement.
"Defense Minister Iwaya and General Schneider discussed ways to further enhance bilateral cooperation between the United States and Japan in the face of complex regional security challenges," the statement said.
Yokota is a symbol of the allies' "ironclad alliance," hosting key commands such as the Air Defense Command, USFJ and 5th Air Force, Iwaya told Schneider during the public portion of their meeting.
"I'd like to extend my heartfelt respect for your work as you have been dedicating yourself not only to the peace and stability in this country, but also the region on behalf of U.S. forces," Iwaya said.
robson.seth@stripes.com Twitter: @SethRobson1
---
---
---
---