Unmanned aircraft that saw heavy combat in the global war on terrorism are now headed to sea
by
Seth Robson
September 26, 2020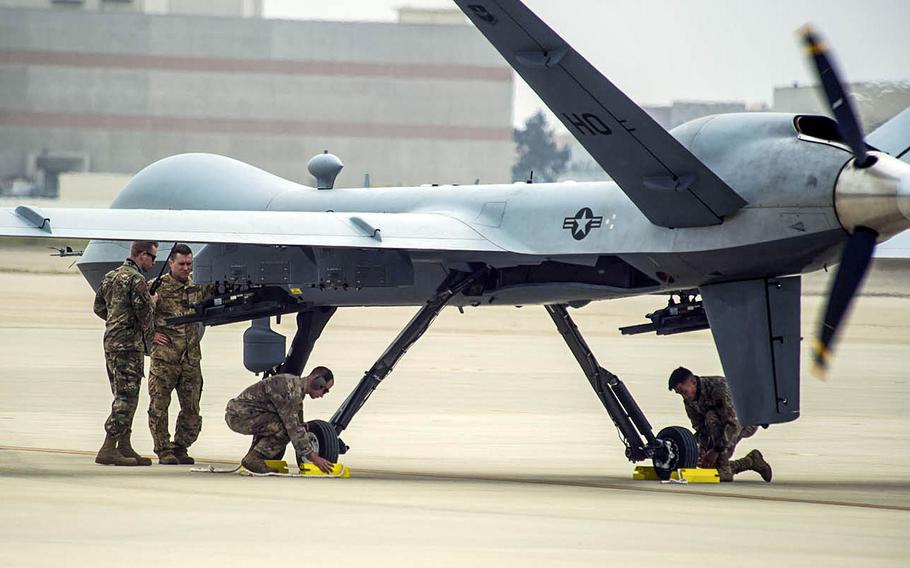 Hunter-killer drones that have been a go-to weapon for troops battling insurgents in Iraq, Afghanistan and Africa are being repurposed for maritime operations, according to U.S. military officials.
Three MQ-9 Reaper drones are supporting the Navy and Marine Corps during Agile Reaper, an exercise off the California coast that began Sept. 3 and wraps up Tuesday, said Lt. Col. Brian Davis, commander of the 29th Attack Squadron at Holloman Air Force Base, N.M.
"Our primary focus has been on counterinsurgency," Davis said during a Monday telephone interview. "That's no longer the limit of what we can do."
The drones, which carry long-range radar and can provide commanders with full-motion video of the sea below, have been doing close air support, search and rescue, maritime interdiction, strike coordination and reconnaissance and surveillance during the exercise, he said.
The drones, made by General Atomics, of San Diego, can carry 3,000 pounds of ordnance and first saw combat in Afghanistan in 2007 and Iraq the following year. They've conducted numerous missions there and in other parts of the Middle East and Africa.
Reapers have made some high-profile kills.
A missile fired by one of the drones killed the commander of Iran's Quds Force, Maj. Gen. Qassem Soleimani, when it struck his convoy near Baghdad International Airport, the New York Times reported Jan. 2.
Even as they continue counterinsurgency operations, the Reapers' mission is changing in line with the military's preparation for conflict with a near-peer adversary such as China or Russia.
Agile Reaper is designed to test the aircraft's ability to rapidly mobilize with minimal logistics and fuel, according to Davis.
"We've only scratched the surface of the MQ-9's capability," he said. "We are transitioning to an ability to generate combat airpower anywhere to include the maritime domain and we are tactically quite good at it."
The Reapers can operate beyond a potential enemy's targeting capabilities, Davis said.
"I can provide maritime domain awareness out to incredibly long ranges especially compared to other aircraft and without the need for tanker support," he said. "We can do this in any environment including the most highly contested environments."
The Reapers flew 2,000 miles to California and still had plenty of fuel left to operate, Davis said.
The number of personnel required to operate the drones is confidential, he said but added that it's a fraction of the number required to fly manned aircraft. And the drones require less support than they did a few years back, he said.
"No longer is the MQ-9 tied down to large forward operating bases or bases in the continental United States," he said.
The Reapers' capabilities could come in handy in a place such as the South China Sea, he said.
China's territorial expansion in the region has spurred push back from the U.S. Navy, which has conducted frequent freedom-of-navigation patrols there in recent years. Experts have warned that an incident in the contested waterway could spark conflict.
Airmen can rapidly deploy, launch and recover the Reapers and move to another location, Davis said.
At sea the drones are armed with the same missiles they use on land, he said. He didn't specify the drones' armament, but reports have noted their employment of Hellfire missiles.
"We are just as capable (at sea) without changing our weapons in any way," Davis said.
He wouldn't comment on whether a Reaper could sink an aircraft carrier.
"I think you are going to see the MQ-9 utilized in other locations," he said. "California is a great step off point to some other locations further to the west."
Meanwhile, the Marines already have drones training for conflict with a conventional force as part of Marine Rotational Force – Darwin.
Unmanned aerial reconnaissance RQ-21 Blackjacks have been zooming overhead as the Marines train alongside Australian allies, who plan to acquire their own Reapers.
Over summer the troops have honed the sort of skills they'd need to battle a conventional force, according to Capt. Harrison Zhu, 27, of Hastings-on-Hudson, N.Y., an unmanned aerial system commander with Marine Unmanned Aerial Vehicle Squadron 3.
"We might start out doing counterinsurgency that develops into a peer-on-peer conflict," during training, Zhu said.
The Blackjack is made by Insitu, a Boeing Inc. subsidiary in Washington. A "small, tactical" aircraft, it can carry payloads of 39 pounds maximum and stay aloft more than 16 hours, depending on how it's configured. It has a line-of-sight range of 64 miles, according to Boeing's website.
The Marines have five drones and a launch and recovery system Down Under, Zhu said.
The Marines, who deployed out of Kaneohe Bay, Hawaii, are enjoying the flying conditions in Australia, where there are hardly any other aircraft, Zhu said.
"If possible, we hope to have more of my squadron here next year," he said.
robson.seth@stripes.com Twitter: @SethRobson1
---
---
---