Two water wells near Naval Base Kitsap-Bangor, Wash., contaminated with industrial chemical
by
Caitlin M. Kenney
September 30, 2020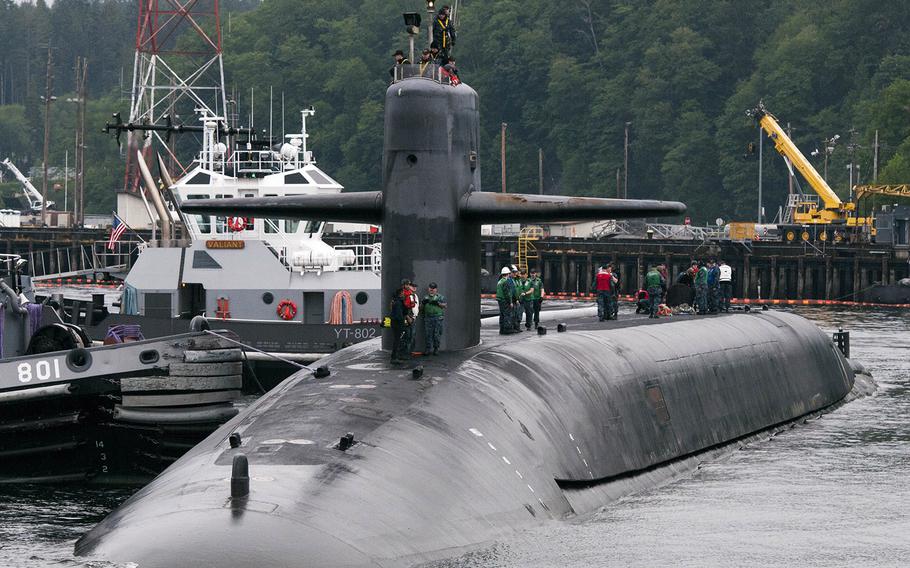 WASHINGTON — Two drinking water wells near Naval Base Kitsap-Bangor in Washington state were found to be extremely contaminated with an industrial chemical found in firefighting foam, according to an investigation by the base.
PFAS, or per- and polyfluoroalkyl substances, is a family of chemicals used in firefighting foam and other products such as nonstick cookware. Military bases throughout the country have been cited in news reports for being a source of nearby PFAS-contaminated water.
Between February and April, Bangor sampled the drinking water of 292 private wells that surround the southern border of the base. The Navy conducted the testing voluntarily, according to the investigation report.
"The Navy established a proactive policy to ensure the communities near our installations are not exposed to drinking water with [PFAS] above the [Environmental Protection Agency's] lifetime health advisory due to past known or likely Navy release of products containing PFAS," the report states.
The testing found two private wells contained PFAS in excess of the lifetime health advisory set by the EPA for the chemical, which is 70 parts per trillion. In total, the initial testing of the drinking wells found 83 drinking water samples containing some amount of PFAS.
Studies have shown that exposure to the chemical can cause increased cholesterol levels as well as some findings relating to low infant birth weight, cancer, and impacts to the immune system in humans, according to the EPA.
The lifetime health advisory is nonenforceable and nonregulatory, but provides technical information to local officials on PFAS contamination in drinking water, according to the EPA. The Navy will provide bottled drinking water to households that use the two wells that exceeded the health advisory level until a longer-term solution is implemented, according to the report.
The Navy has assessed there are 22 areas on Bangor that could be sources of PFAS releases, due to such things as car fires or paint can disposal sites. Results from well tests on Bangor showed the water samples did not exceed the PFAS lifetime health advisory, according to a base officials.
The base, located on the Kitsap peninsula by the Hood Canal, was established in 1944. Its mission is to "provide administrative and personnel support for submarine force operations and logistical support for other Navy activities."
With the two samples showing excessive amounts of PFAS, the Navy is expanding their testing in October to areas adjacent to the wells to determine whether anything more needs to be done, base officials said. The Navy has already sent out 400 letters to properties in those areas as part of an initial outreach of 1,400, the Kitsap Sun newspaper reported.
Kenney.Caitlin@stripes.com Twitter: @caitlinmkenney
---
---
---
---