Trump urges governors to use National Guard to 'dominate;' says Gen. Milley's in charge
by
Corey Dickstein
June 1, 2020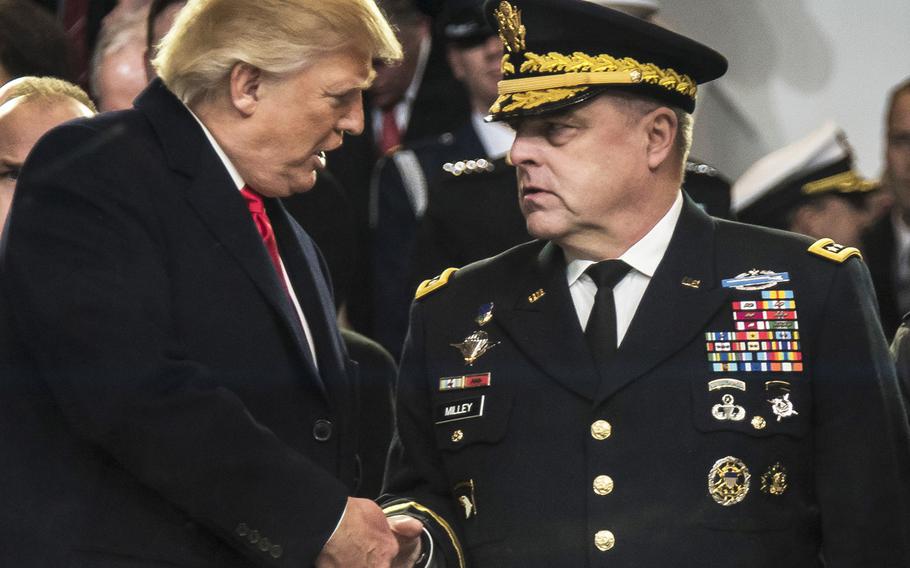 WASHINGTON — President Donald Trump on Monday privately urged America's governors to use all of their National Guard members to "dominate" protests aimed at police reform that have grown violent in recent days.
Trump told the governors that he had placed Army Gen. Mark Milley, the chairman of the Joint Chiefs of Staff, "in charge." Trump did not elaborate on what Milley had been placed in charge of, but a top White House official later Monday said the general would be part of "central command center" meant to help state and local authorities deal with the uprisings.
"You have to dominate," Trump told the governors during the phone call that was leaked to various media outlets and published by the Daily Beast. "If you don't dominate, you are wasting your time. They are going to run over you."
Pentagon officials pushed back on the idea that Milley, who by law is an adviser and not within the military chain of command, would lead any military response to the violence, vandalism and looting that has accompanied protests in recent days. Federal law allows governors to use their National Guards to participate in law enforcement within their states, however active-duty troops are largely barred from domestic policing except in rare circumstances.
Some 17,000 Guard troops have been activated in 23 states and in Washington D.C. to aid state and local law enforcement with civil unrest operations, the National Guard Bureau said Monday.
"All current National Guard members remain mobilized under the authorities of state governors," a defense official said Monday on the condition of anonymity. "The chairman, as the principal military adviser to the president provides his best military advice and counsel. Both the Secretary of Defense [Mark Esper] and chairman are in communication with the Chief of the National Guard Bureau [Air Force Gen. Joseph Lengyel] and several state adjutant general's about their support to states."
Trump, during the hour-long call, castigated some of the governors' handling of the protests, which began in Minneapolis following the death of George Floyd on May 25 in police custody. Video captured a Minneapolis police officer, Derek Chauvin, kneeling for eight minutes on a handcuffed Floyd's neck. Floyd, 46, was black and Chauvin is white.
Trump told the governors if they did not increase their responses to the protests, including activating more National Guard troops to patrol the streets of major cities, they would "look like a bunch of jerks."
Trump blamed the demonstrations and ensuring violence on "radical left" groups, including the so-called anti-fascist group Antifa, for sparking the unrest, referring to them as "terrorists." Trump tweeted over the weekend that he would designate Antifa a terrorist organization.
The White House on Monday said Milley had advised Trump that a massive National Guard response would likely quash any unrest.
"He [Milley] hates to see the way it's being handled by various states, and I've just put him in charge," Trump told the governors at the start of the leaked call. Milley and Defense Secretary Mark Esper were on the call, Trump said.
White House Press Secretary Kayleigh McEnany was asked Monday to explain Trump's assertion that Milley would lead the effort. She told reporters that Milley, Esper and Attorney Gen. Bill Barr would lead a "central command center in conjunction with the state and local governments." She did not say from where the command center would operate or what precisely its role would be.
"There will be additional federal assets deployed across the nation," McEnany said during the White House briefing. "But I won't go any further in announcing what actions."
Pentagon officials declined to comment Monday on those federal assets, referring additional questions back to the White House.
Meanwhile, a top member of the Senate Armed Services Committee urged Trump to invoke the Insurrection Act, which would allow him to deploy active-duty forces to perform some law enforcement duties without a governor's request. The 1807 law has been used twice in the last 30 years — when federal troops were sent to Los Angeles in 1992 to aid in the response to the Rodney King riots and following the 9/11 terrorist attacks.
"If local law enforcement is overwhelmed and needs backup, let's see how tough these Antifa terrorists are when they're facing off with the 101st Airborne Division," Sen. Tom Cotton, R-Ark., wrote on Twitter. "We need to have zero tolerance for this destruction."
Cotton, a former Army captain, later said Trump could send in even more troops — naming the 10th Mountain, 82nd Airborne, 1st Cavalry and 3rd Infantry divisions. Trump later tweeted his approval of Cotton's message, writing the senator was "100% correct."
Some officials have publicly discouraged the use of a major military response to the unrest, including Georgia's top National Guard officer, Army Maj. Gen. Thomas Carden. Georgia's governor, Brian Kemp, authorized a deployment of up to 1,500 Guard troops during the weekend after an initially peaceful protest in Atlanta turned violent, as police cars were burned and downtown buildings were smashed and looted.
"While we're always happy to go out and reinforce our local authorities, I believe that we in America should not get used to or accept uniformed service members, of any variety having to be put in a position where they are having to secure people inside the United States of America," Carden told reporters Sunday. "While we're glad to do it and honored to do it, this is a sign of the times that we need to do better as a country.
"We stand ready to do this mission anytime we're called on to do it, but I pray I never have to do it again."
dickstein.corey@stripes.com Twitter: @CDicksteinDC