Trump tweets promise to undo gender-neutral language in SEAL statements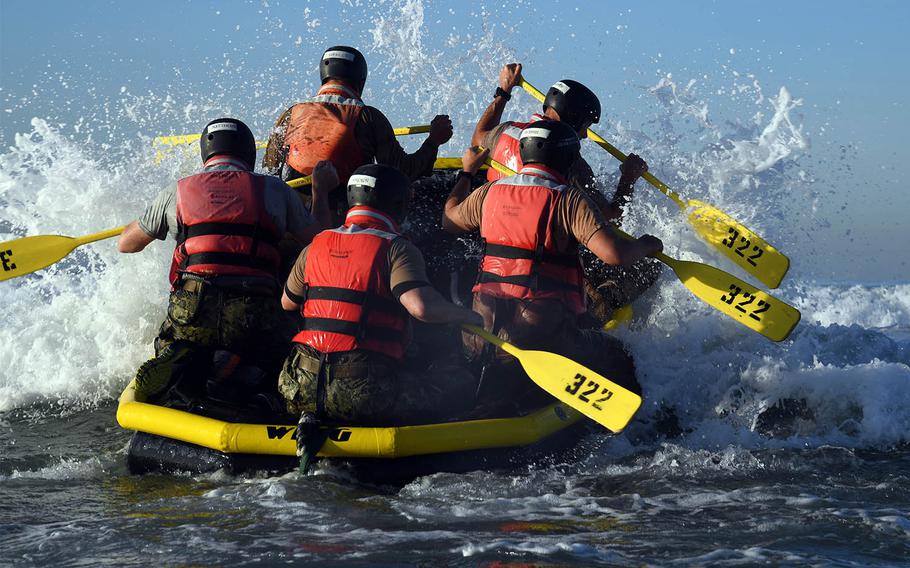 President Donald Trump promised in a tweet Thursday to undo gender-neutral language inserted recently into the official Navy SEAL ethos and combatant crewmen creed.
Trump's 7 a.m. announcement on Twitter was brief: "I will be overturning this ridiculous order immediately!" and included a link to another tweet by The Columbia Bugle, an account for self-described conservative political commentary.
The Columbia Bugle, in turn, linked back to a report Sept. 28 in the online American Military News that the Naval Special Warfare Command had edited those statements, replacing words like "man" in the Navy SEAL ethos, and "brotherhood" in the creed of special warfare combatant-craft crewmen.
The creed and the ethos underwent several changes and are both posted online on the Naval Special Warfare Command website.
For example, an archived version of the SEAL ethos states, "I am that man." The new version states, "I am that warrior."
The Navy Sea, Air, and Land Teams, also known as SEALs, are the primary special operations force in the Navy. Of U.S. military special operators, they are among the most celebrated in popular culture and among the most familiar to the American public.
American Military News quoted a special warfare spokesman, Lt. Cmdr. Matthew Stroup, as saying the previous versions of the SEAL ethos and the combatant crewman creed were written prior to changes in law permitting women to service as special operators.
"The changes do not in any way reflect a lowering of standards of entry," according to Stroup's statement to the news site, "rather they ensure that all those who meet the requirements to train to become a SEAL or a [special warfare combatant crewman] are represented in the ethos or creed they live out."
Attempts by Stars and Stripes to reach Stroup on Friday were unsuccessful.
Stroup told the American Military News that no women have thus far completed SEAL or combatant-craft crew training.
Special warfare combatant-craft crewmen, according to the command website, "provide covert insertion capabilities in coastal areas while operating specialized craft used to deliver operators and provide heavy weapons and other critical support."
Its creed, according to the Sept. 28 report, originally referred to a brotherhood, which in the new version is changed to "an elite group of maritime warriors."
The special warfare report coincided with a report by Military.com that Marine Corps Commandant Gen. David Berger is considering closing Marine recruit depots, boot camps, at Parris Island, S.C., and San Diego in favor of a new camp where men and women may train together.
The Corps is under a congressional mandate to provide that training, but local politicians promised to fight any scheduled closures.
Meanwhile, a task force convened Thursday in South Carolina to plan a strategy to keep Parris Island open.
The promise to undo the naval special warfare changes aren't Trump's first expression of intent via Twitter. In September, he promised to undo a Pentagon plan to shutter Stars and Stripes.