Trump threatens to send troops to close southern border as 'caravan' of migrants approaches US
by
Corey Dickstein
October 18, 2018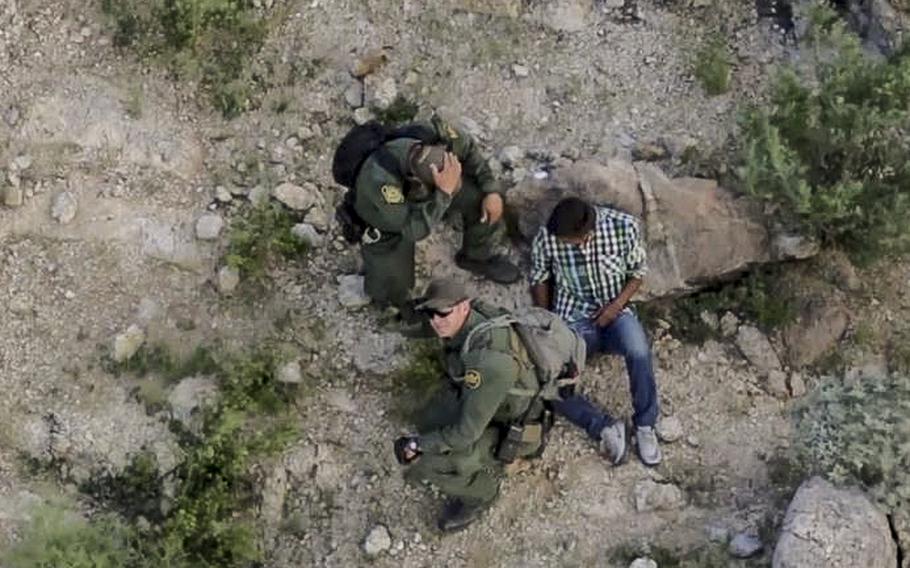 WASHINGTON — President Donald Trump on Thursday threatened to send the U.S. military to close the nation's southern border if Mexico cannot stop migrants traveling north from Guatemala toward the United States.
In three tweets directed at Democrats and Central American countries, the president called the loosely organized group of migrants, commonly referred to as a caravan, an "assault on our country by Guatemala, Honduras and El Salvador." He said the caravan includes criminals and he blamed the Democratic Party, claiming they advocate for open borders and weak immigration laws.
Earlier this week, Trump threatened to stop U.S. monetary aid to those Central American nations if they could not curb migration of their citizens to the United States.
"In addition to stopping all payments to these countries, which seem to have almost no control over their population, I must, in the strongest of terms, ask Mexico to stop this onslaught – and if unable to do so I will call up the U.S. Military and CLOSE OUR SOUTHERN BORDER!" Trump wrote in one of the Thursday tweets.
Pentagon officials, who apparently were caught off guard by the Trump's announcement, said several hours after Trump's tweets that the Defense Department had received no new directives from the White House.
"Beyond the National Guard soldiers currently supporting the Department of Homeland Security on our southern border … under the command and control of the respective state governors, the Department of Defense has not been tasked to provide additional support," said Army Lt. Col. Jamie Davis, a Pentagon spokesman.
It also was not clear Thursday if the military could legally be used to shut down the U.S.-Mexico border. Federal law prohibits American servicemembers from performing civilian law enforcement duties on U.S. soil outside of military installations.
There are already about 2,000 National Guard troops stationed along the U.S. border with Mexico, where they have been deployed since Trump ordered them there in April in response to another group of migrants that attempted to seek refugee status in the United States. Air Force Gen. Joseph Lengyel, the chief of the National Guard Bureau, told reporters last week that those soldiers were working in all four states that share a border with Mexico to assist U.S. Customs and Border Protection agents.
The Pentagon has authorized up to 4,000 National Guard troops to support the border mission.
But those troops serving there have very limited duties and cannot detain or arrest suspected undocumented immigrants nor can most of them carry weapons.
While some troops are helping with surveillance, most of them are working to maintain Border Patrol vehicles or performing administrative tasks to free up Border Patrol agents to perform law enforcement work, a defense official said Thursday.
Trump has long touted a need for increased border security, warning criminals and drugs were regularly pouring across the southern border. He made the building of a border wall to curb illegal immigration a central theme of his presidential campaign. As president, he has continued to push Congress for funding for its construction and implemented a "zero-tolerance" immigration policy.
Trump's tweets Thursday came one day after the Washington Post reported record numbers of migrant parents attempting to enter the United States with their children during the last three months after the Trump administration ended a controversial policy of separating families at the border.
Border Patrol agents arrested 16,658 family members last month, according to the newspaper. It was the highest arrest total for a single month ever recorded, and an 80 percent increase in arrest statistics over July, the Post reported, citing previously unpublished Homeland Security Department statistics.
Earlier this year, the Trump administration identified four U.S. military bases in Texas and Arkansas as locations to temporarily house detained migrants, including up to 20,000 children. However, no migrants have been moved to any U.S. military facilities in 2018, said Davis, the Pentagon spokesman.
Neither the Department of Homeland Security nor the Department of Health and Human Services has "formally requested the use of military facilities" to house migrants, Davis said Thursday.
"We are still in a position to support our federal partners if asked," he said.
dickstein.corey@stripes.com Twitter: @CDicksteinDC