Trump presents Medal of Honor to second Green Beret for actions in Battle of Shok Valley
---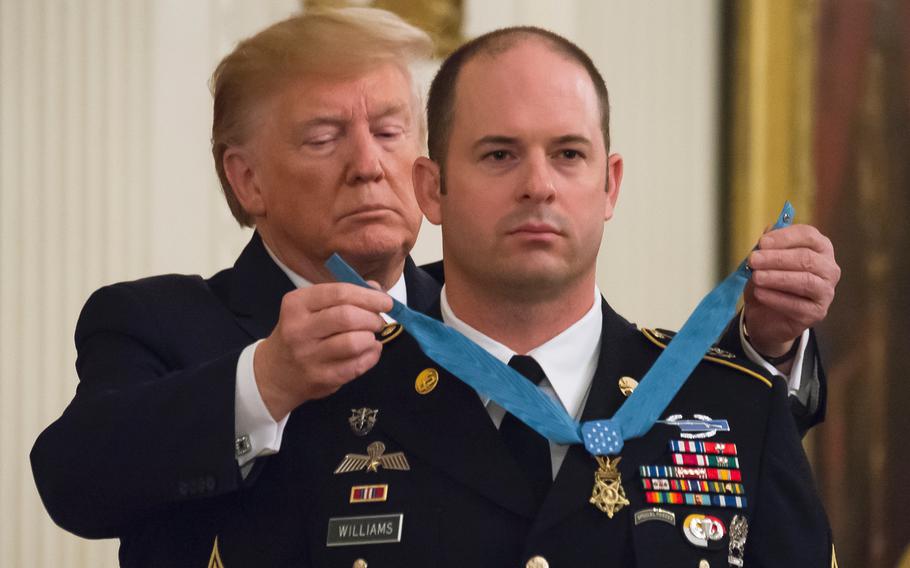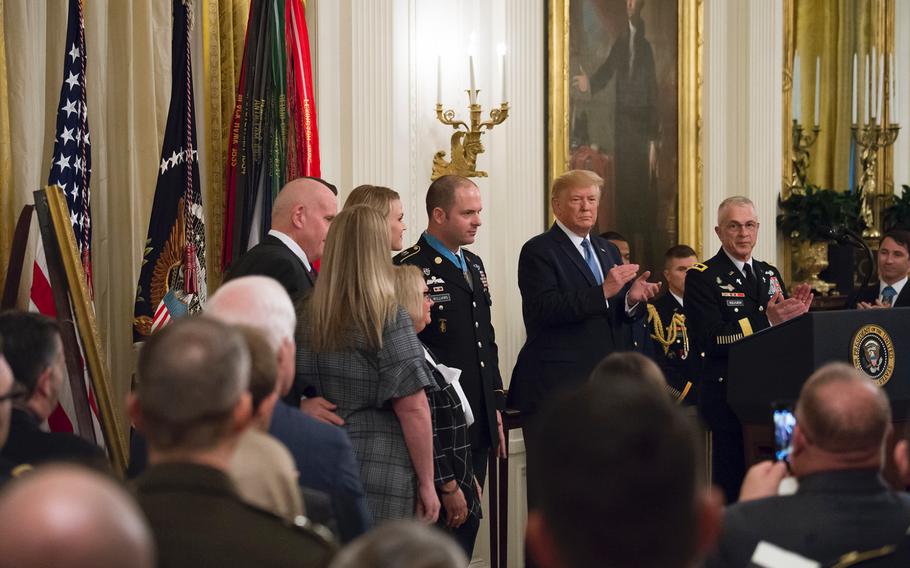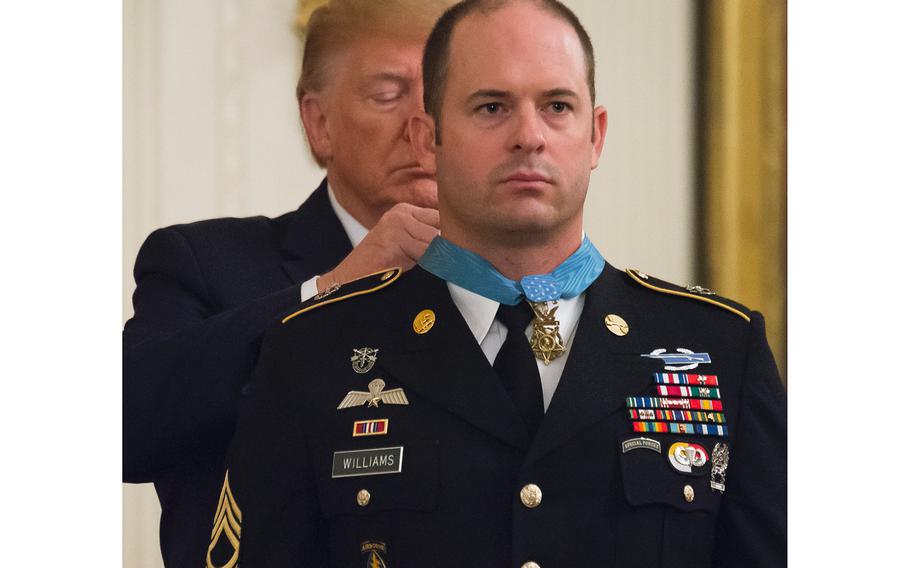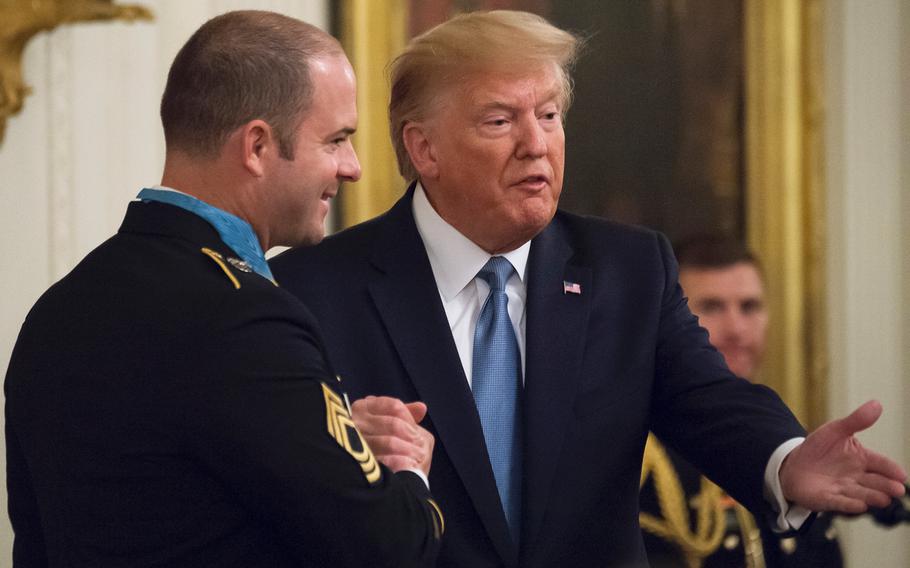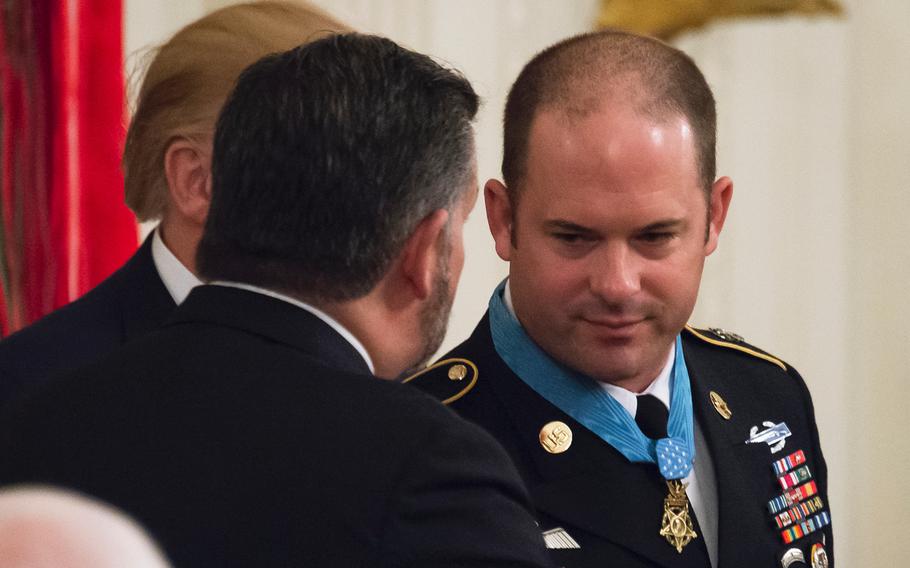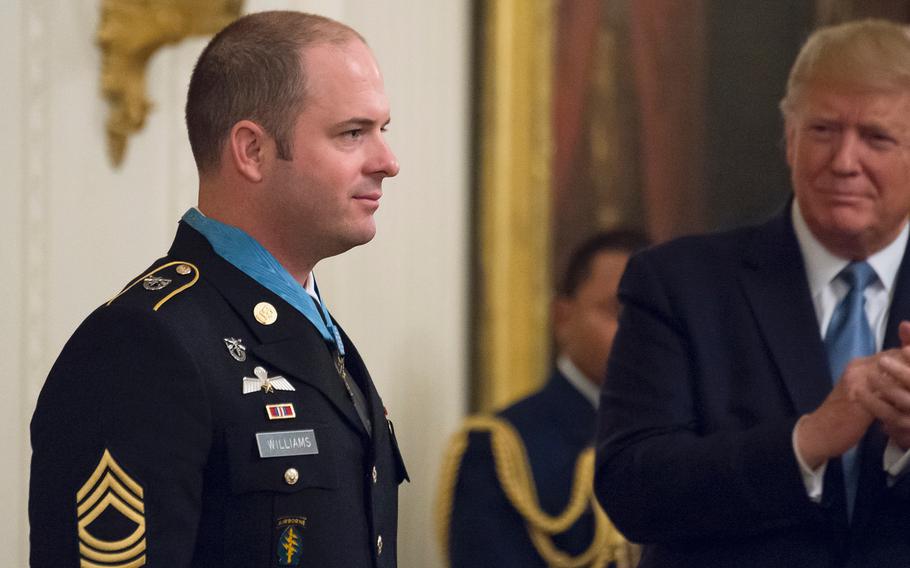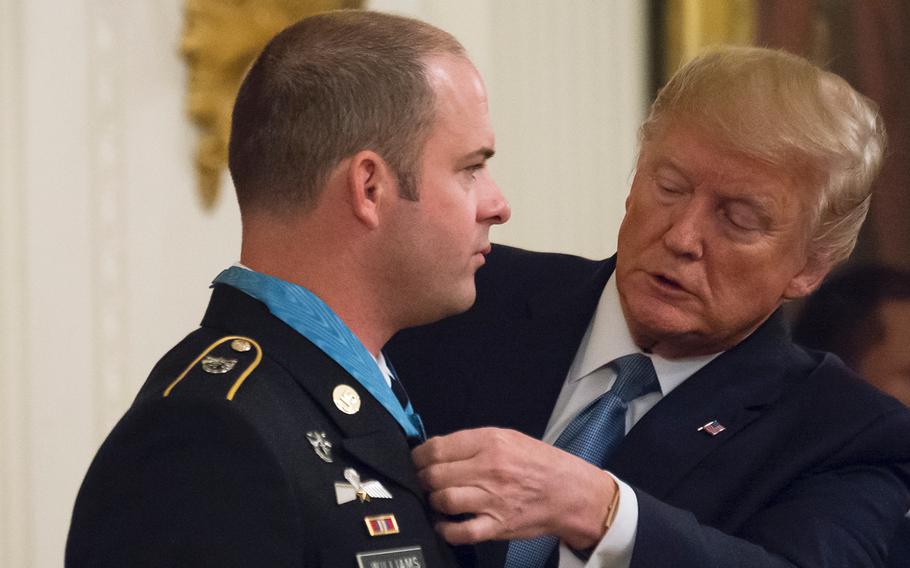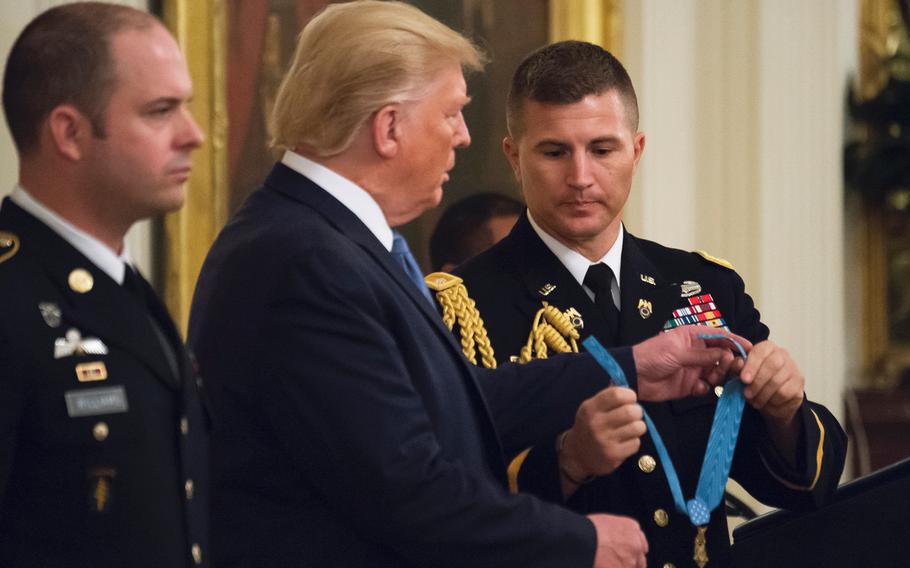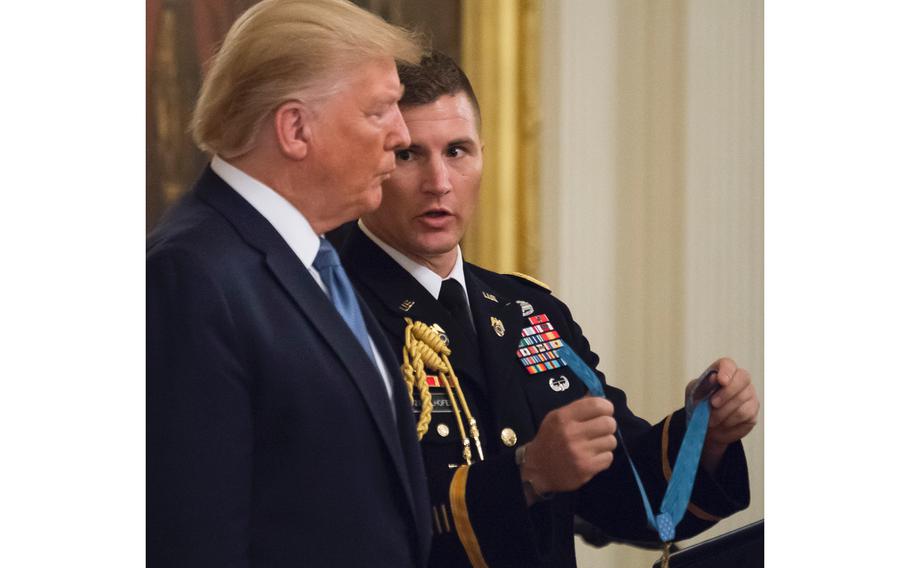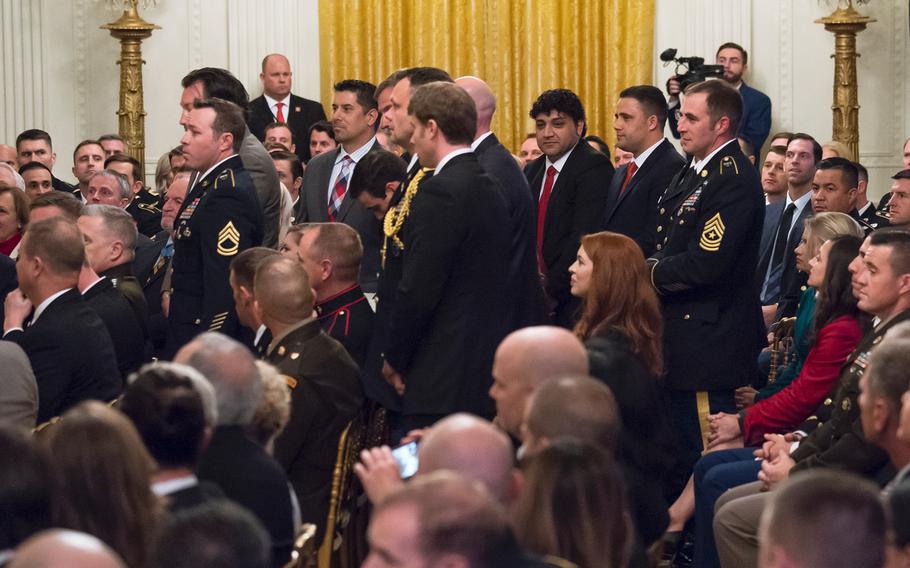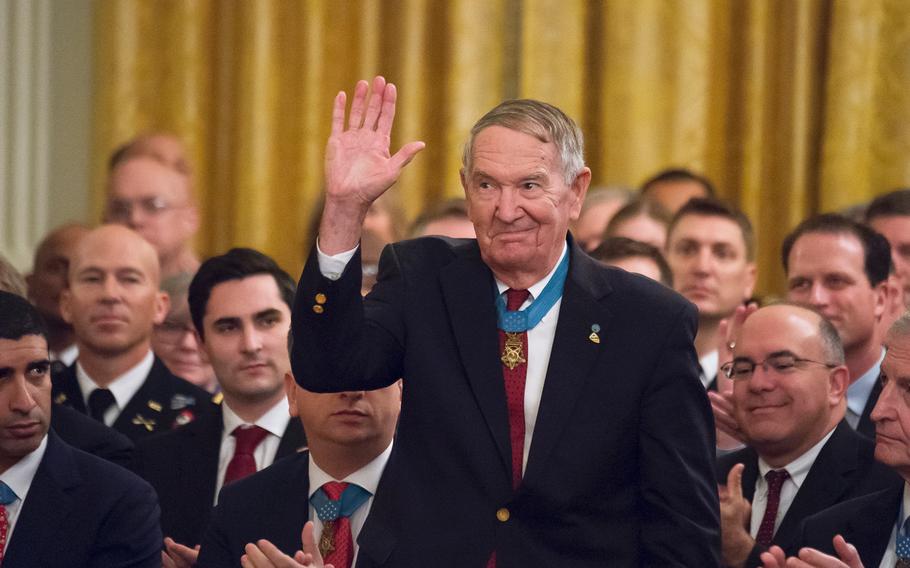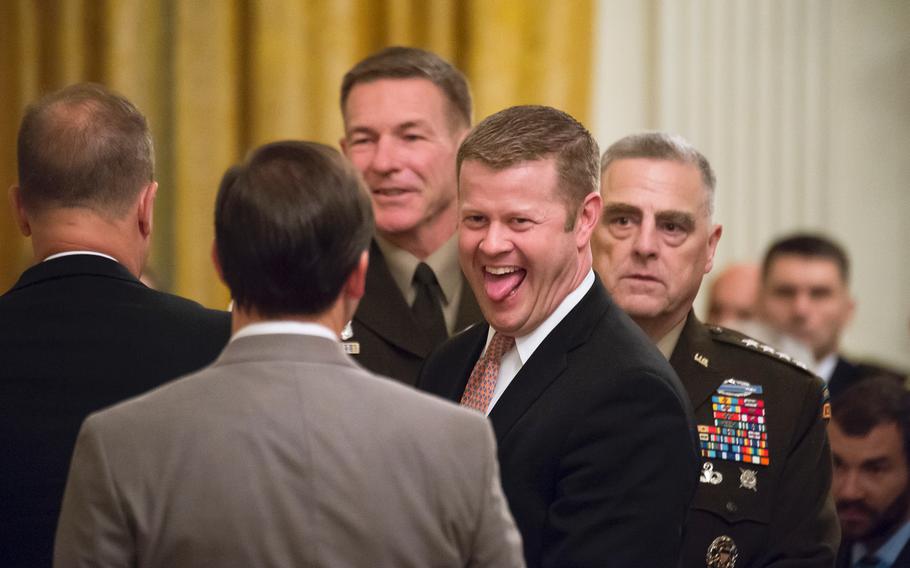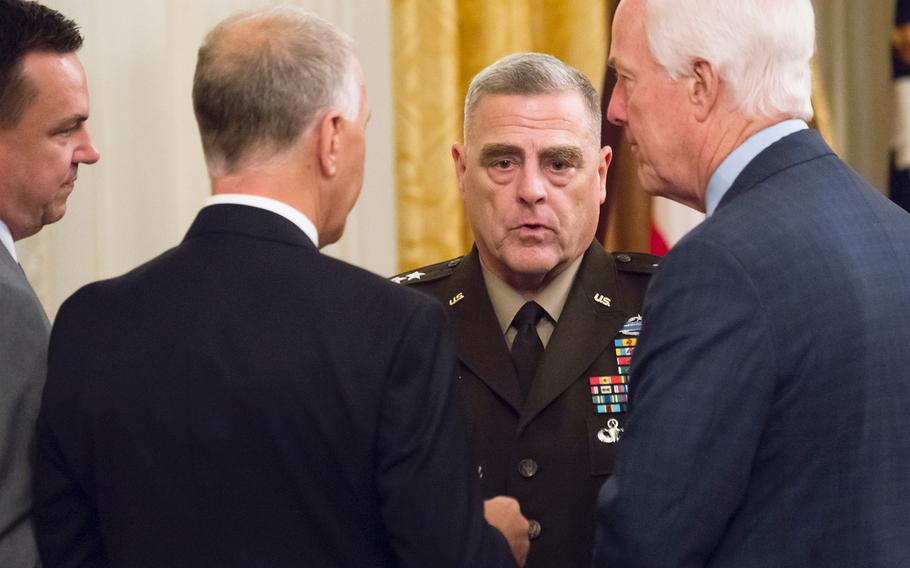 WASHINGTON — With Green Berets pinned against a cliff atop an icy 10,000-foot Afghanistan mountain during a hellish firefight to capture an entrenched enemy leader, then-Army Sgt. Matthew O. Williams was where he needed to be.
When two Green Berets were shot, Williams' comrades said he was there to move them down that 100-foot cliff, where they could be evacuated from the fighting. When his teammates' radios stopped working, Williams was there to relay information between the soldiers who were fighting from several positions on the mountain. And, when those soldiers needed cover, there was Williams leading Afghan commandos to establish fighting positions that would prove critical to holding off an enemy force that vastly outnumbered them.
Williams actions, according to Pentagon records, allowed the team of 12 Green Berets — Operational Detachment-Alpha 3336 — and some 100 Afghan commandos to escape that savage, six-hour gun battle April 6, 2008 in eastern Nuristan province, which would become known as the Battle of Shok Valley.
"He chose to go up that mountain the first time knowing what was happening up there, he started just taking initiative — setting up those defenses that we needed," Retired Army Staff Sgt. Ron Shurer recalled Tuesday of Williams' actions that day. "He was always just finding something to do whether somebody told him to or not. He always seemed to be there."
On Wednesday, Williams was presented the Medal of Honor by President Donald Trump for his actions more than 11 years ago. He is the second recipient of the nation's highest military honor for actions in that fight after Shurer received the honor about a year ago. Williams, now a master sergeant assigned to the 3rd Special Forces Group at Fort Bragg, N.C., cracked a slight, closed-lip smile Wednesday as Trump shook his hand and adjusted the slightly off-center new medal around his neck.
"Thank you," Williams said to Trump, as a standing-room-only crowd in the White House's East Room rose and applauded, including Shurer, other Green Berets who fought in that battle and two Afghan interpreters who served with them.
"Matt is without question and without reservation one of the bravest soldiers and people I have ever met," Trump said. "He's a brave guy. And he's a great guy."
On Tuesday, Williams described the honor as "humbling," and unexpected. He never considered the possibility of receiving the Medal of Honor, an upgrade of the Silver Star that he received in the months after that fight. So when he was notified by Trump in September 2018 — just 10 days after Shurer learned of his own upgrade — Williams was astonished.
"It was not on my radar at all. I was shocked," said Williams, who was familiar with the 2016 Pentagon-ordered review of high-level, post 9/11 combat awards, which would result in his and Shurer's medal upgrades. "I remember when Ron told me about his upgrade, I thought, 'Of course that makes perfect sense. Ron was the guy that day.' … To find out about myself — it was definitely a shock. A little bit overwhelming."
Shurer said he felt exactly the opposite about his own actions during the battle. It was not until Shurer learned of Williams' award upgrade that his own Medal of Honor seemed warranted.
"It was obviously humbling and an incredible honor, but it was confusing. I was the medic. I was out there being the medic, just doing my job," he said. "What else was I going to do that day? But when I found out that Matt was going to be receiving the medal — to me that made more sense."
The mission seemed ominous from the start, according to Green Berets who served on that operation targeted at a stronghold of an Hezb-e-Islami Gulbuddin terrorist group, where Americans had never previously fought.
"Sounded simple," Trump said Wednesday of planning for the mission. "Not simple."
Army Lt. Col. Kyle Walton, then a captain and the Green Beret leading the mission, recalled the weather was terrible. Snow fell. When the unit arrived near its target about dawn, the Chinook helicopters ferrying them toward the fight could not land, forcing them to jump some 10 feet from the back of the aircraft onto the rocky cliffs or, in some cases, into the freezing, fast-moving river below them.
"Within just a few minutes, enemy forces had pinned down our initial assault element and the command and control element," Walton said Tuesday. "We had multiple casualties. Our team interpreter was killed instantly. Everyone else [in the lead element] was either hit by enemy fire or actually wounded by enemy fire."
Williams was in the rear assault element, remaining below the cliff as his teammates were pinned down by rifle, machine gun and rocket fire. Seeing the need to help his comrades, Williams rallied the Afghan commandos and forded the freezing river then scaled the near-vertical cliff to establish fighting positions, according to his award citation. He then moved forward, braving a "gauntlet of heavy machine gun fire" to reach one injured Green Beret, render first aid and evacuate him down the cliff to a position from where they could be evacuated, the citation reads.
"Again and again, Matt exchanged fire with the enemy and rescued his fellow soldiers," Trump said, detailing Williams' actions. "He guided his injured team sergeant down the mountain to safety … and as the terrorists continued to try to overrun their positions … he fought for hours, valiantly protecting the wounded and putting his own life in great peril to save his comrades."
Each time he completed one task, Williams looked for another, his fellow Green Berets recalled. He killed insurgents as he shielded his injured comrades, led multiple counterattacks and helped move wounded soldiers to safety.
"He was always looking for work," Walton said. "When Matt completed one task, he showed right back up, all of it under fire. All of it under extreme physical stress and enemy activity around us… From my perspective, he did a great job. He really epitomized that values of our team, and of Special Forces in general."
Williams said he kept moving and completing tasks because that was what he was trained to do. As the mission turned from an operation to kill or capture a high value target to escaping alive, Williams said he never let himself lose confidence that he and his fellow Green Berets could make it.
"There's no other option. You can quit and kind of sit on the sidelines … or you can take as much control of a terrible situation as you can and find things to make it better," he said. "In this situation, it was finding out how to get our guys down or whatever we needed to do."
Williams, who has deployed at least four additional times to Afghanistan and recently completed a deployment in Africa, said he has taken lessons learned that day — just one of countless firefights the 14-year veteran has survived — and applied them to other missions. But he rarely talks about that battle, he said.
The soldiers who he is now responsible for as the top enlisted Green Beret in his unit probably were not aware of his role in that fight or of his Silver Star until he felt he had to tell them he would receive the Medal of Honor.
"I kind of kept that quiet," he said, acknowledging he would not be able to do so after receiving America's top honor for combat valor.
Williams' life is certain to change, even as he intends to remain on active duty. Shurer said his own Medal of Honor ceremony in October 2018 was a blur, but it has given him the opportunity to advocate for Special Forces veterans and support charity initiatives.
"At first, it definitely felt a little bit overwhelming," Shurer said of receiving the Medal of Honor last year. "There are certainly some times where — it's a lot to carry. I think [Willliams is] going to be a great representative of the United States military, especially the Army special operations community."
In addition to Williams' and Shurer's Medals of Honor, the military awarded other special operators who fought in the Battle of Shok Valley. The medals included an Air Force Cross — the service's second highest valor award — and seven Silver Stars, marking the fight among the most recognized for valor in recent American history.
Williams said it is a testament to the fortitude that the Green Berets showed in the face of crisis.
"Everybody really came together," he said. "We never quit. They always continued to do what needed to be done – what was in their power, basically to help the situation become better than worse."
dickstein.corey@stripes.com Twitter: @CDicksteinDC
---
---
---
---