Trump picks former Army officer for Navy secretary
by
Corey Dickstein
January 26, 2017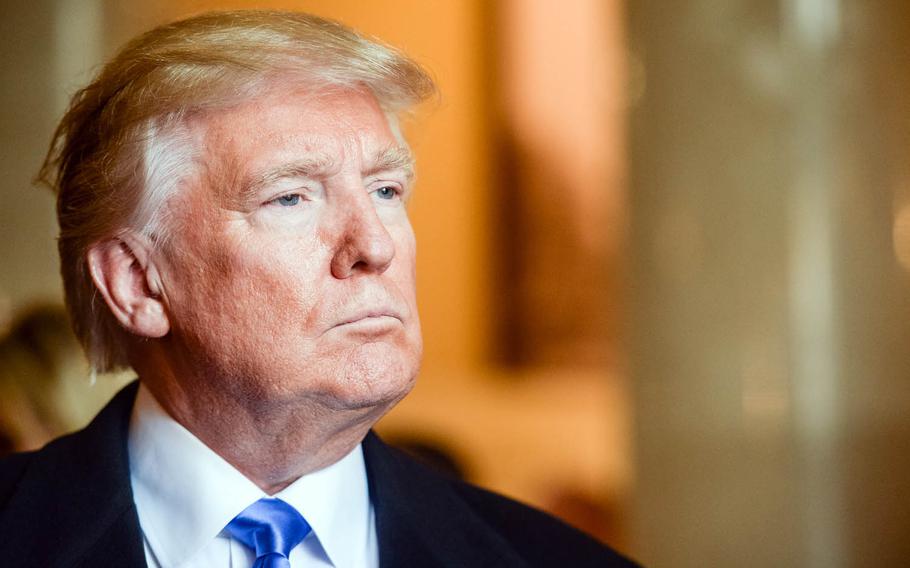 WASHINGTON — A former Army officer-turned-international businessman is President Donald Trump's choice for Navy secretary, the White House has announced.
Trump tapped Philip Bilden to serve as the Navy's top civilian, who will be charged with overseeing the president's stated goals of expanding and modernizing the Navy's fleet. If confirmed by the Senate, Bilden will become the 76th secretary of the Navy, which oversees the Navy and the Marine Corps, replacing Ray Mabus, who served in that role throughout President Barack Obama's administration.
"As Secretary of the Navy, Philip Bilden will apply his terrific judgment and top-notch management skills to the task of rebuilding our unparalleled Navy," Trump said Wednesday in a prepared statement. "Our number of ships is at the lowest point that it has been in decades. Philip Bilden is the right choice to help us expand and modernize our fleet, including surface ships, submarines and aircraft, and ensure America's naval supremacy for decades to come."
Bilden served 10 years in the Army Reserve as a military intelligence officer, attaining the rank of captain before he resigned his commission in 1996 to lead the Hong Kong branch of HarbourVest Partners, an international private equity firm that he co-founded in 1991. Bilden recently retired from the firm.
He is a 1986 graduate of Georgetown University and he received a master's of business administration from Harvard Business School in 1991.
In the White House announcement of Bilden's selection, he was touted for his commitment to the military, which includes serving on the boards of the United States Naval Academy Foundation and the Naval War College Foundation. He has "longstanding trusted relationships with senior military leaders, particularly in the U.S. Navy and Marine Corps, through his years of national security engagement," according to the White House news release.
Bilden has two sons serving in the Navy.
Trump throughout his campaign and since being sworn-in as president last week has criticized the state of the Navy and vowed to grow it from 274 ships to 350.
"Maintaining the strength, readiness, and capabilities of our maritime force is critical to our national security," Bilden said in a statement. "If confirmed, I will ensure that our sailors and Marines have the resources they need to defend our interests around the globe and support our allies with commitment and capability."
Under Mabus, the Navy and Marine Corps underwent major social changes. Mabus oversaw the services as the ban on openly gay troops was repealed and later as they implemented policies to allow women to serve in previously male-only positions. Some of Mabus' initiatives on social issues were unpopular among troops and veterans, including his push to remove the word "man" from many job titles within the Navy and Marine Corps.
He was also criticized, primarily by Republican lawmakers, for his non-traditional naming of Navy ships, including naming a warship last year after gay rights activist Harvey Milk.
Bilden was the last of the Defense Department's service secretaries to be nominated. Trump announced Monday that he had tapped former congresswoman Heather Wilson, a former Air Force officer, for Air Force secretary. He announced in December that billionaire businessman Vincent Viola, an Army veteran, would be tapped for Army secretary. Senate confirmation hearing have not yet been scheduled for those positions.
Defense Secretary James Mattis, a retired Marine Corps general, lauded Trump's service secretary picks in a statement released Wednesday evening.
"All three of these nominees have my utmost confidence," Mattis said. "They will provide strong civilian leadership to strengthen military readiness, gain full value from every taxpayer dollar spent on defense, and support our servicemembers, civilians, and their families … They had my full support during the selection process, and they will have my full support during the Senate confirmation process. "
dickstein.corey@stripes.com Twitter: @CDicksteinDC