Trump might send up to 15K troops to US-Mexico border
by
Corey Dickstein
October 31, 2018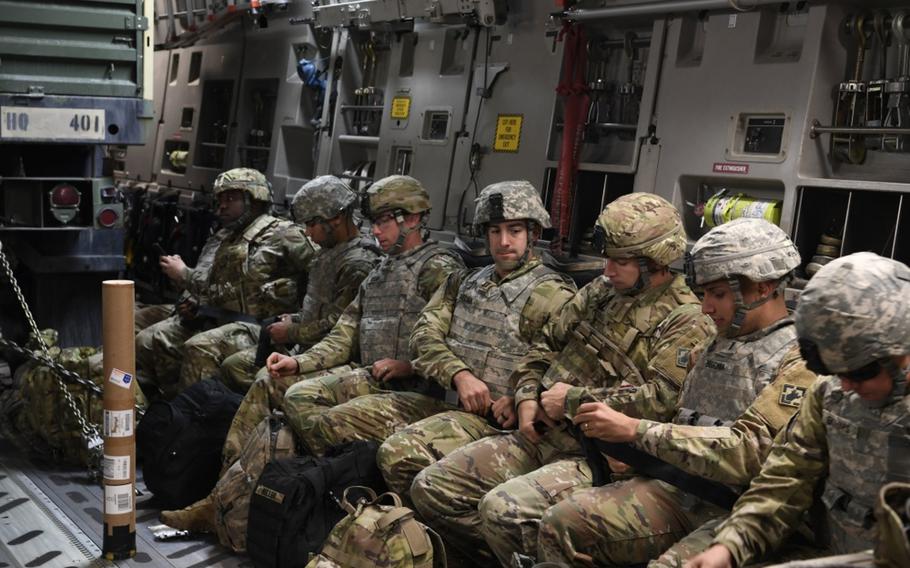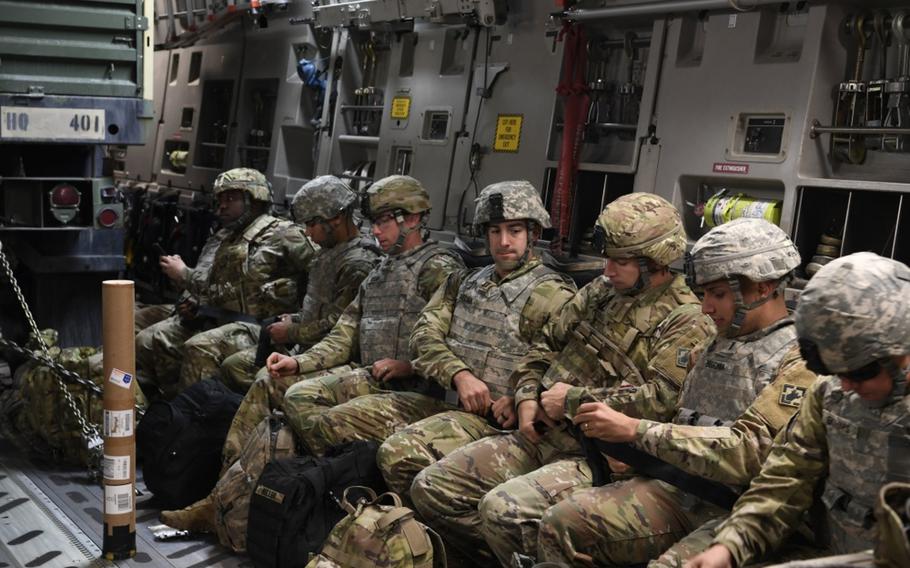 WASHINGTON – President Donald Trump late Wednesday told reporters that he intends to send 10,000 to 15,000 troops to the U.S.-Mexico border, indicating that as many as 6,000 additional troops could be notified to prepare to deploy.
"Immigration is a very, very big and very dangerous – a really dangerous topic," Trump said outside the White House before leaving for a campaign-style rally in Florida. "And we're not going to allow people to come into our country that don't have the well-being of our country in mind."
The Pentagon has notified 7,000 active-duty servicemembers that they could be sent to support its new operation as the mission expands beyond the initial 5,200 troops set to deploy by the weekend, officials said Wednesday.
Defense Secretary Jim Mattis on Wednesday dismissed concerns raised by some Democratic lawmakers and others that the deployment was a political move ahead of the Nov. 6 midterm elections by Trump, who has raised illegal immigration as his primary concern in recent weeks. Mattis called the deployment "practical support" for the Homeland Security Department.
"We don't do stunts in this department," Mattis told reporters at the Pentagon.
By Wednesday, nearly 2,000 troops had already been placed on prepare to deploy orders, a defense official said on the condition of anonymity. Air Force Gen. Terrence O'Shaughnessy, the chief of U.S. Northern Command, said Tuesday that the mission, dubbed Operation Faithful Patriot, would grow in the coming days.
The Pentagon has called up 39 military units and teams with engineering, logistics, aviation, medical, military police and public affairs capabilities primarily from the Army, according to documents obtained Wednesday by Stars and Stripes.
Those units include five combat engineer companies, aviators from the 3rd Infantry Division and the 82nd Airborne Division, military police officers from Fort Hood and Joint Base San Antonio in Texas, Fort Bragg in North Carolina, and Fort Riley in Kansas, and logistics units from the 4th Infantry Division and the 101st Airborne Division. The units do not include any ground combat units, though O'Shaughnessy said troops would be armed and authorized to use force to defend themselves.
The latest deployment of active-duty servicemembers joins about 2,100 National Guard troops who have been assigned to the border region since April to aid Customs and Border Protection agents, primarily with support duties such as vehicle maintenance and administrative tasks, military officials have said.
The Pentagon has identified 13 bases in California, Arizona and Texas to support the border operations, according to the documents.
Those bases are designed to serve as "logistics hubs," according to the documents. In Texas, those bases are the Army's Fort Bliss, Lackland Air Force Base, Naval Air Station Corpus Christi, Naval Operations Support Center Harlingen and Naval Air Station Kingsville. In Arizona, those bases are Davis-Monthan Air Force Base and the Army's Fort Huachuca. In California, the bases identified are Marine Corps Air Station Miramar, the Marine's Camp Pendleton, Naval Air Facility El Centro, Naval Base Coronado, Naval Base San Diego and Naval Base Point Loma.
The troops' mission will be limited in capacity to supporting CBP agents to "harden the southern border," O'Shaughnessy said. They are not expected to come into contact with migrants or conduct civilian law enforcement activity, an act from which they are barred by federal law.
Nonetheless, President Donald Trump on Wednesday tweeted that the military would be in place at the border to stop a loosely organized group of migrants, known as a caravan, making their way toward the United States largely by foot. The group of Central Americans, which has said most of them seek refugee status after fleeing violence in their home countries, remains almost 1,000 miles from the border as it moves about 15 or 20 miles per day through Mexico, according to The Associated Press.
"Our military is being mobilized at the Southern Border. Many more troops coming. We will NOT let these Caravans, which are also made up of some very bad thugs and gang members, into the U.S. Our Border is sacred, must come in legally. TURN AROUND!" Trump tweeted Wednesday.
Defense Secretary Jim Mattis, who approved the deployment late last week, has authorized military personnel to perform planning, logistics, medical and construction duties, official said. They include putting up temporary barriers, coiled razor-wire and fencing along the border, building temporary shelter to support CBP agents, ferrying CBP agents by helicopter along the border, and providing the CBP with meals-ready-to-eat and riot gear. Medical troops will be deployed to support servicemembers and CBP agents, however they would also be authorized to treat injured migrants, the defense official said.
These are the units that will support the mission, according to Pentagon documents:Logistics units
Headquarters and Headquarters Company, 3rd Expeditionary Sustainment Command, Fort Bragg, N.C. 264th Combat Sustainment Support Battalion Headquarters and Headquarters Company, 4th Sustainment Brigade, 4th Infantry Division, Fort Carson, Colo. Headquarters and Headquarters Company, 68th Combat Sustainment Support Battalion, 4th Sustainment Brigade, 4th Infantry Division, Fort Carson, Colo. 90th Human Resources Company, 3rd Special Troops Battalion, 3rd Sustainment Brigade, Fort Stewart, Ga. Defense Logistics Agency Contingency Contracting Team, Joint Base San Antonio, Texas 4th Expeditionary Sustainment Command Assessment Team, Joint Base San Antonio, Texas 289th Quartermaster Company, 553rd Combat Sustainment Support Battalion, 1st Cavalry Division Sustainment Brigade, Fort Hood, Texas 887th Engineer Support Company, 101st Airborne Division Sustainment Brigade, Fort Campbell, Ky. 372nd Inland Cargo Transfer Company, 129th Combat Sustainment Support Battalion, 101st Airborne Division Sustainment Brigade, Fort Campbell, Ky. 74th Transportation Company, 129th Combat Sustainment Support Battalion, 101st Airborne Division Sustainment Brigade, Fort Campbell, Ky. 29th Movement Control Team, Fort Bragg, N.C. 403rd Inland Cargo Transfer Company, Fort Bragg, N.C. Engineer units
87th Engineer Sapper Company, 555th Engineer Brigade, Joint Base Lewis-McChord, Wash. Headquarters, 62nd Engineer Battalion, 36th Engineer Brigade, Fort Hood, Texas 937th Engineer Sapper Company, 8th Engineer Battalion, 36th Engineer Brigade, Fort Hood, Texas 104th Engineer Construction Company, 62nd Engineer Battalion, 36th Engineer Brigade, Fort Hood, Texas Headquarters and Headquarters Detachment, 19th Engineer Battalion, 20th Engineer Brigade, Fort Knox, Ky. 15th Engineer Company, 19th Engineer Battalion, Fort Knox, Ky. 541st Engineer Sapper Company, 19th Engineer Battalion, Fort Knox, Ky. 41st Engineer Company, 4th Engineer, Battalion, 36th Engineer Brigade , Fort Riley, Kan. Joint Enabling Capability Team, Peterson Air Force Base, Colo.Aviation units
2nd Assault Helicopter Battalion, 82nd Airborne Division, Fort Bragg, N.C. 3rd Combat Aviation Brigade Headquarters, 3rd Infantry Division, Hunter Army Airfield, Ga. Aviation Planning from U.S. Northern Command, Peterson Air Force Base, Colo.Military Police units
Headquarters and Headquarters Company, 16th Military Police Brigade, Fort Bragg, N.C. Headquarters and Headquarters Detachment, 503rd, Military Police Battalion, Fort Bragg, N.C. Headquarters and Headquarters Company, 505th Military Intelligence Brigade, Joint Base San Antonio, Texas 89th Military Police Brigade, III Corps, Fort Hood, Texas Headquarters and Headquarters Detachment, 97th Military Police Battalion, 1st Infantry Division, Fort Riley, Kan. 977th Military Police Company Combat Support, Fort Riley, Kan. 287th Military Police Company Combat Support, Fort Riley, Kan.Medical units
51st Medical Company, 28th Combat Support Hospital, Fort Bragg, N.C. 172nd Preventative Medicine, Fort Bragg, N.C. Public affairs and media production units: Joint Public Support Element-Public Affairs, Scott Air Force Base, Ill. 55th Signal Company-Combat Camera, Fort Meade, Md. 5th Mobile Public Affairs Detachment, I Corps, Joint Base Lewis-McChord, Wash. 1st Combat Camera Squadron, Joint Base Charleston, S.C. 24th Press Camp Headquarters, 1st Armored Division, Fort Bliss, Texas dickstein.corey@stripes.com Twitter: @CDicksteinDC