Trump lays out plan for private veterans care, new VA secretary
by
Travis J. Tritten
July 11, 2016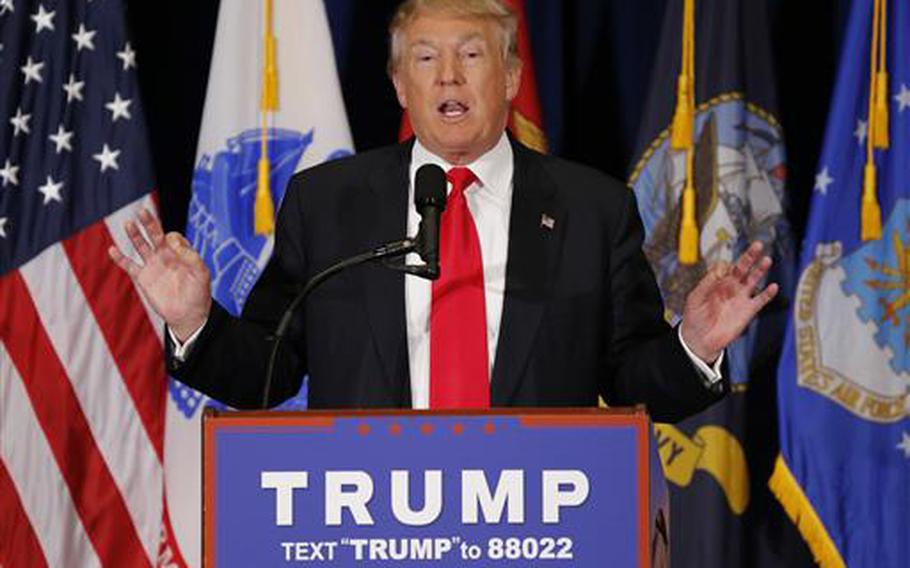 WASHINGTON – Donald Trump on Monday laid out a 10-point plan for fixing the beleaguered Department of Veterans Affairs, calling for universal private health care for veterans, a direct telephone complaint line to the White House and a new department secretary who is not a "political hack."
Amid scorching criticisms, Trump said vastly expanded private care is one way to solve deep-seated corruption that faces the department and that he will use his managerial expertise to directly intervene in VA affairs, if necessary. And he will choose better leadership.
The event in Virginia Beach was the first major veteran policy speech given by Trump since he became the presumptive GOP nominee for president and pits him against Hillary Clinton and Democrats in Congress, who attacked Trump on Monday by claiming he is going against veterans' wishes by trying to privatize VA care.
"Every veteran has the choice to seek care at VA or private care, paid for by our government," Trump said. "Never again will we allow a veteran to suffer or die waiting for care they so richly deserve."
The billionaire business mogul sketched out the same expansion of private health care when he gave his first veteran policy speech in Norfolk in October.
On Monday, he said the government has chosen a policy that is too restrictive with the Veterans Choice program, which gave veterans a card to access private health care if they cannot get a VA appointment within 30 days or live more than 40 miles from a VA facility. The cards have been used for more than 1 million appointments so far.
The $10-billion emergency program was passed by a bipartisan group in Congress following the VA's 2014 wait-time scandal, which started with reports that 40 veterans in Phoenix died waiting for care and quickly ballooned into a scandal over long, hidden waits at hospitals and clinics across the country.
The program is now set to expire early next year and lawmakers and veteran groups are debating what to do.
Sen. John McCain, R-Ariz., has pushed for making the Choice card universal and permanent – similar to Trump's proposal. But others in Congress have balked at the potential cost.
Many veteran groups have also opposed expansion of the Choice card and instead prefer a nationwide network of private care providers that are coordinated by VA and tapped by the department when veterans need specialized or specific types of treatment.
Among his other VA initiatives, Trump said he would create a private hotline to the White House for VA complaints about wrongdoing to ensure none "fall through the cracks."
"I will instruct my staff that if a valid complaint is not addressed that the issue be brought directly to me, and I will pick up the phone and fix it myself," Trump said.
His most biting criticism appeared to be lobbed at VA Secretary Bob McDonald, a retired CEO and Army Ranger who was appointed in 2014 following the wait-time scandal.
Trump said he will appoint a secretary who is on a personal mission to clean up the department – something McDonald has been publicly claiming since he took the position.
"This will be a person of great competence. This will not be a political hack," he said.
The Clinton campaign and Democrat combat veterans in the House attempted to preempt the Trump policy speech Monday with criticism of his plans for private care and his record of controversial statements.
Rep. Seth Moulton, D-Mass., a former Marine infantry officer who served multiple tours in Iraq, said Trump has "talked a lot of privatizing VA and just pushing all veterans into the private health care system."
But Moulton said the Veterans Choice program has run into problems – it still causes payment difficulties for private providers – and that VA wait times have increased since it was created.
"Now, he's planning to dramatically expand Choice. We already know from experience that that won't work," Moulton said. "If you just do the math, you see the private health care system cannot absorb all the veterans."
About 9 million veterans are enrolled in the VA health care system but it remains unknown how many would choose private doctors and hospitals outside the department if given the opportunity.
"Once you are in the system it turns out to be a great system," said Rep. Ruben Gallego, D-Ariz., a Marine veteran who also fought in the Iraq War.
Gallego said Trump lacks the knowledge needed to really improve the VA and instead would lead the country down the path to privatization, where veterans with sometimes unique medical problems are left on their own in the private health care system.
tritten.travis@stripes.com Twitter: Travis_Tritten
---
---
---