Trump grants National Guard deployed in virus fight access to federal health care coverage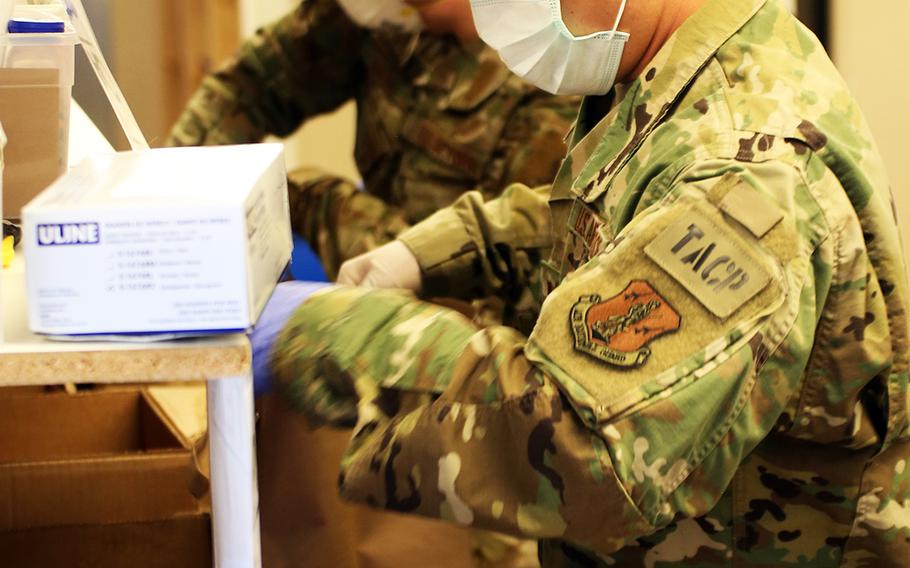 window.location.replace('https://www.stripes.com/news/us/less-than-half-of-national-guard-troops-deployed-in-virus-fight-have-access-to-federal-health-care-coverage-1.625387');Stars and Stripes is making stories on the coronavirus pandemic available free of charge. See other free reports here. Sign up for our daily coronavirus newsletter here. Please support our journalism with a subscription.
National Guard troops deployed on federal orders in the fight against the coronavirus pandemic now can access military health care coverage, according to an executive order signed by President Donald Trump on Tuesday night.
The directive followed weeks of anxiety for thousands of troops who have been exposing themselves to the highly contagious virus but were unable to enroll in Tricare health insurance. The coverage is only available to Guard members on federal orders for more than 30 days and Trump's new order authorized troops to deploy for up to 31 days.
"Under those orders, Guard soldiers and airmen could go to military treatment facilities if they are hurt or fear they are infected with the coronavirus, but most are not serving near such a facility," retired Brig. Gen. J. Roy Robinson, president of the National Guard Association, said in a statement. "Only Tricare enables them to go to local doctors and hospitals without using their private insurance or digging into their pockets."
More than 28,400 National Guard troops are deployed across all states, territories and Washington, D.C., providing support to their local communities. Missions include cleaning nursing home facilities and testing staff and residents for the virus, staffing test and screening sites, expanding hospital bed capacity and building field hospitals, and screening passengers at airports for coronavirus symptoms.
However, the medical coverage — and the other federal benefits afforded National Guard members working in a federal capacity — are not available to all Guard members activated in response to coronavirus. Only troops in states and on missions approved by the Federal Emergency Management Agency are on the federal status, known as Title 32, which provides federal money to states for those service members, but allows the states' governors to maintain control over them.
Trump's directive Tuesday also approved Arizona, Colorado, Kentucky, Mississippi, Montana, Nevada, North Carolina, Oregon, Pennsylvania, South Carolina, Virginia, Wisconsin and West Virginia for Title 32 status. Those states join 21 others, three territories and Washington, D.C.
Along with a handful of senators, Robinson and the Guard association had pushed first for the federal status and then for health care coverage.
"We applaud President Trump's action last night that will provide many Guard soldiers and airmen with the medical coverage they need to fight the nation's greatest public health crisis in more than a century," Robinson said.
thayer.rose@stripes.com Twitter: @Rose_Lori