Trump authorizes wider use of land mines in new policy
by
Caitlin M. Kenney
January 31, 2020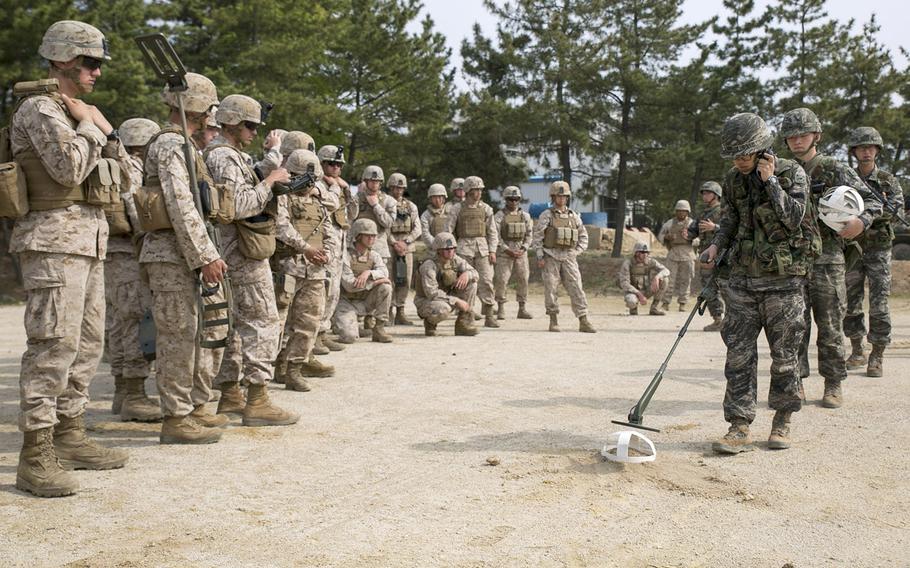 WASHINGTON — President Donald Trump on Friday canceled a 2014 policy by former President Barack Obama that restricted the use of anti-personnel land mines to the Korean Peninsula.
"The Department of Defense has determined that restrictions imposed on American forces by the Obama administration's policy could place them at a severe disadvantage during a conflict against our adversaries. The president is unwilling to accept this risk to our troops," the White House said in a statement.
The policy was changed to meet the demands of the National Defense Strategy, which has refocused the military on the challenges of near-peer adversaries such as China and Russia and away from counterterrorism operations.
The change would authorize only combatant commanders in "exceptional circumstances" – without specifying what those circumstances could be — to use "advanced, non-persistent land mines" that are designed to reduced unintended harm to civilians and allies. The commanders would still need approval from the defense secretary to use land mines.
Non-persistent land mines are described in the new Pentagon policy as ones that are designed to self-destruct in 30-days or less after they are placed. Unlike older persistent land mines, these mines would not be active in the ground long after a conflict is over and could cause harm to civilians. The policy also authorizes the military to evaluate acquiring "on/off" systems that can be remotely activated to deal with threats and then deactivated when the threat is over.
In a Pentagon fact sheet on the policy, it states the reliability of U.S. land mines with self-destruct and self-deactivate safety features is "very high," with a 6 in 1 million chance of a land mine being active longer than intended.
"We can go back to giving our soldiers, Marines this capability which may be decisive in a future conflict. And at the same time be absolutely committed to reducing and limiting civilian casualties. Then why wouldn't we do that?" Vic Mercado said Friday to reporters at the Pentagon. He is performing the duties of assistant secretary of defense for strategy, plans, and capabilities.
Combatant commanders are given the flexibility to plan the use of land mines if it involves situations that puts military personnel in harm's way, including a major conflict, according to Mercado. With the old policy, land mines were only used on the Korean Peninsula and other commanders could not plan to use them as a deterrent against an enemy -- a concern during planning for great-power conflicts.
"When you talk about risk and our disadvantage before, going against a near-peer power and we do not allow our forces, our commanders to employ a capability when they do? And they have thousands" of land mines, he said. "Looking forward, we are in a much better situation in relation to the adversaries."
But Mercado also he does not see land mines being used now in places such as Afghanistan or Syria. He would not provide a specific example of a scenario in which a combatant commander would request to use land mines. He said if forces were outnumbered, they could equalize their chances by using land mines and get reinforcements to come to them.
Defense Secretary Mark Esper emphasized earlier Friday that land mines are an important tool for commanders to use on the battlefield and for the protection of troops.
"At the end of the day, we want to make sure that we have all the tools in our tool kit that are legally available and effective to ensure our success and to ensure the protection of our soldiers, sailors, airmen and Marines," Esper told reporters.
The new policy was developed during former Defense Secretary Jim Mattis' tenure, Esper said.
The Obama administration had committed to destroying U.S. stockpiles of land mines no longer needed for the defense of South Korea. It sought to move the United States toward eventually becoming a party to the 1997 Ottawa Convention, an international agreement that banned the use, stockpiling, production and transfer of anti-personnel land mines.
Humanitarian organizations such as Human Rights Watch and the International Committee of the Red Cross have petitioned countries to prohibit the use of land mines because they are an indiscriminate weapon of war that can cause serious injury and death long after a conflict has concluded. For example in Afghanistan, efforts have been underway by private organizations for decades to remove the millions of land mines in the country, most of them left behind by Soviet and Soviet-backed forces in the 1980s and early 1990s, according to Human Rights Watch.
Esper made assurances that the new policy would consider the nature of land mines and their potential to harm civilians outside of war.
"In everything we do, we also want to make sure that these instruments, in this case landmines, also take into account both the safety of employment and the safety to civilians and others after a conflict," he said.
The Associated Press contributed to this story.