Troubled for-profit ITT Tech Institute closes its doors on thousands of student veterans
---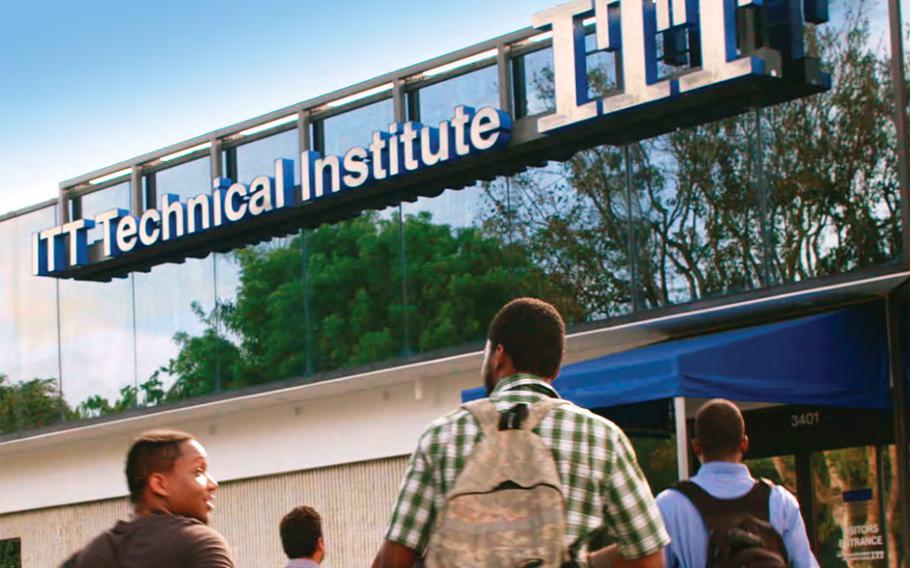 SAN ANTONIO — ITT Technical Institute said Tuesday it was immediately closing all campuses, more than 130 in all, throwing into doubt the future education of thousands of student veterans attending there.
The troubled for-profit school, roiled by scrutiny from the U.S. Department of Education, blamed the federal agency in a prepared statement, saying it showed "complete disregard" for due process by requiring ITT to put up nearly $250 million in guarantees to offset losses in federal loans if the school were to close.
"We believe the government's action was inappropriate and unconstitutional," the Tuesday statement said. The Department of Education and 19 state attorneys general are investigating ITT over its marketing and job placement claims, along with the Securities and Exchange Commission, the Chicago Tribune reported.
Nearly 12,500 students used the GI Bill at ITT in 2015, according to data from the national advocacy group Student Veterans of America. ITT is a vocational school with a combination of brick and mortar and online campuses with more than 40,000 students nationwide.
The sudden closure of ITT forces thousands of student veterans to make immediate decisions about their education, said Carrie Wofford, the president of Veterans Education Success, a non-profit offering free financial advice to veterans deceived by for-profit recruiters.
"One thing we have found is many students were promised the GI Bill would cover the cost, but they were signed up for student loans" often without their knowledge, Wofford said Tuesday. Veterans with debt typically carried around $30,000, though one veteran who was promised the GI Bill would cover tuition racked up $80,000 in student loans, she said.
Veterans with federal student loans at ITT have a complicated decision. They are eligible to receive loan forgiveness if they do not transfer to another school, Wofford said, so they must calculate if dropping the debt is a better deal than receiving the GI Bill's monthly housing stipend.
ITT provided a list of schools with transfer agreements, according to an email sent out to students Tuesday and obtained by Stars and Stripes, though the focus on schools similar to ITT concerned Wofford.
Some of the schools listed are "pretty bad for-profit colleges under law enforcement investigation and are on shaky financial ground like ITT," she said. "It will send students into the same problems they have now."
VES has advised veterans attending ITT and other troubled for-profits to transfer to community colleges, Wofford said, where the lower tuition cost will be helpful for students who have used up their GI Bill.
Paul Allen, an Army veteran who received his associate degree at ITT in New York, woke up without a school on Tuesday. He moved to California in November to finish a bachelor's degree in cybersecurity in California. His Albany campus advised him to transfer because it did not offer a four-year degree plan, he said.
All eight schools in the area will not accept transfer credits from ITT, Allen said Tuesday.
"I'm either going to give up or take out loans to restart my degree," he said.
Like many veterans attending school on the GI Bill, he relied on the alternative income of a housing stipend while focusing on school full-time.
Allen received around $3,100 a month while attending ITT in California, but with that suddenly gone, his wife's income will only cover rent and insurance. That leaves little left over for food and other expenses, he said.
"The situation looks pretty gray. The jobs in cybersecurity I've been looking at require a bachelor's degree," he said. "I could qualify for a call center job, but I don't need a degree for that anyway. I could have done that job without any of this."
The Department of Veterans Affairs said Tuesday that affected ITT students can use the department's GI Bill comparison tool and its school selection guide to find a new college to attend. Students concerned about their benefits should also call 1-888-442-4551, a VA spokesperson said.
Horton.Alex@stripes.com Twitter: @AlexHortonTX
---
---
---
---