Troops serving along Mexico border to get medal
---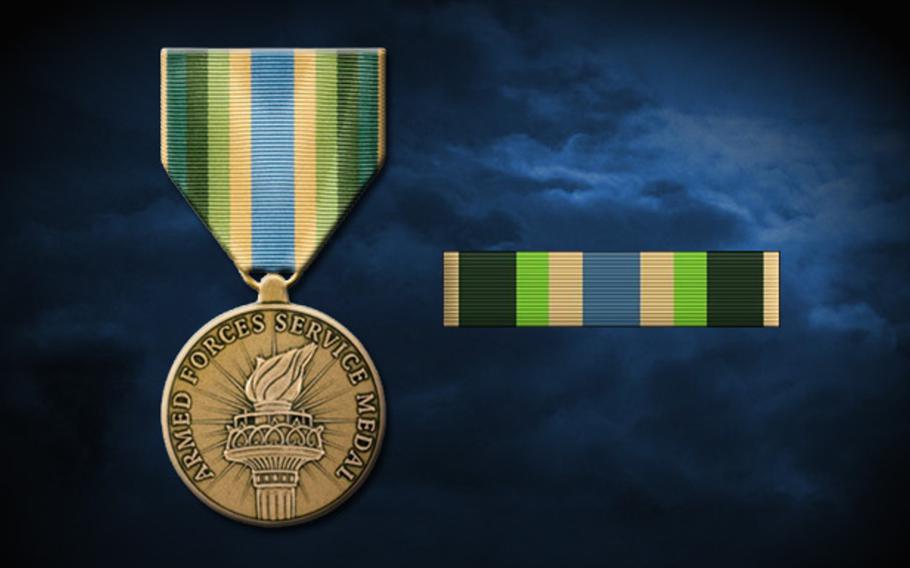 U.S. troops who have served along the Mexican border to assist Customs and Border Protection since last spring have been authorized to receive the Armed Forces Service Medal, which recognizes "significant" military operations that do not involve combat.
"The area of eligibility encompasses the U.S. land area 100 nautical miles from the international border within Texas (and the city of San Antonio), New Mexico, Arizona, and California; and the adjacent U.S. waters out to 24 nautical miles," said a Marine Corps administrative message last week.
It said the Pentagon authorized the medal for a period beginning April 7, 2018, with an end date yet to be determined since the operation remains ongoing.
Thousands of servicemembers sent to the border are eligible to receive the medal, which recognizes those who, as a unit, take part in a designated U.S. military operation "deemed to be a significant activity" and "encounter no foreign armed opposition or imminent hostile action," Defense Department criteria state.
The AFSM was created by executive order under President Bill Clinton in 1996. It was given to troops who deployed to the border between May 2006 and July 2008 under President George W. Bush. It has also been awarded to troops who have taken part in peacekeeping and humanitarian missions in Bosnia, Haiti, Iraq and Africa.
Active duty, Reserve and National Guard forces began deploying to the border in April 2018, after President Donald Trump referred to the crisis there as an "invasion."
Critics have called the troop deployments a political stunt, but the Pentagon has continued to send more troops citing the need for greater logistical support to the Department of Homeland Security.
Migrants have overwhelmed CBP agents as more than 800,000 have attempted to enter the country since October, Customs and Border Protection Commissioner Kevin McAleenan told Congress in July. Meanwhile, the Border Patrol has been criticized by congressional leaders as living conditions for detained migrants deteriorated.
President Trump declared a national emergency over the issue in February in an effort to secure funding from Congress to build a wall along the U.S. southern border. The Supreme Court ruled last month that the president could use $2.5 billion in Pentagon money to construct a border wall.
Also last month, the Pentagon said it would deploy 2,100 more active duty and National Guard troops to the border, joining some 4,500 already deployed there, to help support CBP operation.
ferguson.brian@stripes.com Twitter: @BrianFerg57
---
---
---
---