Travis Air Force Base lifts mandatory evacuation order
by
Caitlin M. Kenney
August 21, 2020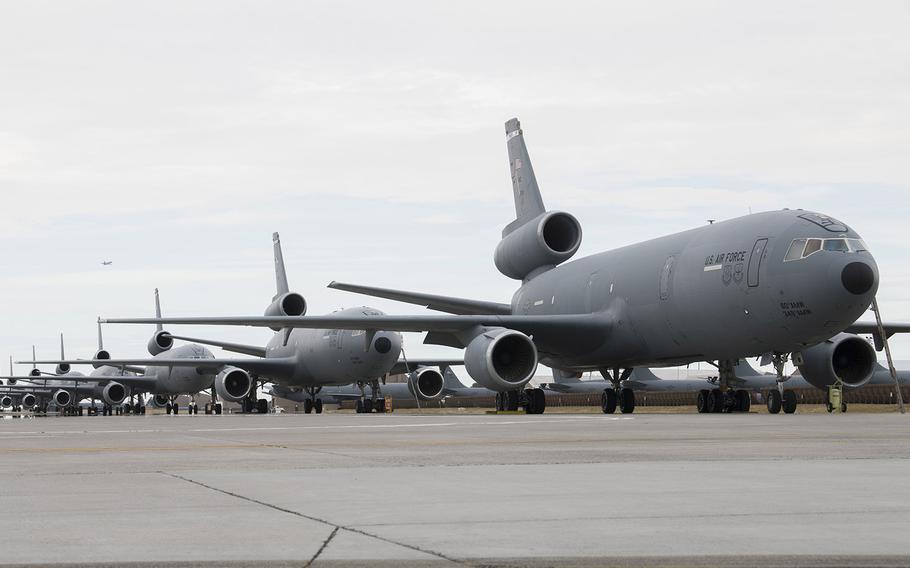 WASHINGTON — Airmen and their families who had to evacuate from Travis Air Force Base due to a nearby wildfire can return home, the California base announced Friday.
Airmen who are not mission-essential personnel had to evacuate the base with their families Wednesday due to the nearby LNU Lightning Complex Fire.
Col. Corey Simmons, commander of the 60th Air Mobility Wing at Travis, gave the evacuation order "out of an abundance of caution," according to a statement Friday on the base's official Facebook page.
Since a lightning strike started the fire Monday, it has burned nearly 220,000 acres, destroyed 480 structures and damaged 125 others, according to the California Department of Forestry and Fire Protection's website as of Friday. Four people have died from the fire.
There has been no fire-related damage to Travis Air Force Base or any equipment, according to the base statement.
People can start returning to the base immediately and the base expects aircraft that was also evacuated to return to the base during the next few days. Travis' 60th Air Mobility Wing has C-5M Super Galaxy and C-17 Globemaster III cargo aircraft and KC-10 Extender refueling aircraft, according to the base's website.
Most of the base services such as the commissary and the base exchange are still closed to allow for a "smooth transition to base for returning evacuees," according to the statement.
Service members who evacuated will need to work with their chain of command to receive information on reimbursement for lodging and expenses due to the mandatory evacuation, according to the base.
Located about 40 miles southwest of Sacramento, Travis Air Force Base's 60th Air Mobility Wing has more than 7,000 active-duty troops and more than 3,200 civilian workers, as well as 3,078 reservists from the 349th Air Mobility Wing, that all support the base's mission to move people and cargo and refueling aircraft around the world. The base "handles more cargo and passengers than any other military air terminal in the United States," according to its website.
Kenney.Caitlin@stripes.com Twitter: @caitlinmkenney