Time's running out for the military to build medical facilities needed during peak of coronavirus pandemic, general says
by
Caitlin M. Kenney
April 8, 2020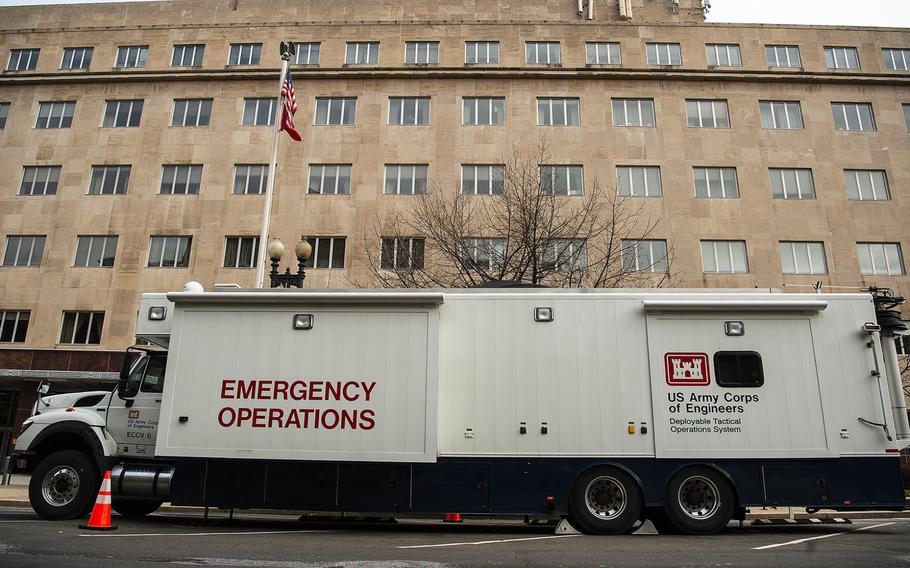 Stars and Stripes is making stories on the coronavirus pandemic available free of charge. See other free reports here. Sign up for our daily coronavirus newsletter here. Please support our journalism with a subscription.
WASHINGTON — The Army Corps of Engineers is running out of time to build new hospitals across the country that could be needed during the peak of the coronavirus outbreak, the general in charge of the Corps said Wednesday.
The Corps of Engineers needs at least three weeks to build a medical facility, like the one at the Jacob K. Javits Convention Center in New York City where 66 patients are now being treated, Lt. Gen. Todd Semonite, the commander of the U.S. Army Corps of Engineers, said during a telephone conference with reporters.
Some states are approaching dates that projections show could be when each one's coronavirus cases will reach a peak, stressing medical facilities. New York's peak is expected Thursday, New Jersey is Sunday, and Connecticut is predicted to be April 22, according to a report by NPR.
"What we used to have is a month to build this and maybe a week or two for a mayor to make a decision. I think that we will probably be done starting new builds probably in a week and that depends on what the curve is, but this is not just going to continue to play out," Semonite said about responding to the virus outbreak.
The Corps now has 17 medical facility projects in cities across the country, including the Javits Center, that will add more than 14,700 beds to treat patients amid the coronavirus outbreak. About $1.6 billion has been approved for these projects.
There are 23 projects that are still pending a decision from mayors and governors on whether to move forward on construction. Some projects have been canceled due to local governments finding less need than anticipated, Semonite said.
Mayors and governors need to decide soon whether they will require an additional medical facility for patients.
"We'll continue to support this. I'm not going to say no. But at some given point this goes back to are you going to be able to get a facility done by the time you're max patients," Semonite said.
The Corps of Engineers has options if cities realize later they do need a hospital, he said.
"This is where it might not necessarily be exactly the facility you want…The neat thing with the hotel concept was it was a faster build -- we can build it faster than a convention center," Semonite said. "Probably lower numbers [of beds], but if there is somewhere we need 200 or 300 [beds], we can go into a regular normal hotel on the side of an interstate and convert that a little bit faster."
Kenney.Caitlin@stripes.com@caitlinmkenney