Throwback tiger stripes could get more use among Green Berets
by
Chad Garland
September 20, 2019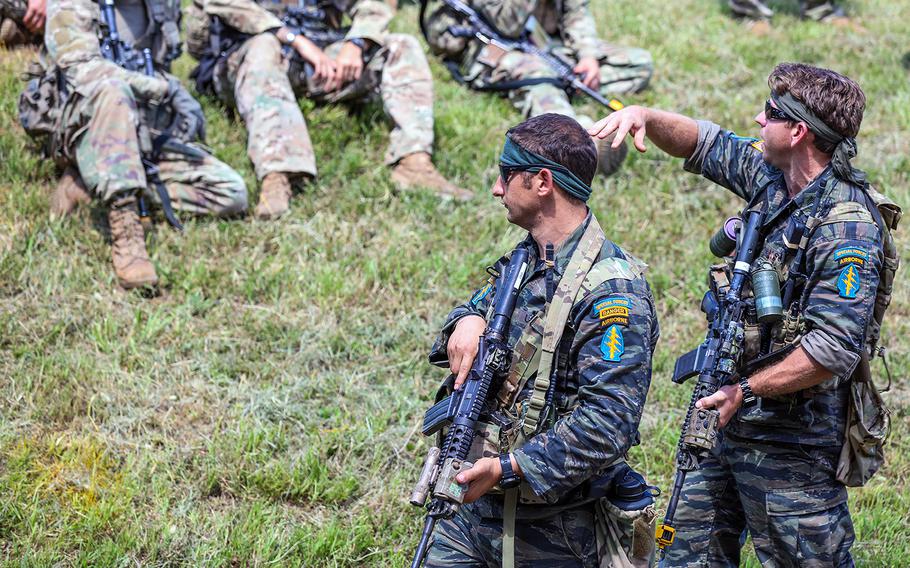 A tiger stripe uniform like the one John Wayne wore in the 1968 film "The Green Berets" is making something of a comeback among today's Green Berets.
Members of 5th Special Forces Group (Airborne), known as Legionnaires, were photographed last month during a training exercise with the 101st Airborne Division wearing the Vietnam War-era camouflage with teal blue Special Forces arrowhead insignia patch and tab, and black-and-yellow Airborne and Ranger tabs on their sleeves — called the tiger stripe uniform.
"These uniforms were nonstandard in nature, which demonstrates the uniqueness of U.S. Army Special Forces and their mission," said Lt. Col. Loren Bymer, U.S. Army Special Operations Command spokesman.
In "The Green Berets," Wayne wore the tiger stripe uniform and a beret bearing 5th Special Forces Group flash.
The jungle camouflage pattern of black stripes on swaths of green, brown and khaki was unofficially adopted from the Vietnamese military by U.S. advisers and became widely used during the war by elite units such as the Special Forces, who organized and trained indigenous partner forces and accompanied them into combat.
A team of 11 Legionnaires wore similar uniforms in August when they trained cavalry soldiers from the 101st Airborne Division's 2nd Brigade Combat Team as a "partner force" for two weeks on mission planning, combat maneuvers and casualty care at Fort Campbell, Ky., where both units are based, 5th Group said last month in a statement.
"Using these uniforms in a training exercise helps inform and educate other non-[special operations] units about different aspects of the culture," Bymer said. "Additionally, this speaks to honor the legacy of Green Berets in Vietnam."
Shortly after 5th Group was activated in September 1961, it began sending elements to South Vietnam, where they trained and led local forces in reconnaissance and direct-action missions, a history on USASOC's website states.
It was among the smallest units in the conflict, but its soldiers were some of the most decorated. Eighteen were awarded the Medal of Honor, nine posthumously, making up the bulk of the 25 Green Berets who have received the Medal of Honor, a list on the website shows.
The Legion was also the first U.S. unit deployed to Afghanistan as part of the 2001 invasion that toppled the Taliban government in the wake of the 9/11 attacks.
In last month's exercise, days and nights of realistic training scenarios culminated in a raid on an enemy encampment, which had reconnaissance squads living in the woods for several days with nothing but what they carried in, the 5th Group statement said.
"Being able to be taught by Special Forces, how they do things, how they do it successfully and us being able to transfer that onto the battlefield is pretty great," Spc. Jamie McFerren, a machine gunner with C Troop, 1st Squadron, 75th Cavalry Regiment, was quoted as saying in the statement.
Officials are considering use of the tiger stripe uniform for more special events, Bymer said. One such opportunity would be the group's annual reunion week — the 58th such event wraps up this weekend at Fort Campbell, but an official there said the uniform was not being worn this year.
"Going back is one way to demonstrate the uniqueness (of the mission and culture)," Bymer said.
garland.chad@stripes.com Twitter: @chadgarland