Three Marine families at Camp Lejeune sue housing firms over moldy, pest-filled homes
by
Rose L. Thayer
September 24, 2020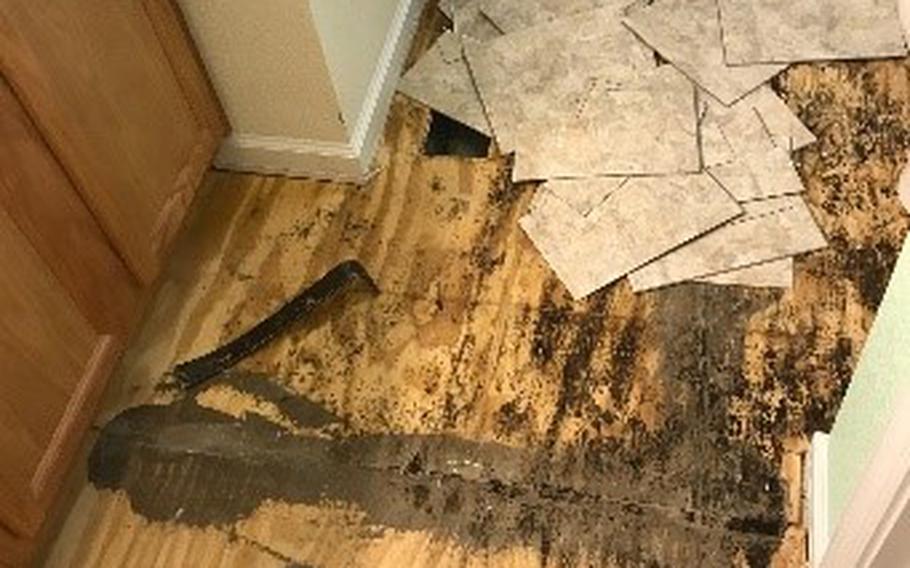 AUSTIN, Texas — Lakin Lewis said she kept her newborn baby's bottles in sealed, plastic bags in her cabinets to keep roaches from crawling across them.
Lindsey Johnson said her family suffered continuous water leaks from the electrical system in their house. But instead of finding the cause, maintenance staff told her not to let the children plug cords into the outlet.
The Burn family said pink and black mold grew and spread along a window frame in their daughter's bedroom.
Those claims are part of a lawsuit filed Friday by the three Marine Corps families against the private companies that manage housing at Camp Lejeune, N.C. The military families claim Lendlease Group, an Australia-based multinational company, and its partner, WinnCompanies, based in Boston, put profits before maintenance and the families' homes were plagued with mold growth and water leaks, and maintenance crews were either unwilling or unqualified to repair the conditions.
"The facts are checking out when the family says, 'I've got water intrusion,' and we send someone out to meet with them, it's really happening," said John Hughes, an attorney with Wallace and Graham, one of four law firms involved with the lawsuit. "The service member, he may be off on assignment or might be overseas, and this is not something that he needs to have on his mind while he's trying to defend the country."
The claims in the suit are similar to those made by other military families living at bases across the country who have filed lawsuits to combat poor housing conditions despite pledges from private housing companies, the military and Congress that making base housing safe and habitable is a top priority. The extent of the poor quality of housing in the military first surfaced two years ago with a Reuters investigation that uncovered the sometimes-dangerous conditions of base housing.
There are now at least eight ongoing lawsuits in courts across the country filed by residents of military family housing. Nine families at Fort Hood, Texas, also filed a lawsuit against Lendlease in June for similar problems.
Other bases where the private housing companies face ongoing litigation include MacDill Air Force Base, Fla., Fort Bragg, N.C., Randolph Air Force Base, Texas, and Fort Meade, Md. While at least two cases related to mold in military housing have seen their day in court, nearly all remain in the pretrial phase, which can take years.
Lendlease's Atlantic Marine Corps Communities, subsidiary company also named in the suit, said they are "reviewing the complaint," according to a statement from a company spokesperson. It total, the company manages nearly 8,000 homes at eight military bases in four East Coast states.
"As is true in any instance, we have strict protocols in place to ensure any concerns are assessed and remediated appropriately and expeditiously," according to the statement. "Our residents' safety, health, and well-being are our top priority. As such, we stand by our strong track record, providing quality homes for service members and their families. Due to the pendency of this matter, we are unable to provide any further details or comment at this time."
The 70-page complaint filed in the Eastern District of North Carolina outlines the stories of the three families who moved into base housing at Camp Lejeune between August 2015 and October 2019. It seeks damages as well as nonmonetary reforms to leasing practices.
First Sgt. Scott Johnson and his spouse, Lindsey Johnson; Staff Sgt. Garrett Burn and his spouse, Kalie Burn; and Cpl. William Lewis and his spouse, Lakin Lewis, all dealt with mold in their homes and an uphill battle to have the issue addressed, as well as a host of other issues including roach infestations, malfunctioning air-conditioning systems and an ongoing struggle with water and leaks. Each of the families has young children.
"The government placed its trust in these private companies, who promised both the Navy and the military families that they would provide excellent quality housing," according to the lawsuit. "However, after being given sole responsibility, Lendlease and Winn placed profits over tenants. This led to cockroaches, filth, vermin, leaks, water intrusion, mold and mildew, failing appliances and fixtures, ineffective maintenance, inadequate repairs, and rude and bullying customer service."
The lawsuit was filed as class action and asks the court to certify the class as tenants of Camp Lejeune from Sept. 18, 2016, to the present.
"What I really want from this is justice for everybody to live in a safe, healthy home," said Lindsey Johnson, a mother of three whose husband has served 18 years in the Marines. "What started it was I watched my kids' health just deteriorate."
Her family was the first to move into a newly built duplex at Camp Lejeune and had ongoing water leaks through the home's electrical system. The cord on her vacuum eventually turned black because of the constant shocks that occurred when she would plug it into the outlet.
That water enabled the house to grow mold that ultimately began to impact her family's health. Now out of the home for more than year, Johnson said her children still face health problems that she attributes to living in that house.
The lawsuit also includes a number of examples of how Lendlease and WinnCompanies cut costs on maintenance. Maintenance technicians had to maintain productivity goals of 10 or more service visits each day, "making it virtually impossible to give families complaining of water intrusion, mold, HVAC or other problems anything more than superficial 'Band-Aid' attention," according to the lawsuit.
Citing a Lendlease investor pitch from 2006, the complaint states the company promised a 10% to 25% return on the investment. Two years later, the country took an economic turn downward and increased pressure to cut costs, according to the lawsuit.
"Despite challenging economic conditions, during the class period, Lendlease turned privatized military housing into a profit center, nearly doubling its project valuation. This was done by cutting service, repair and maintenance costs, letting housing deteriorate, and causing military families to live in abhorrent conditions," according to the lawsuit.
Officials at Camp Lejeune said in a statement that they are aware of the lawsuit.
"However, we are not a party to it, so it would be inappropriate to provide further comment at this time. Nevertheless, the Marine Corps is committed to ensuring our families have safe and adequate housing. We thoroughly investigate any life, health, or safety concerns raised by our residents, and work through our housing partners to ensure any underlying issues are properly addressed."
thayer.rose@stripes.com Twitter: @Rose_Lori
---
---
---