Thornberry wants Pentagon to launch $6 billion initiative to deter Chinese influence in the Pacific
by
Corey Dickstein
April 16, 2020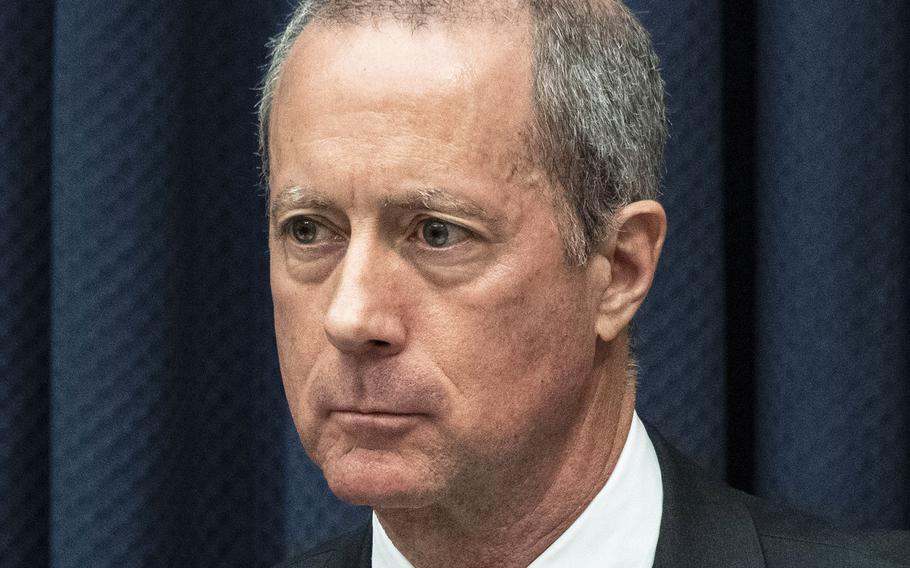 WASHINGTON — The top Republican on the House Armed Services Committee wants the Pentagon to launch a new program aimed at deterring Chinese military expansion and influence throughout the Pacific, an effort modeled after the Defense Department's program aimed at dissuading Russian aggression in Europe.
Rep. Mac Thornberry, R-Texas, proposed in draft legislation released Thursday that Congress include more than $6 billion in its 2021 National Defense Authorization Act, forcing the Pentagon to begin an Indo-Pacific Deterrence Initiative to check Chinese influence campaigns and militarization throughout that region. The proposal would bolster activities that the United States is already conducting in the U.S. Indo-Pacific Command area of responsibility, which was identified in the 2018 National Defense Strategy as the most critical area of concern for the American military.
"Senior officials from both [political] parties, military commanders, and international security experts have told us for years that the Indo-Pacific must be this country's priority theater," Thornberry said in a statement accompanying the proposal. "They are absolutely correct, and it is time to put our money where our mouth is."
In Thornberry's $6.09 billion proposal, the congressman seeks to add to the region more American troops, prepositioned equipment stockpiles, increased missile defense capabilities and new intelligence, surveillance and reconnaissance assets. He also wants to expand training with allies and partner nations there, stressing the need for certainty that the weapons and procedures of different forces can work interchangeably should they need to fight together.
Thornberry is realistic that his full proposal is unlikely to be included in the final 2021 NDAA, which lawmakers hope to pass before the start of the new fiscal year on Oct. 1. But the congressman, who chose not to seek reelection to the seat that he has held since 2005 and will retire from Congress in January, wants to ensure top Pentagon officials are truly focused on China as he nears his exit from office.
"Obviously, defense resources are limited, and we cannot do everything in one year. There also may be other needs I have not identified," Thornberry wrote Thursday in an editorial penned for the Breaking Defense news organization. "But the important thing is to get started."
The Pentagon has eyed increases in spending and operations in the INDO-PACOM region dating back to former President Barack Obama's administration. But despite those plans, other — often unforeseen — needs have vacuumed up resources before they could be shifted to the Pacific. Among them were Russia's 2014 invasion and annexation of Ukraine's Crimea region. And, more recently, increasing tensions last year with Iran that seemingly brought the United States and Tehran to the brink of war at one point.
Russia's aggressions in Ukraine, where forces backed by Moscow continue to fight Ukrainian troops, sparked the European Defense Initiative under Obama's administration. The program, which has cost roughly $23 billion to date, has seen the United States ramp up training along NATO's eastern flank and stockpile weaponry throughout Europe.
Defense officials who have participated in the European program have largely lauded its successes. They have highlighted combat readiness improvements in American troops and their European allies, as well as lessons learned — especially about logistical challenges that they face with supplying units spread across several countries.
Those people, including Thornberry, who have long championed a shift to focusing more thoroughly on Pacific operations, believed similar benefits would be found via an Indo-Pacific Deterrence Initiative. It would also provide additional checks on China, especially in the South China Sea where it has built up and militarized artificial islands, largely near land masses claimed by multiple nations.
"By pooling and directing the resources dedicated to countering Russia, EDI continues to serve as an important barometer of American commitment to the region, sending a clear signal to our allies and adversaries alike," Thornberry wrote in his editorial. "It is time we do the same in the Indo-Pacific region."
His plan calls for the Air Force to maintain bomber aircraft in the region at all times through continuous rotations and the Navy to increase submarine patrols in the Indo-Pacific.
It would provide more than $500 million to boost missile defenses in the region, including adding a permanent land-based air and missile defense system in Guam, a new homeland defense radar in Hawaii and a boost in testing for the Pentagon's Missile Defense Agency.
Thornberry's proposal would also provide more than $370 million to increase intelligence, surveillance and reconnaissance capabilities throughout the region.
It would include about $1.5 billion for prepositioning of military assets — largely Navy ships and Air Force aircraft — throughout the region, munitions stockpiles and logistics.
Another $2.1 billion would build new or upgrade existing infrastructure throughout the region, including purchasing new land to build military housing and other facilities.
The congressman's plan also calls for about $1 billion to be spent on training and exercises throughout the region.
Another $350 million would be earmarked for programs to "strengthen capacity and engagement" with partner nations. That would include purchasing new communications systems and other military equipment to be shared with allied militaries and boosting funds for a National Guard program that teams states' troops with specific partner nations to work on a variety of security issues.
dickstein.corey@stripes.com Twitter: @CDicksteinDC
---
---
---