The story of an 'iconic statue made from an iconic photograph' taken at Iwo Jima
---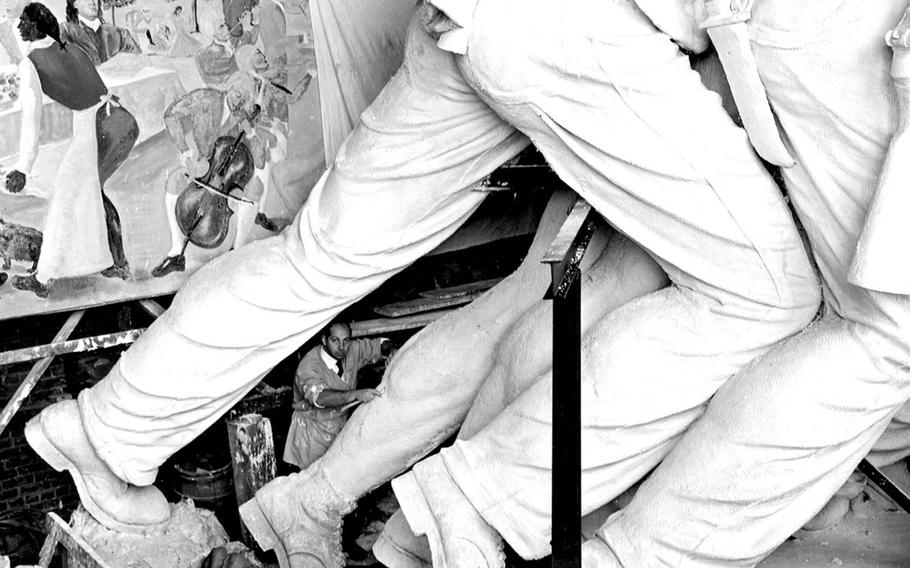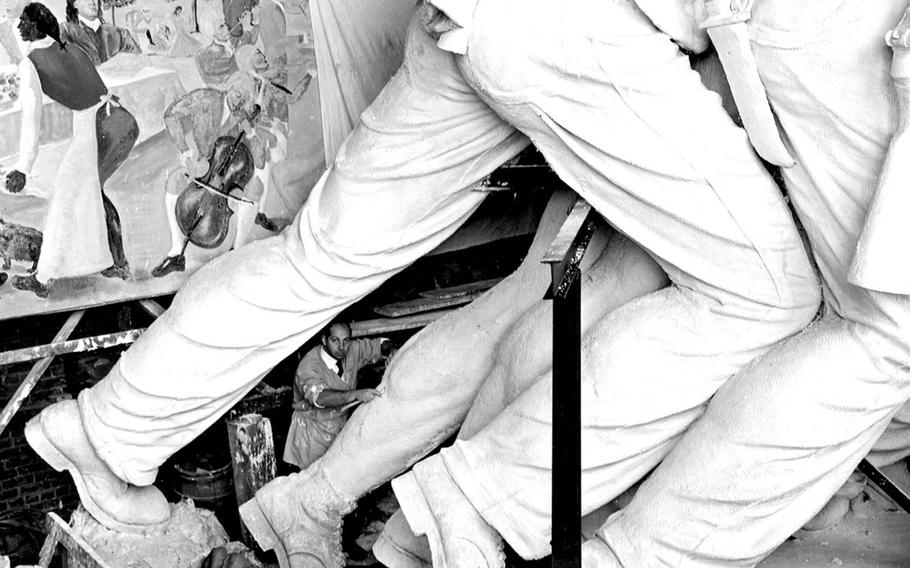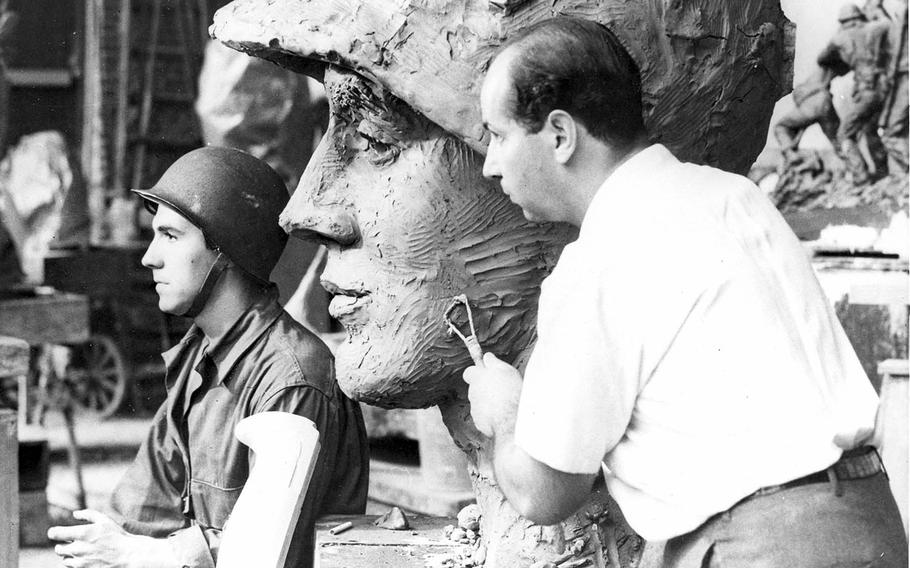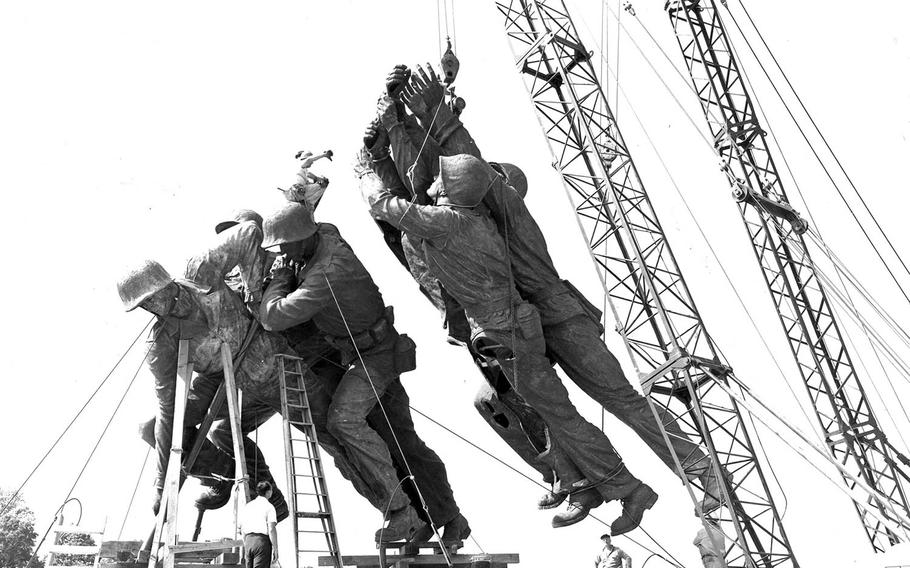 Seventy-five years after the World War II Battle of Iwo Jima, it's nearly impossible to talk about America's first fight on Japanese soil without discussing the iconic photograph of the flag raising atop Mount Suribachi by The Associated Press' Joe Rosenthal.
Six 32-foot tall bronze giants adjacent to Arlington National Cemetery in Arlington, Va., have helped ensure Americans never forget.
The flag-raising statue was recreated by Austrian-born sculptor Felix de Weldon, himself a Navy veteran, as the Marine Corps War Memorial. It was unveiled Nov. 10, 1954, by President Dwight Eisenhower and is visited by approximately 1.5 million people annually, according to National Park Service spokesman Aaron LaRocca.
The statue has been featured in television and film and its presence just across the Potomac River from the nation's capital serves as a reminder of virtues like honor and sacrifice.
"The Marine Corps War Memorial is clearly iconic — the iconic statue made from an iconic photograph," LaRocca said.
The park service completed a five-year, $5 million rehabilitation project of the statue for the 75th anniversary of the battle on Feb. 23.
Felix de Weldon fled Europe to Canada after being branded an enemy of the state as a Jewish artist by the Nazis, his son Daniel de Weldon said. He lost both of his parents and most of his family to the concentration camps. Already a renowned sculptor, he served in the U.S. Navy during World War II and became a U.S. citizen.
He crafted a model of Rosenthal's flag-raising photo while still in military service, a U.S. Commission of Fine Arts history said. The sculpture inspired a congressional commission to build the Marine Corps War Memorial.
De Weldon had surviving flag-raisers pose for the sculpture, while he used photographs of the men who had died on Iwo Jima to make as life-like a rendering as possible, his son said.
De Weldon finished the sculpture in plaster and sent the pieces to New York to be cast in bronze, a process that took almost three years, Daniel de Weldon said.
It took three trucks to ship the pieces to Arlington, the largest weighing over 20 tons.
The pieces were bolted and welded together then treated with preservatives, the park service history said. De Weldon liked to joke that his 100-ton "baby" took nine years to be birthed, according to his son.
The sculpture and development of the site cost $850,000 and was paid for with donations by active and former Marines and sailors, his son said.
The memorial stands 78 feet tall, with a 60-foot bronze flagpole and a 16-foot M-l rifle, the park service history said. The canteen on one Marine figure's hip would hold 8 gallons of water. Granite for the base was imported from Sweden.
"My father regarded the Marine Corps Memorial as his life's greatest accomplishment — both for its depiction of American victory as well as its iconic symbolism of perseverance and fortitude," Daniel de Weldon said.
"My father deeply felt connected to the Battle of Iwo Jima and really to all veterans," he said. "As a person that lived through both world wars and served in the U.S. Navy, he held strong connections with all things wartime, service, heroism and sacrifice … I am extremely proud of my father's work and it being his greatest glory."
De Weldon died in 2003 and is buried at Arlington National Cemetery.
"As we mark this milestone anniversary, it's so wonderful that people will be visiting the memorial and remembering my father as its sculptor and architect," Daniel de Weldon said. "I know that he would want the monument to serve as a reminder to never take our liberties for granted."
burke.matthew@stripes.com Twitter: @MatthewMBurke1
---
---
---
---