The entire Army National Guard is now on a single digital pay system for the first time
by
Corey Dickstein
April 2, 2020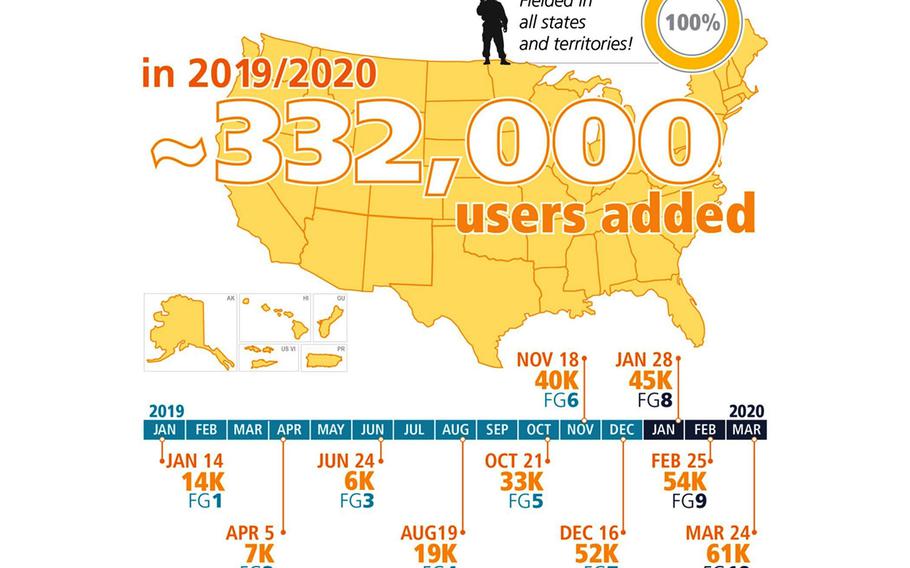 WASHINGTON — All 332,000 soldiers in the Army National Guard for the first time are using one personnel system — a modern digital pay and human resources platform that last week replaced 54 separate paper-based programs, service officials said Thursday.
The Army on March 24 moved the final 11 National Guard programs in its 54 states and U.S. territories onto its new Integrated Personnel and Pay System-Army, or IPPS-A, said Roy Wallace, the Army's assistant deputy chief of staff for personnel. By the end of 2021, all of the Army's more than 1 million soldiers will use the new system for their personnel management when the regular Army and reserves begin using it, he said.
Wallace called the program a "game changer." IPPS-A allows soldiers to access their personnel information via a new smart phone app to make changes after life events such as marriages or the birth of a child, which impact what kind of benefits that they receive. It has shortened the time the Army takes to make changes in soldiers' personnel files in some cases from several months to mere hours, he said.
For example, soldiers who are promoted based almost solely on time in uniform — such as from second to first lieutenant or from private to private first class — should have that promotion automatically reflected in IPPS-A on their promotion day, Wallace said. In the past, it required a series of documents and approvals for paychecks to reflect that automatic promotion.
IPPS-A replaces the paper-based Standard Installation and Division Personnel Reporting System, or SIDPERS, which the Army has used since the 1980s and officials called as clunky as its name. That system collected soldiers' personnel information largely in old-fashioned manila folders held separately by each state and territory.
To make changes in that system, soldiers filled out a paper DA-4187 form and submitted it. After sending the form, soldiers had no way to know the status of their request, said Col. Gregory S. Johnson, one of the leaders of the team that has spent years developing IPPS-A.
Today, National Guard soldiers can view the status of such requests on the smart phone app from anywhere with internet access.
"It's a big leap into the modern world for the Army," Johnson said Thursday during a phone call with reporters.
Johnson said the system has already proven valuable for the Army as it manages thousands of Guard members activated across the United States amid the spreading coronavirus pandemic.
The Army and top National Guard leadership can find data about what units are deployed and where in a single place. In the past, they would have to compile information after requesting it from each state and territory.
That caused problems at times, said Lt. Col. June S. Copeland, the National Guard's top liaison with the IPPS-A developers.
During Hurricane Harvey, the Category 4 storm that cause massive flooding in Texas and Louisiana in 2017, Army officials struggled to track the status of activated National Guard troops.
"We couldn't see who they have coming in, verse who was going out," Copeland said. "With the [coronavirus] response, it's a lot easier to know who is where and who is available to assist with the response."
The officials said the system will become even more powerful for the National Guard when it fields an updated version in December 2021. That update will add personal information not previously officially tracked by the military to soldiers' records such as past civilian jobs or specific hobbies or talents that they want their commanders to know about, Johnson said.
That update will include a 25-point profile designed to allow commanders to know who in their ranks might have useful skills or expertise, such as medical experience or language abilities.
"It will capture many additional talents in a much more holistic manner," Johnson said. ""We're really going to be looking at the other individual talents a person has — do they have regional expertise? Are they a [computer] coder, or do they have knowledge in certain areas that could help us? The operational impacts are obvious."
dickstein.corey@stripes.com Twitter: @CDicksteinDC
---
---
---