The agency that recovers and IDs remains of missing troops needs more money, partner organizations say
by
Corey Dickstein
November 19, 2019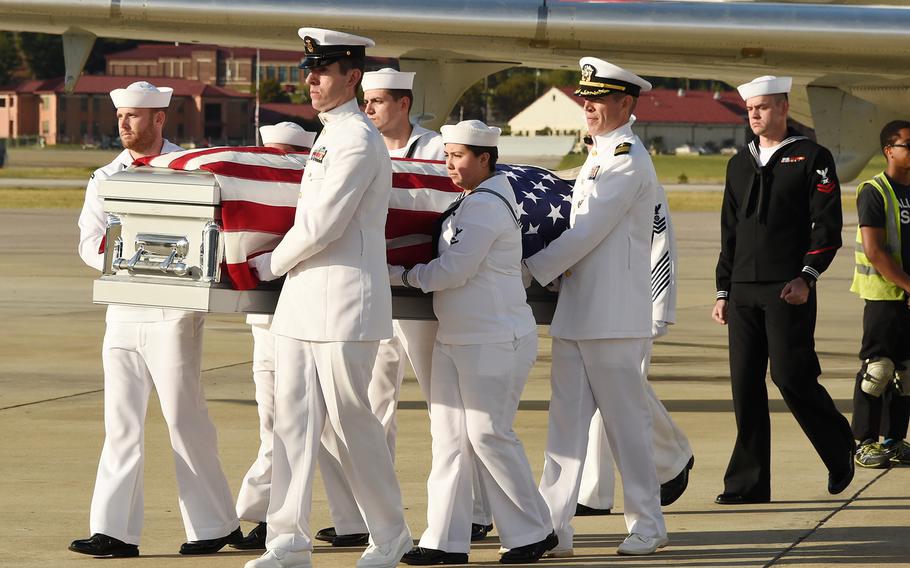 WASHINGTON — Leaders of organizations that work closely with the Pentagon agency charged with recovering and identifying the remains of service members missing from overseas battlefields blasted its funding as insufficient to recover nearly 82,000 missing troops worldwide.
The Defense Prisoner of War/Missing in Action Accounting Agency, or DPAA, should receive additional funding to increase its capacity to locate, recover and ultimately identify Americans missing from World War II, the Korean War and the Vietnam War, top officials with the Veterans of Foreign Wars, the nonprofit History Flight and the National League of POW/MIA Families told lawmakers Tuesday. The officials were testifying before the House Oversight and Reform Committee's subpanel on national security.
"Land of the free, home of the brave, yet 81,864 missing Americans are buried in unmarked graves," said Mark Noah, the chief executive officer of History Flight, an organization that works hand-in-hand with DPAA to recover missing remains of Americans. "Every government building, state capitol and post office flies the POW/MIA flag, yet our great country is yet to allocate resources equal to the need to recover the missing from America's wars of the 20th century."
Noah told lawmakers that members of his organization had raised and contributed more than $3.5 million to fund recovery efforts, which have not been reimbursed by the Defense Department. Kelly McKeague, the director of DPAA, said such partnerships with private organizations have saved the agency some $32 million in recent years as the agency has become busier.
B.J. Lawrence, the executive director of the VFW in Washington, urged Congress to add funding to increase efforts to recover missing individuals from North Korean soil.
In fiscal year 2019, DPAA identified remains of 218 recovered individuals, the most that it has ever identified in a single year. The increase includes dozens of individuals identified from 55 cases of remains provided to the United States by North Korea. To date, 41 U.S. service members have been identified from those boxes, and McKeague believes the potential exists for up to 150 more to be named eventually.
Last year, DPAA's budget was about $160 million, including a $30 million funding boost from Congress that slated $20 million of the increase for proposed joint operations with North Korean troops to search for missing Americans. But as negotiations broke down with North Korea, those planned operations never came to be. McKeague said DPAA officials had not heard from North Korea since April, however the agency is still open to working with the country's regime.
In its proposed fiscal year 2020 budget, the Pentagon proposed cutting DPAA's funding to about $145 million, but several lawmakers on Tuesday said they supported more funding. Rep. Stephen Lynch, D-Mass., the chairman of the national security subcommittee, said he was aware of bipartisan support to boost DPAA funding.
"I know there is a shortage of funding," Lynch said. "I have to give my Republican colleagues great credit for their willingness to work on this. I cannot sense any opposition – it's inertia, we have to move this thing to get support for it and fight like heck when we get it on the floor… This is something we agree upon."
McKeague said additional funding would help the organization expand its team of scientists working on DNA identification in the agency's Hawaii lab as well as provide the agency new technology that could help it locate difficult-to-find remains and expand its private-public partnerships.
McKeague plans for DPAA to have the capacity to identify 350 missing troops by 2025, but he said the 600-person agency can only expect to identify 200 to 250 in a year with its current funding.
The agency's director called his mission "daunting" but critical to American values.
"DPAA will not waiver," McKeague said. "This is a moral obligation [to recover fallen troops]. They must never be forgotten."
dickstein.corey@stripes.com Twitter: @CDicksteinDC