Tens of thousands of National Guard members may be activated, top officer says
---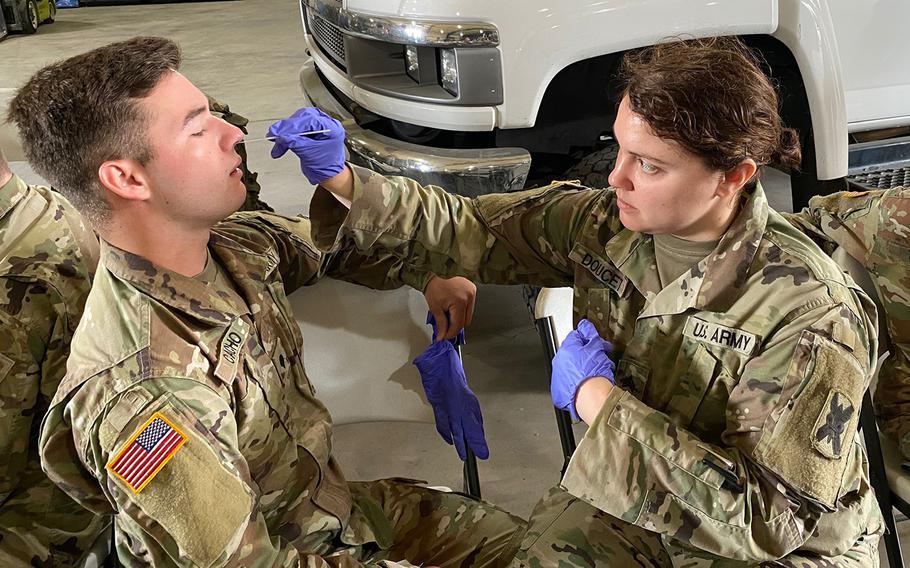 Stars and Stripes is making this story and other coverage of the coronavirus pandemic available free of charge. See other stories here, and sign up for our daily coronavirus newsletter here.
WASHINGTON — The National Guard's top officer said Thursday that he expects the number of troops called to duty to combat the coronavirus could climb to tens of thousands in a deepening crisis that has impacted all 50 U.S. states.
The more than 2,000 Air and Army National Guard members activated in 27 states as of Thursday will likely double by Saturday, Air Force Gen. Joseph Lengyel, the National Guard chief, told reporters. Guard members thus far have worked on a variety of missions, he said, primarily aiding state officials in logistics, transportation and delivering and administering coronavirus test kits.
"Going forward, we expect the role of the National Guard will continue to grow and evolve to meet the country's needs during this historic pandemic," Lengyel said. "It's hard to tell what the exact requirement will be ... This could quickly blossom in the next couple of weeks."
The number of confirmed cases of the coronavirus across the United States has risen sharply in recent weeks, and officials warned those numbers will continue to rise. More than 10,700 coronavirus cases had been confirmed by Thursday afternoon, according to Johns Hopkins University, which is closely tracking the global pandemic.
Six members of the National Guard are among the people who have contracted the virus, Lengyel said. Those individuals were all within the United States. Across the military, 51 service members had tested positive for the virus, as of Thursday morning, the Pentagon said.
The National Guard has about 450,000 troops, of which about 21,000 are now deployed to locations overseas.
Lengyel said his organization is uniquely qualified to aid state officials in their responses to the coronavirus pandemic. While National Guard troops can be called to federal service by the president, most operate under the command and control of their state's governors. So far, the federal government has not activated Guard members under its command for the coronavirus response.
Lengyel said he would like to see his forces remain under state control, as U.S. government officials in recent days have floated the idea of activating some Guard elements for federal duty.
"That would not make sense in this situation," the general said. "They're much better used in a state status."
The Guard gives governors the ability to directly control where troops are moved within their states and control their mission sets. Guard members on state duty can also perform some law enforcement duties within their own states, which active-duty and federalized Guard troops, by law, cannot.
Lengyel applauded the efforts of the National Guard in responding to the crisis, thus far. He compared the pandemic to responding to hurricanes in all 50 states and U.S. territories at once.
In different parts of the country, Guard forces have been charged with differing missions, the general said. He highlighted a few missions his troops have conducted so far:
Guard members in New York have been largely working in the New York City suburb New Rochelle, the site of that state's largest outbreak. They have been helping local officials clean public spaces and distribute food to people in need.
In Florida and Maryland, Guard troops have been aiding medical officials with coronavirus testing. National Guard members in Wisconsin have been transporting state health officials. And, Tennessee Air National Guard members delivered 500,000 swabs from Italy to Memphis for coronavirus testing, to be distributed by federal Health and Human Services officials across the nation.
dickstein.corey@stripes.com Twitter: @CDicksteinDC
---
---
---
---