Swenson awarded Medal of Honor; seeks return to active duty
by
Leo Shane III
October 15, 2013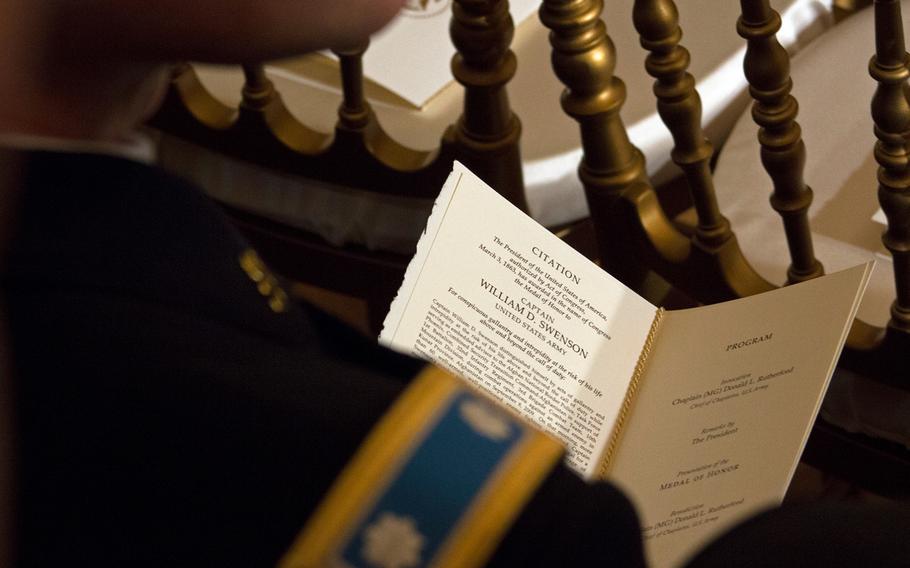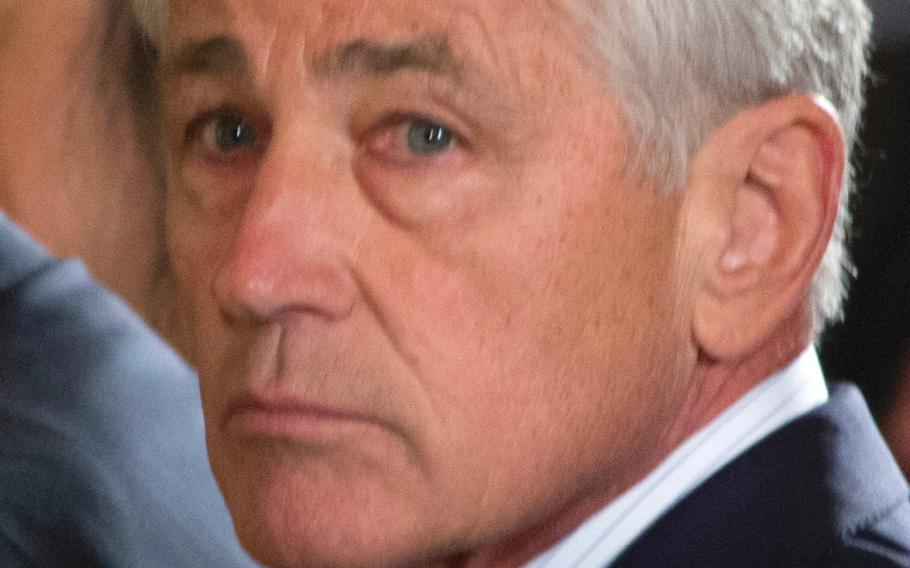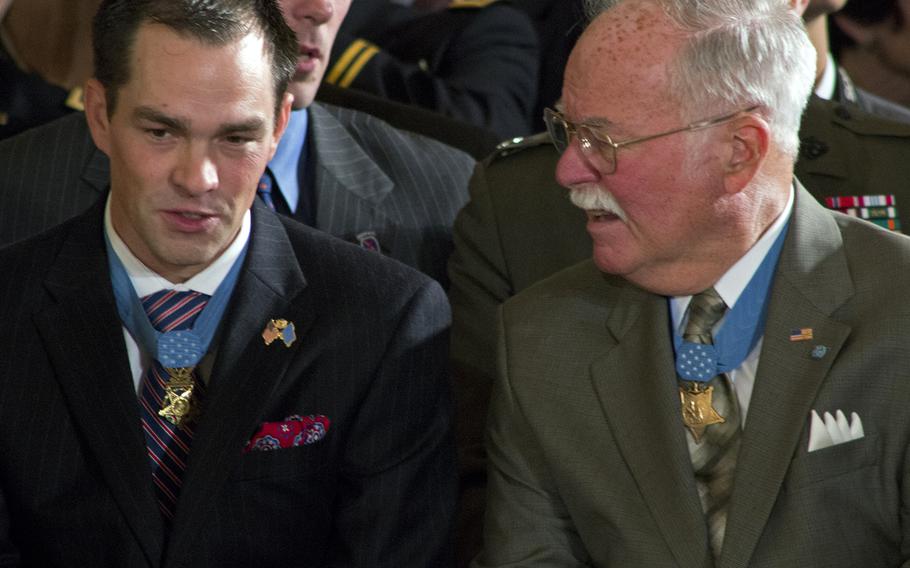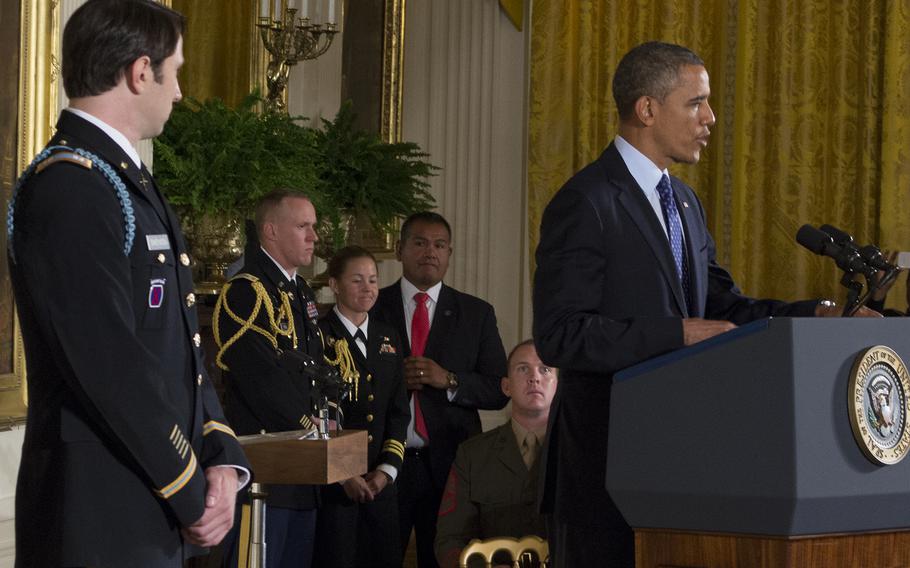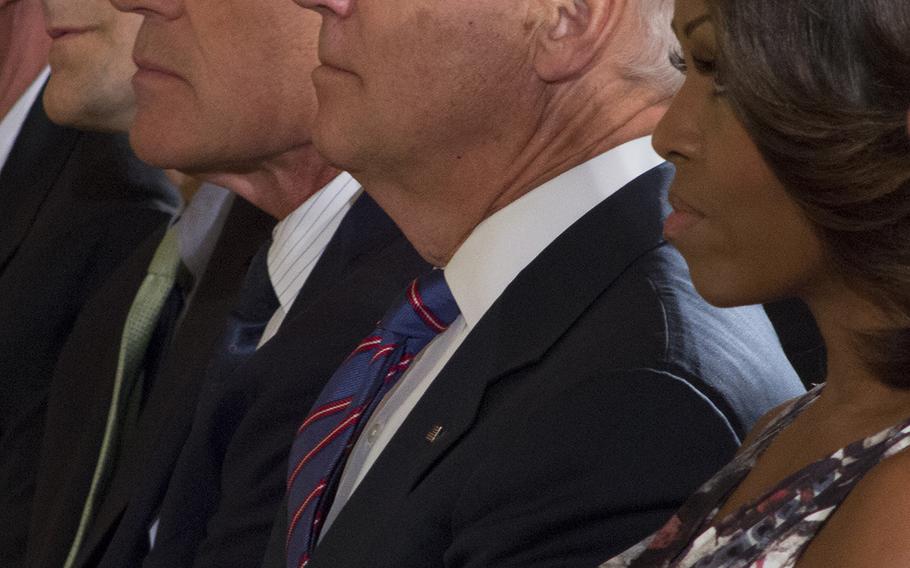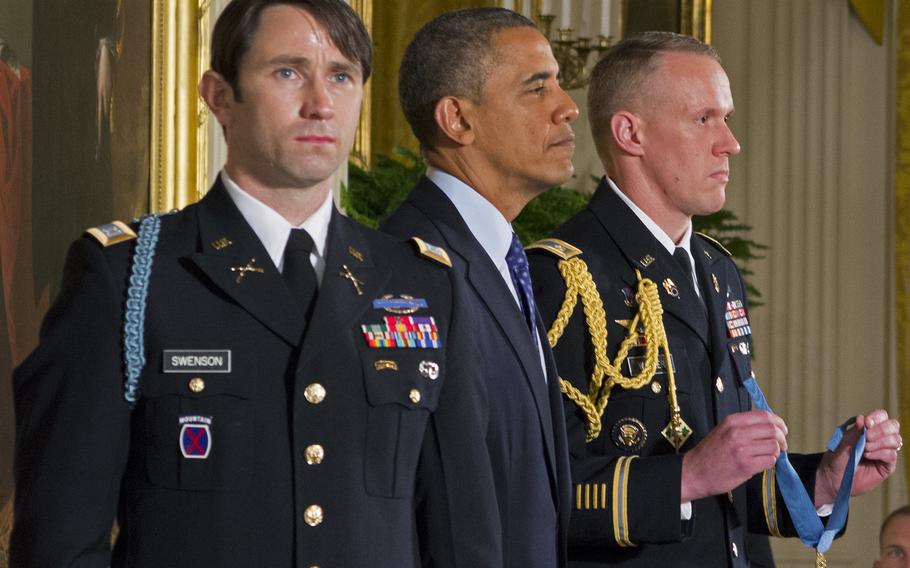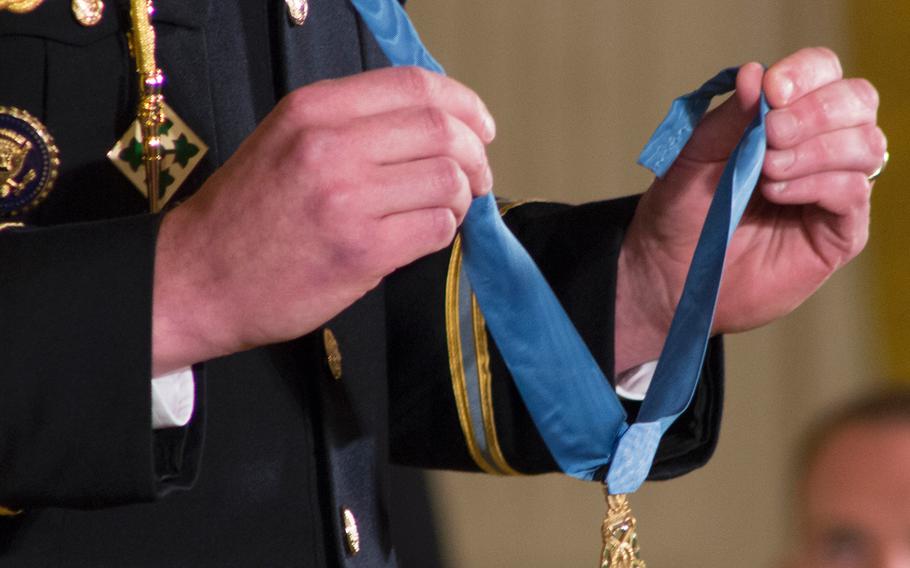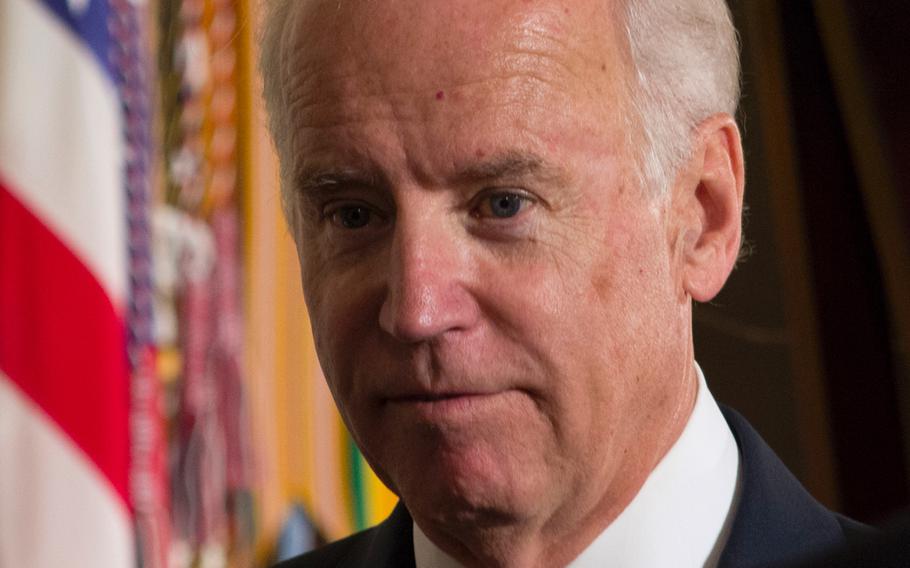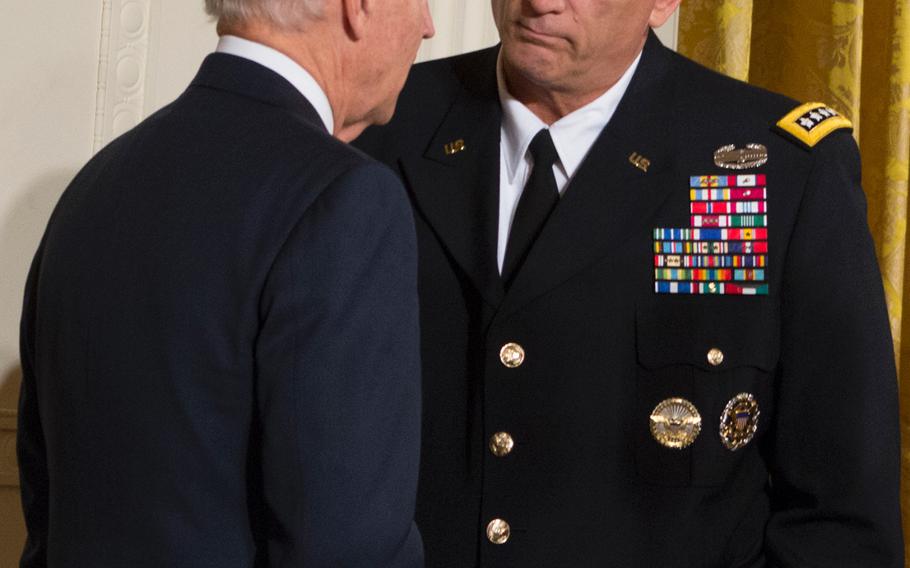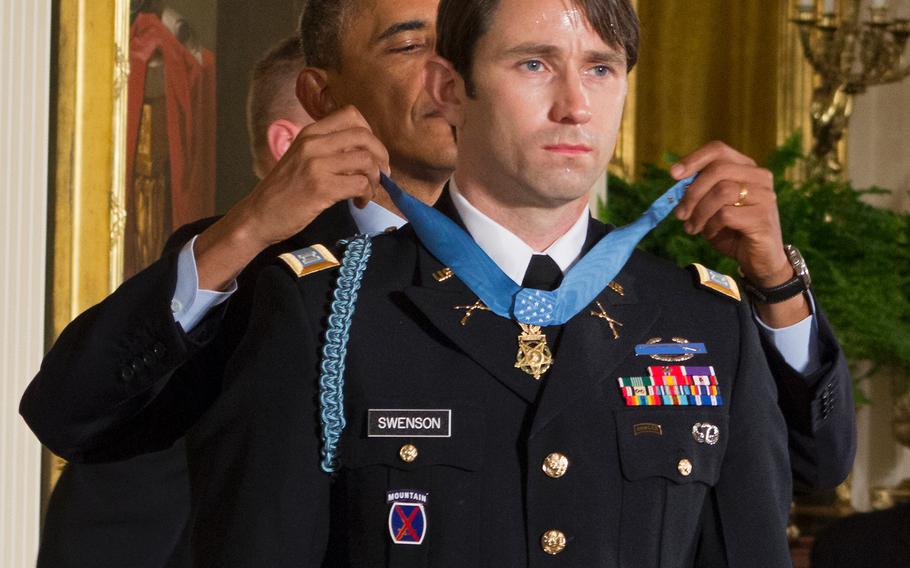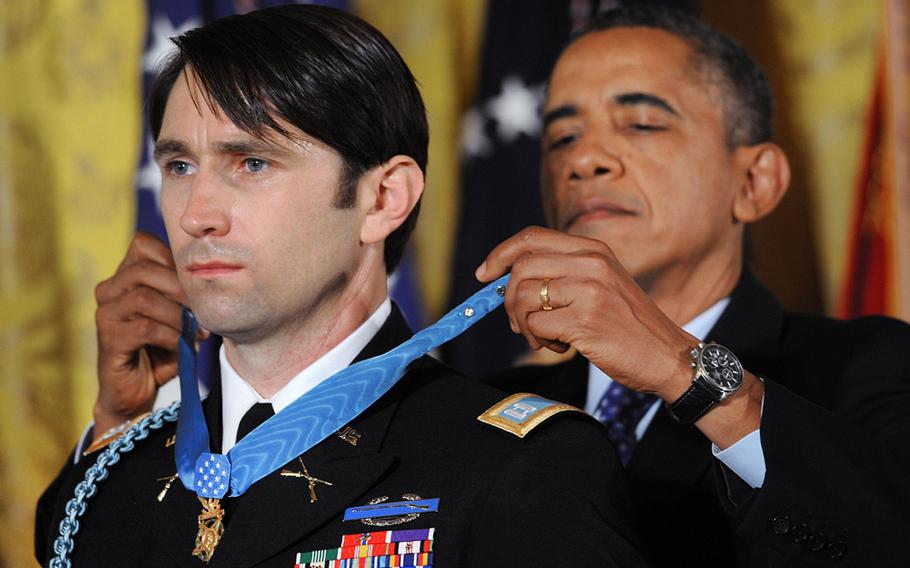 WASHINGTON — William Swenson received his Medal of Honor on Tuesday, but he's not done serving.
Swenson, the sixth living servicemember to be honored with the medal for actions in Afghanistan, has asked to return to active duty, according to military officials interviewed by the Associated Press.
The wire service said Swenson has submitted a formal request to the Army and officials are working with him to allow his return.
Swenson left the service in 2011, two years after his heroic actions at the Battle of Ganjgal in Afghanistan. Swenson, who lives in Seattle, made no mention of his career plans to reporters after his White House Medal of Honor ceremony.
"This award was earned with a team, a team of our finest: Marines, Army, Air Force, Navy and our Afghan partners, standing side by side," he told reporters.
"And now that team includes Gold Star families who lost their fathers, sons and husbands that day. This medal represents them. It represents us."
Swenson was honored for the same battle as former Marine Dakota Meyer, who received his Medal of Honor more than two years ago.
On Sept. 8, 2009, Swenson and other U.S. forces were assisting Afghan security personnel on a mission in the Ganjgal Valley. The friendly forces were ambushed during the early morning approach to a village, leaving dozens wounded and dead.
Swenson helps his men fight back, coordinating air support and ground manuevers as the enemy closed in. At one point, when enemy attackers just yards away signaled to the Americans to surrender, Swenson responded by tossing a hand grenade at them.
The attack lasted nine hours; five U.S. troops were killed. All five were honored at the White House ceremony, with a stoic Swenson and President Barack Obama leading a round of applause for the families of the fallen.
In a letter to those families last month, Swenson wrote that although they had never met, "I would like to believe that I know something about each of you through the actions of your loved ones on that day. They were a part of a team. And you are now a part of that team."
Obama also acknowledged that Swenson wasn't comfortable with the media attention and the formality of the ceremony.
"He'd rather be off somewhere in the mountains than here," the president said. "But I think our nation needs this ceremony. Moments like these, Americans like Will, remind us of what we can be at our best."
News reports have noted inconsistencies in battlefield recap between Swenson's reports and those of Meyer, casting questions as to which is more accurate. Army and Marine Corps officials have repeatedly backed their version of events.
Swenson's Medal of Honor nomination was delayed for at least two years after officials lost the information, which has also lead to controversy. Skeptics have accused Army officials of burying his award because of harsh criticism he leveled in the days following the attack, saying commanders did not respond quickly enough to calls for support.
Five months after the battle, three Army officers were reprimanded for their refusal to provide air support to the besieged force and "negligent leadership."
If Swenson returns to active duty, he'll be the third currently serving soldier with a Medal of Honor. Sgt. First Class LeRoy Petry and Staff Sgt. Ty Carter also received the honor for actions in Afghanistan.
shane.leo@stripes.com Twitter: @LeoShane