Sunday talk: Congress, like America, split on Syria strike
by
J. Taylor Rushing Rushing.JT@Stripes.com
September 1, 2013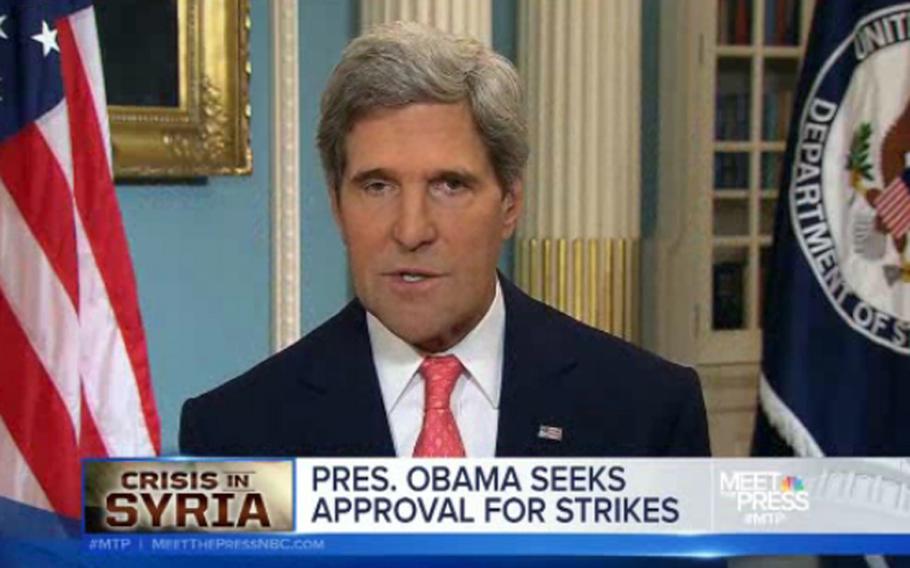 A day after President Obama called for Congress to back U.S. military action against Syria, there were signs Sunday that the legislative branch is just as split as most public opinion polls on the question.
Obama gave a short Rose Garden speech on Saturday afternoon to say he has decided to strike Syria to punish government forces for an Aug. 21 chemical weapons attack that he said killed more than 1,000.
However, he said he would seek authorization from Congress when it returns from recess on Sept. 9.
Public opinion polls have shown Americans are closely divided on whether a Syrian strike is called for.
The Senate Foreign Relations Committee will hold a hearing on Tuesday to begin Senate debate on the question.
On Sunday, on CNN's "State of the Union," Secretary of State John Kerry called the evidence of a gas attack "overwhelming," and expressed confidence that Congress will back the president.
"We don't contemplate that Congress is going to vote 'no,' " Kerry said.
Kerry, a former senator, appeared on five networks Sunday morning and repeatedly said Obama has the legal authority to act even if Congress withholds its approval. However, he told NBC's "Meet the Press" that Obama believes the U.S. "would act with greater moral authority and greater strength" with congressional approval.
Perhaps the most damaging assessment to Obama's hopes came from Sen. James Inhofe, the top Republican on the Senate Armed Services Committee, who told CNN Sunday he would personally vote against military action and predicted that Congress will as well.
But House Intelligence Committee Chairman Mike Rogers said he believed Congress will "rise to the occasion."
"This is a national security issue," Rogers said. "This isn't about Barack Obama versus the Congress, this isn't about Republicans versus Democrats ... I think the Congress will rise to its Article 1 constitutional responsibilities to provide for the general defense of the United States, but it is going to take that healthy debate to get there."
Senate Majority Leader Harry Reid, D-Nev., flirted Saturday with the idea of bringing the Senate back into session a week early, but issued a statement later in the day saying that only hearings and briefings will begin this week and a full Senate vote will be "no later than the week of Sept. 9." Reid assigned the issue to the Senate Foreign Relations Committee, and Chairman Robert Menendez, D-N.J., said he would hold a hearing on Tuesday.
House Speaker John Boehner, R-Ohio, said the House won't return until the week of the 9th.
Rep. Peter King, R-N.Y., chairman of the House Homeland Security Committee, said Sunday he doubted the House would support Obama, saying the vote would be "difficult" and suggesting that the president has abdicated leadership by going to Congress.
"When they see the president being so weak and vacillating, many members will vote 'no,' " he said.
King, however, said he personally supported military action.
On "Fox News Sunday," Sen. Jack Reed, D-R.I., said Obama must make the case that U.S. interests are at stake.
"The president has to ... convince not just the Congress but the American people that this is in the interest of the United States, not just simply in the interest of another country," Reed said.