Spencer becomes acting defense secretary as Esper prepares for confirmation hearing
by
Caitlin M. Kenney
July 15, 2019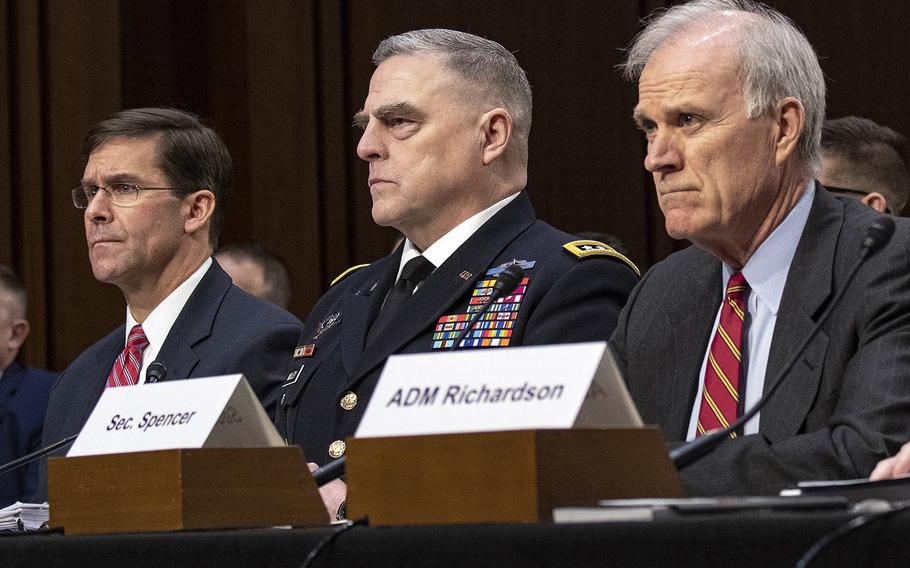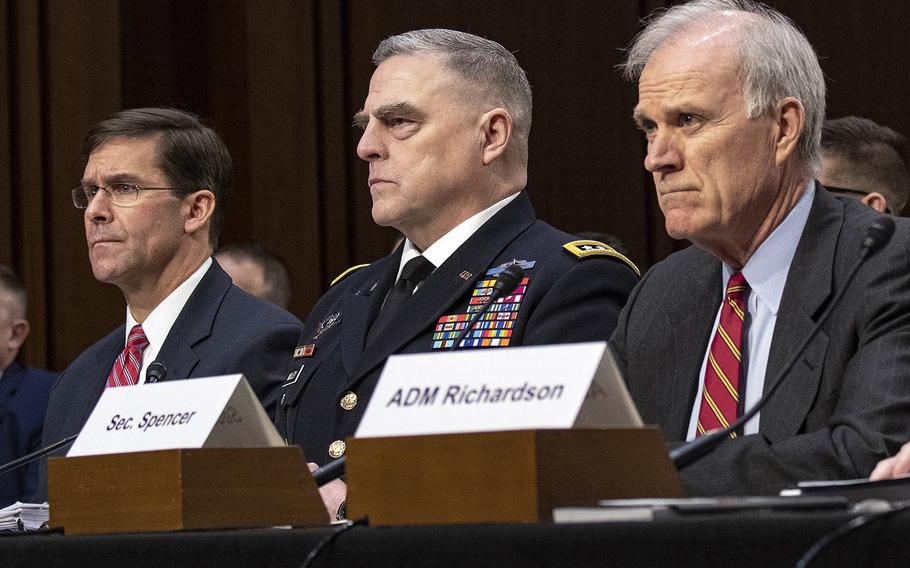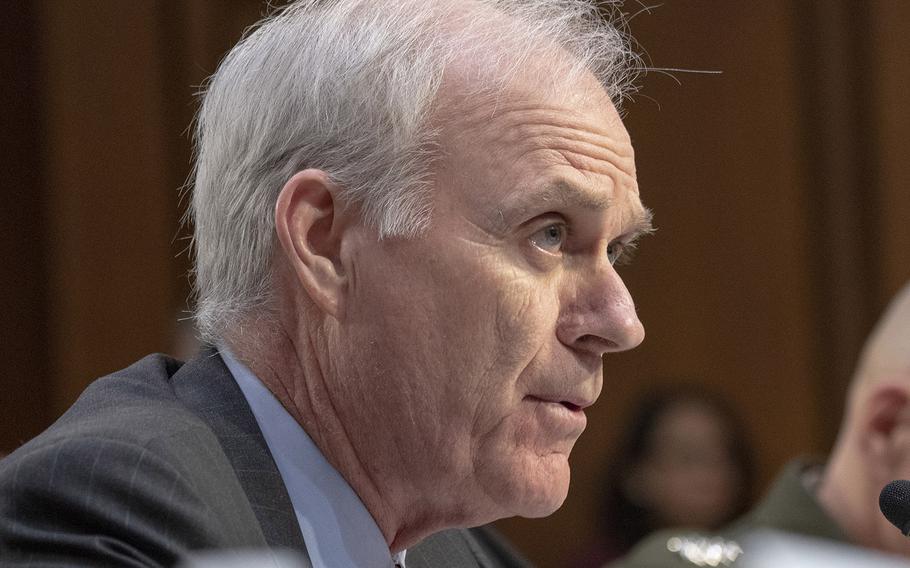 WASHINGTON — Richard Spencer is now acting defense secretary after President Donald Trump on Monday officially nominated Mark Esper to the top Pentagon job, defense officials announced.
Esper's nomination was submitted one day before his already scheduled confirmation hearing in the Senate on Tuesday.
Esper, who had been serving as the acting defense secretary since June 24, must relinquish the post in order to accept the official nomination as mandated by the Federal Vacancies Act. By law, he must return to his previously Senate-confirmed position as Army secretary.
Once Esper stepped down, the secretary of the next most senior service after the Army, which is the Navy, must step in as acting defense secretary while Esper goes through the Senate confirmation process, said Eric Chewning, chief of staff to the acting defense secretary. Spencer will stay in that acting role until the next defense secretary is confirmed.
Thomas Modly, the undersecretary of the Navy, steps up to perform the duties of Navy secretary while Spencer is acting defense secretary. If Esper is confirmed, Army undersecretary Ryan McCarthy would move up to acting Army secretary. Trump has also announced he intends to nominate McCarthy to be the next Army secretary.
Spencer is a former Marine Corps helicopter pilot and had worked in finance before becoming the Navy secretary, according to his service biography. The Defense Department has been without a confirmed secretary since January when former defense secretary Jim Mattis resigned, making Spencer the third acting defense secretary in seven months.
"While my time in this role is anticipated to be brief, I am fully prepared and committed to serve as acting secretary of defense, and I will provide continuity in the leadership of the department," Spencer wrote in a memo released Monday to Defense Department and military personnel.
Spencer's tenure as acting defense secretary could be short as members of Congress have raised concerns about the number of vacancies at the Defense Department and the need to fill them.
More so, leaders of the Senate Armed Services committee waived the seven-day rule between receiving Esper's nomination and holding his confirmation hearing, contending it was important to expedite the process given the situation.
"We need Senate-confirmed leadership at the Pentagon, and quickly," Sen. Inhofe, R-Okla., chairman of the Senate Armed Services Committee, said Thursday in a joint statement with Sen. Jack Reed of Rhode Island, the committee's ranking Democrat.
Reed also emphasized the importance of having a confirmed secretary, but he added there are no shortcuts and Esper, like other nominees, "must be thoroughly vetted and carefully evaluated."
Chewning also said last week that it is not unprecedented for a fast confirmation process, citing former Defense Secretary Robert Gates' confirmation, which took about three days.
Esper is 1986 West Point graduate who commissioned as an infantry officer and later worked on Capitol Hill as a staffer and as the vice president for government relations at Raytheon, the top lobbyist for the country's third largest defense contractor.
During Esper's Senate hearing Tuesday, he could be confronted by Sen. Elizabeth Warren, D-Mass., who wrote him a letter in July, expressing concern about potential conflicts of interest with his former employer.
"I am troubled by your unwillingness to fully address your real and perceived conflicts of interest, and write to ask that you reconsider your refusal to extend your Raytheon recusal through the duration of your tenure at [the Defense Department]," she wrote.
Like former acting Defense Secretary Patrick Shanahan, who worked for defense contractor Boeing for more than 30 years before coming to work at the Pentagon, Esper will have to abide by an ethics agreement to avoid conflicts of interest with Raytheon.
Shanahan was cleared by the Pentagon's inspector general in May of accusations that he favored his former employer, Boeing, in violation of the ethics pledge that he signed when he arrived at the Pentagon in 2017.
Esper's 2017 ethics agreement expires in November and Warren wants him to remove himself from all decisions regarding the Defense Department and Raytheon for his entire time with the department.
Esper had to fill out a new ethics agreement as part of his nomination as defense secretary, Pentagon officials said Monday during a briefing on Esper's job transition.
A senior Pentagon official, who spoke on the condition of anonymity, said Esper is doing what is required and allowed by law and he thinks Warren just wants Esper to go beyond that requirement by recusing himself for any reason. Jonathan Hoffman, chief Pentagon spokesman, said Defense Department officials will send a response to Warren's letter soon.
In Esper's June 24 ethics obligations and screen arrangement memo, he stated he would still be disqualified as defense secretary after November from participating in decisions about Raytheon unless he obtains a waiver.
Warren also raised concerns about Esper's memo in which he stated if an official believes it is in the government's interest for him to participate in a matter concerning Raytheon because it "is so important that it cannot be referred to another official" that the official could contact the Defense Department's Standards of Conduct Office to see if Esper could participate.
"Your…memo, if unchanged, would appear to allow you to participate in decisions that affect Raytheon's financial standing and should disqualify you from serving as secretary of defense, even in an acting capacity," she wrote.
Chewning said the process in the screening agreement to receive a waiver is a standard set of requirements for anyone.
The senior Pentagon official said such a waiver would be considered only in an extremely rare circumstance.
kenney.caitlin@stripes.com Twitter: @caitlinmkenney