Analysis
South Korea's impeachment heralds major test for US alliance
by
Kim Gamel
March 12, 2017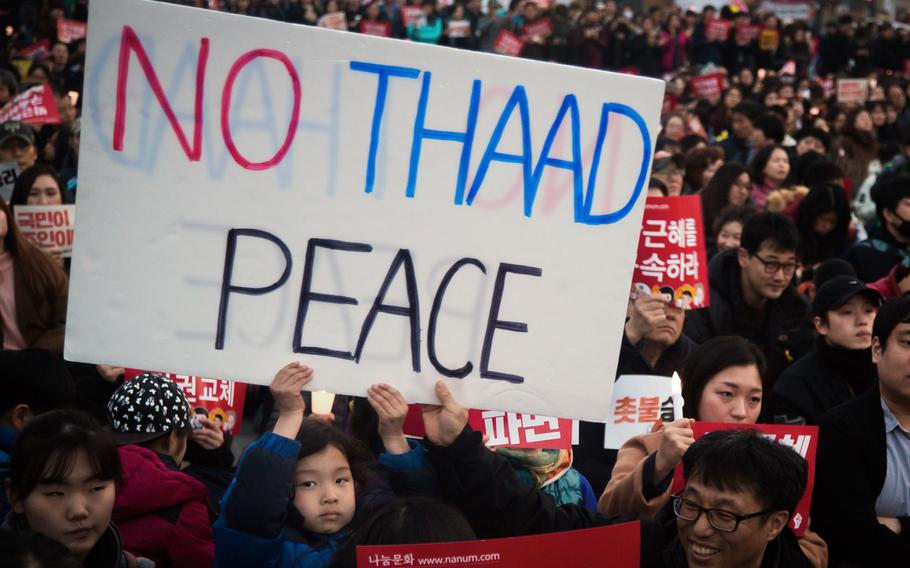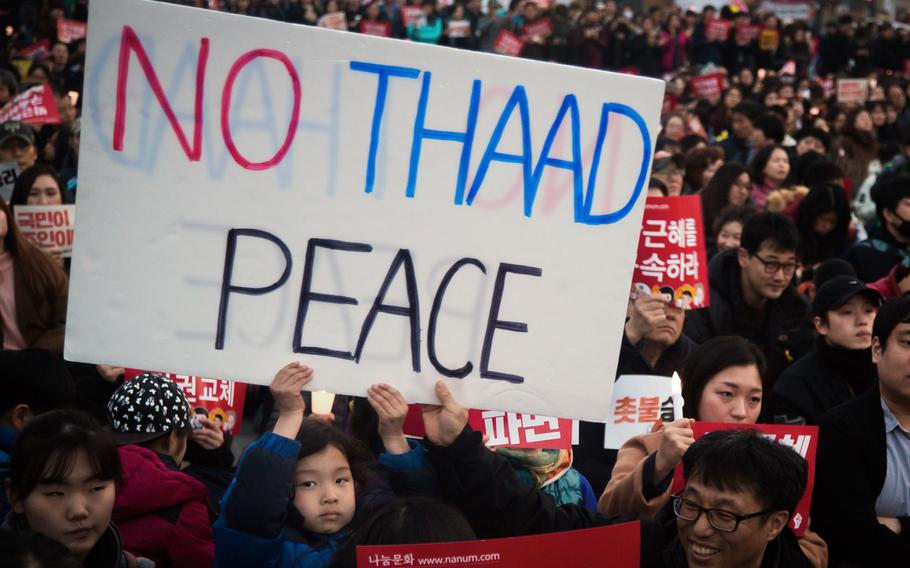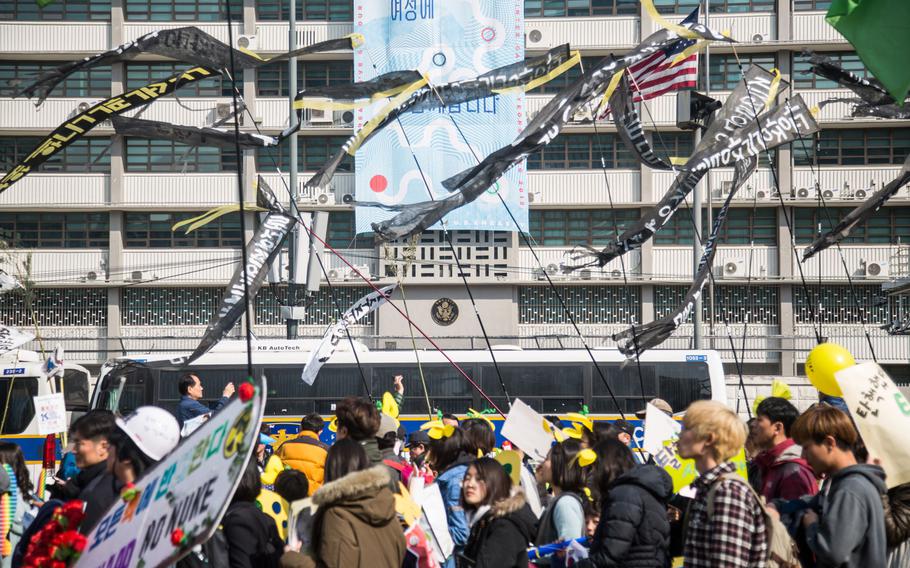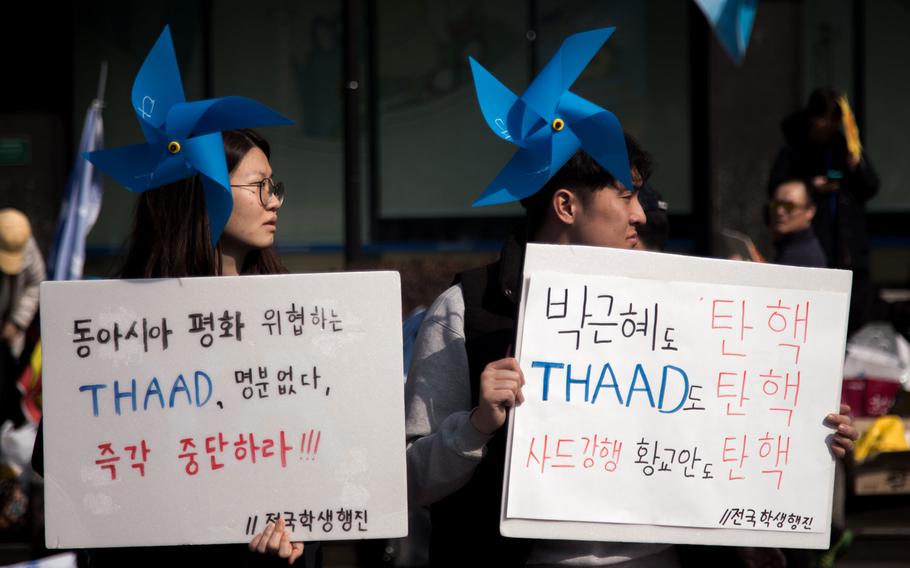 SEOUL, South Korea – The ouster of South Korea's president ushers in an era of uncertainty for its longstanding alliance with the United States at a critical time as the threat from North Korea is growing.
Tens of thousands of South Koreans waved flags and pumped candles in the air Saturday as they celebrated the constitutional court's historic decision to impeach President Park Geun-hye.
Amid the chants and banners with slogans against Park were calls for the removal of an advanced U.S. anti-missile battery known as THAAD, less than a week after the military began shipping launchers and other parts to the divided peninsula.
"Park go to jail; THAAD go back to the U.S.," one woman said as she addressed the crowd packed into the Seoul square that has been ground zero for anti-Park protesters. A musical group performed a catchy anti-THAAD song and dance.
THAAD opposition is the clearest sign that the road ahead may be rocky for U.S.-South Korean relations. But South Korea's shift in power also raises the possibility of differences over ways to deal with an increasingly menacing North and economic powerhouse China.
The frontrunner in the campaign for elections to replace Park, which must be held within 60 days, is Moon Jae-in, who favors engagement with North Korea over military threats and has said the decision to deploy THAAD should be reviewed.
That puts him in opposition to U.S. policy, although Moon insists he is a firm supporter of the alliance that has bound the two countries together since the 1950-53 Korean War.
South Korea should learn to "say 'No' to the Americans," he told the New York Times in an interview last week.
He called North Korea's leadership a "ruthless dictatorial regime" but noted that sanctions had failed to stop the country's nuclear-weapons program.
"We must embrace the North Korean people as part of the Korean nation, and to do that, whether we like it or not, we must recognize Kim Jong Un as their ruler and as our dialogue partner," Moon told the Times.
That was a sharp departure from comments made just days earlier by the new U.S. ambassador to the United Nations, Nikki Haley, who made clear she's not interested in dialogue with the communist state and said Kim Jong Un is "not rational."
The U.S. has about 28,500 servicemembers deployed in the South, which has been separated from the North by the world's most fortified border since the war ended in an armistice instead of a peace treaty.
Tensions spiked last year after Pyongyang carried out two underground nuclear tests and launched two dozen other missiles, prompting the U.S. and its allies to tighten economic sanctions.
Washington also has seen deteriorating relations with China over U.S. missile-defense efforts and the disputed South China Sea. South Korea has found itself caught in the middle, with Beijing recently curbing tourism and punishing South Korean businesses in China in a bid to pressure Seoul to reject THAAD.
Adding to the uncertainty is that President Donald Trump has yet to announce his plans for revamping U.S. policy toward North Korea, which has conducted two missile tests since he took office on Jan. 20.
But comments by his envoys suggest the new U.S. administration is leaning toward a hard line, particularly after the assassination of Kim Jong Un's half brother in Malaysia raised new concerns about the brutality and human-rights abuses by the regime.
Defense Secretary Jim Mattis vowed to maintain the U.S. commitment to the South and respond to any threat with an "effective and overwhelming" response. Secretary of State Rex Tillerson is due to discuss the situation with South Korean officials during a visit beginning Friday.
Washington also has replaced retiring Kiowa Warriors with two dozen Apache attack helicopters, and more than 100 MRAPs recently rolled onto the peninsula.
The U.S. and South Korean militaries, meanwhile, aren't waiting for a new decision on THAAD. U.S. Forces Korea began shipping THAAD components to the South last week despite strong objections and threats of economic retaliation from China.
The Pentagon said Friday the deployment, which was approved by Park's government last year, will continue despite the political upheaval.
"We made an agreement with [South Korea] that this was a capability that they needed," spokesman Jeff Davis said at a news conference. "That agreement was reached and we remain committed to delivering on it."
South Korean officials have said THAAD could be operational within two months, although more parts need to be shipped and the system must be assembled at a former golf course in the southeastern region of Seongju. Critics say the U.S. is expediting its deployment to try to prevent a new South Korean government from derailing the effort.
Kim Joon-hyung, a professor of international politics at South Korea's Handong Global University, says all sides are rushing to fill the void before a new government is elected in Seoul.
"In the past few weeks everybody's in a hurry up kind of mood," he said. "China, Japan, the U.S. - everybody is trying to take advantage of the power vacuum."
Acting President Hwang Kyo-ahn, who is also prime minister and a potential conservative candidate, vowed that the government would be impartial in overseeing preparations for the vote.
Moon, who was defeated by Park in the 2012 race, has more than 30 percent support in recent polls, followed by a centrist governor, An Heejung. Hwang, who has yet to declare an intention to run, has single digit support.
The constitutional court decided unanimously to uphold a legislative vote to remove Park over an influence-peddling and corruption scandal that prompted months of massive protests.
Park maintains support among many mostly older South Koreans, and there were clashes following the court's decision on Friday that left three people dead.
She left the presidential Blue House Sunday evening, riding in a police-escorted motorcade to her private residence in Seoul. She smiled as she emerged from the car and was met by a crowd of supporters, many waving South Korean and American flags. The move was broadcast live on TV.
The 65-year-old daughter of a former dictator is the first democratically elected leader to be forced from office in South Korea. The scandal also has swept up many of the country's business leaders, including the head of Samsung, who is in jail awaiting trial.
Protesters also want Park to face prosecution now that she has lost the immunity she enjoyed as president. She could face charges of bribery, extortion and abuse of power in connection with allegations linked to her friend Choi Soon-sil. Both women have denied wrongdoing.
Stars and Stripes reporter Yoo Kyong Chang contributed to this report.
Twitter: @kimgamel