Shorts on the flight line approved for airmen at three stateside bases
by
James Bolinger
August 26, 2019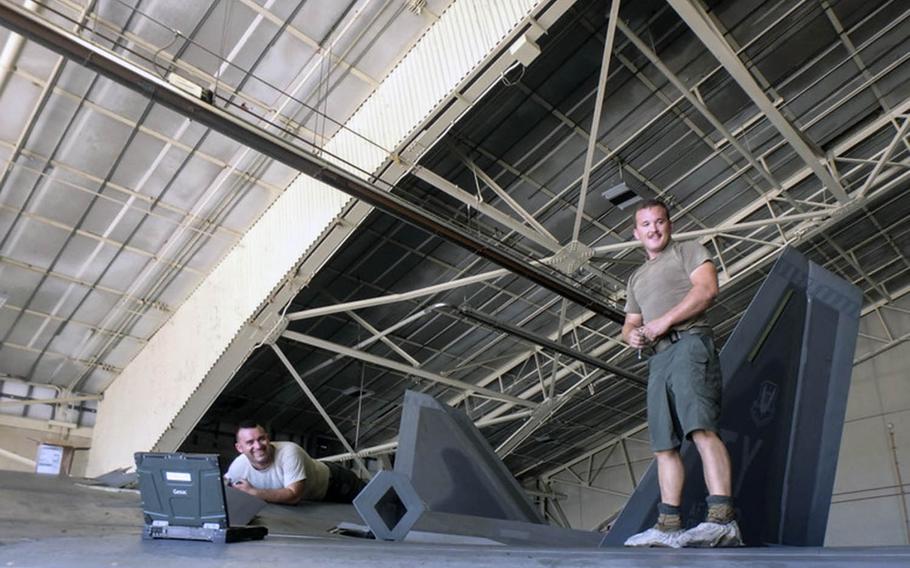 Three Air Force bases in hot climates are turning to shorts to keep airmen cool while working on the flight line.
Extreme heat during summer months is a fact of life for airmen at Luke Air Force Base, Ariz., Nellis Air Force Base, Nev., and Tyndall Air Force Base, Fla., Chief Master Sgt. Joshua Wiener recently told Stars and Stripes in an email. He serves as the 56th Maintenance Group superintendent at Luke.
Summertime ambient temperatures commonly reach 110 to 115 degrees at those bases. Add the heat from running aircraft engines and reflective heat from asphalt and concrete, and flight line temperatures can reach 130 degrees, Wiener said.
"The average day for the maintainers is between 9-10 hours," he said. "However, not all of the time is spent on the flightline. It depends on the number of launches and recoveries, and the status of the aircraft. But as you can imagine, when it's 100 to 115 degrees, any time spent crewing and fixing aircraft can be challenging and difficult."
Airman 1st Class Benjamin Carlise from the 62nd Aircraft Maintenance Unit at Luke purchased his shorts July 31 and wore them the next day.
"The shorts make a significant difference in terms of cooling off on the flight line," he said in an email. "The shorts provide substantial air flow in comparison to the [Airman Battle Uniform/Operational Camouflage Pattern] bottoms."
Wiener said the 56th Maintenance Group commander asked Luke's base commander, Brig. Gen. Todd Canterbury, to authorize shorts for the flight line after hearing Nellis and Tyndall had done so. The shorts must be sage green in color, the same as the Airman Battle Uniform, or ABU.
The color and type of shorts were selected to ensure standardization and aircraft and personnel safety, Wiener said.
Airmen received no additional clothing allowance at Luke because the shorts will be issued as an individual equipment item like coveralls and other safety gear, he said.
However, airmen may purchase shorts on their own if their units are still procuring their stock.
"People have been asking for shorts my entire enlistment, and for probably many years before I joined," said Staff Sgt. Kelson Richmond, 310th Aircraft Maintenance Unit, at Luke AFB via email. "Now that they're approved, I don't see myself working one more hot summer day in coveralls."
The Air Force is not authorizing shorts for all airmen and is instead leaving the decision up to base commanders, said Capt. Carrie Volpe, an Air Force spokesman from the Pentagon, in a written statement.
Local commanders have full authority to ensure the safety and security of their personnel, Volpe said. As such, major command and installation commanders may approve functional clothing for airmen, such as parkas, coveralls and protective footwear, as needed.
"Any manner in which we can make executing the mission a little easier for the amazing maintainers who proudly generate airpower to train combat ready pilots every day is well worth it," Wiener said. "In this case, if giving Airmen the option to wear shorts provides them with the ability to stay a little cooler, we are moving in the right direction."
bolinger.james@stripes.com Twitter: @bolingerj2004