She's back: Cyber Awareness Challenge star Tina returns in coronavirus security video
by
Chad Garland
April 13, 2020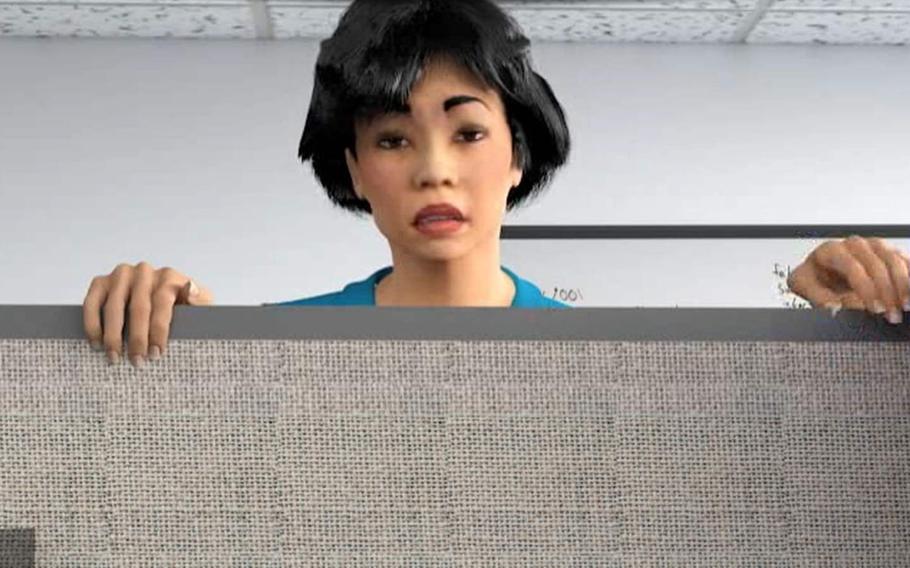 Stars and Stripes is making stories on the coronavirus pandemic available free of charge. See other free reports here. Sign up for our daily coronavirus newsletter here. Please support our journalism with a subscription.
Tina, perhaps the Defense Department's best known cybersecurity risk, is helping educate service members about operational security during the coronavirus pandemic.
A cartoonish character in the Defense Department's long-running computer-based Cyber Awareness Challenge training course, she typically would suggest her new co-workers download MyTunes software. She and her sweater vest-wearing colleague Jeff were the subject of many tweets, gifs, memes and Halloween costumes before they were cut from the latest version of the course.
But Tina has returned in a new public service announcement video, in which she pops by a co-worker's cubicle with a few suggestions that could pose a threat to military operational security as units combat the COVID-19 disease outbreak.
"Tina can be relentless," said the U.S.-led Operation Inherent Resolve, the coalition battling Islamic State militants in Iraq and Syria, in a post sharing the video on Twitter. "Make sure you practice proper operational security now and always! #GOAWAYTINA."
The one-minute spot was uploaded to the Pentagon's online media repository DVIDShub.net on Wednesday by Petty Officer 2nd Class Jeanette Mullinax of Media Center – Japan at Yokota Air Base. It was tweeted by the Air Force's 17th Training Wing out of Goodfellow Air Base, Texas.
"Hi, I'm Tina," she says in the video, as if she needed an introduction. "I heard that the base is moving to teleworking. I saw you took a photo of the new reduced manning schedule. Can you post that to Facespace and tag me?"
A narrator proposes two possible responses: go along with Tina's suggestion or, the obvious right answer, tell her, "No, thanks."
"You should never share sensitive information about daily manning or future operations," the narrator explains.
Tina then suggests sharing contact info for ill service members with her so she can give it to a reporter from the fictive ZNN news network. The narrator states that releasing case figures and individuals' personal contact information violates operational security and privacy concerns.
"Your practicing operational security in a crisis continued to protect critical information now, just as you would during a time of war," the narrator says.
The Defense Department has ordered units not to release command-level case figures over security concerns, but the Pentagon continues to release forcewide data, which on Monday showed more than 4,500 military-connected people had tested positive for the virus.
garland.chad@stripes.com Twitter: @chadgarland