Shanahan steps down as acting defense secretary, Esper to take over
By
Corey Dickstein Caitlin M. Kenney
June 18, 2019
---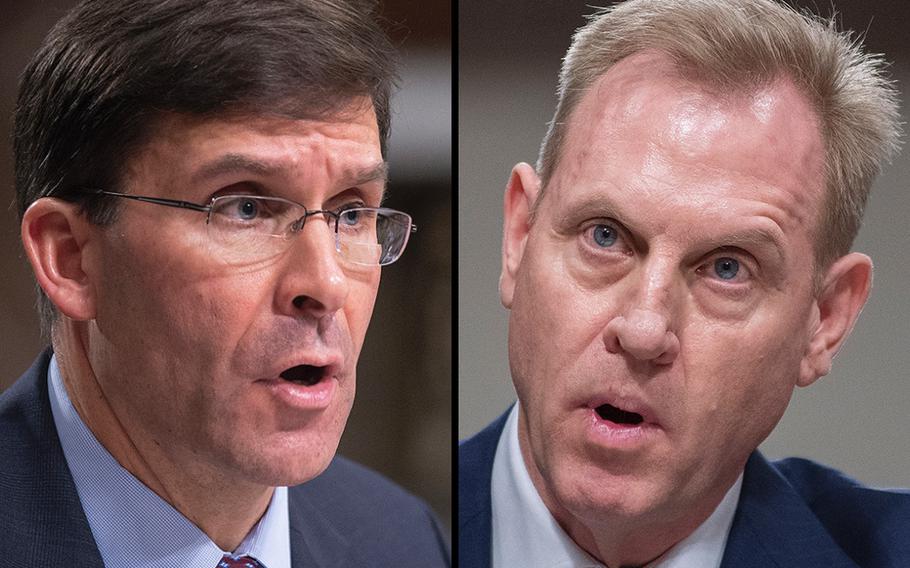 WASHINGTON — Pat Shanahan confirmed Tuesday that he has resigned as acting defense secretary and ended his campaign to seek the job outright amid reports of domestic violence in his family involving himself, his ex-wife and their son.
Army Secretary Mark Esper was selected by President Donald Trump to be the new acting defense secretary, made public in a series of tweets that also announced Shanahan will step down.
"I know Mark, and have no doubt he will do a fantastic job!," Trump tweeted.
Shanahan said in a prepared statement following Trump's tweets that "after significant reflection" he was withdrawing from consideration for defense secretary and resigning from his post.
"I believe my continuing in the confirmation process would force my three children to relive a traumatic chapter in our family's life and reopen wounds we have worked years to heal," he said. "Ultimately, their safety and well-being is my highest priority."
Shanahan will resign officially midnight Sunday and Esper will become acting defense secretary at 12:01 a.m. Monday, Chief Pentagon Spokesman Jonathan Hoffman said in a statement Tuesday.
Shanahan has been the acting defense secretary since January, after the former secretary Jim Mattis resigned in December 2018 over increasing differences with Trump's foreign policy decisions, including the withdrawal of American troops from Syria.
The White House announced in May that the president intended to nominate Shanahan, however the nomination never made it to the Senate for consideration. Trump reportedly has had second thoughts about Shanahan and asked others close to him about other candidates for the job during his recent trip to France, according to an NBC News story.
Concerns about the Defense Department's lack of a confirmed secretary for the past six months were raised in reactions to the Shanahan announcement Tuesday.
"As I've said before, for the sake of our national security, we need a confirmed secretary of defense — not just an acting — and I hope we can get to that point as quickly as possible," Sen. Jim Inhofe, R-Okla., the chairman of the Senate Armed Services Committee, said in a prepared statement.
Inhofe also thanked Shanahan for his service as acting defense secretary and he said Trump "has made a good decision" in selecting Esper to serve in the role.
Trump said later Tuesday before leaving for a campaign rally in Florida that Esper could be nominated to take the top Pentagon job permanently "pretty soon."
"Most likely," Trump said of nominating Esper. "That's what I'm thinking about doing."
Jeremy Butler, chief executive officer of Iraq and Afghanistan Veterans of America, a veteran advocacy organization, said in a statement that they are concerned the position of defense secretary "will remain without that vetted leadership for the foreseeable future."
"The men and women of our all-volunteer force deserve stability and dependability from those at the top," he said.
The president's tweet came after several news outlets reported incidents of domestic violence in Shanahan's family. During Shanahan's marriage to his then-wife Kimberley, each claimed they had been punched by the other, according to a USA Today story. They are now divorced.
In a statement published by USA Today, Shanahan denied he had laid a hand on his ex-wife and he said he had cooperated with law enforcement. He also said his ex-wife was charged with assault against him, but he had the charges dropped "in the interest of my family."
"After having been confirmed for deputy secretary less than two years ago, it is unfortunate that such a painful and deeply personal family situation from long ago is being dredged up and painted in an incomplete and therefore misleading way as a result of this nomination process," Shanahan said in the statement to USA Today. "I wish nothing but the best for her and regret that my children's privacy has been violated and they are being forced to relive a tragic situation that we have worked so hard as a family to put behind us."
The Washington Post also reported Tuesday that a 2011 incident involving Shanahan's son William. The then 17-year-old beat his mother so severely that he left her "unconscious in a pool of blood, her skull fractured, and with internal injuries that required surgery, " the Post reported, citing court and police records.
Pat Shanahan sent a memo to his ex-wife's brother two weeks later that stated his son was acting in self-defense, according to the Post story.
"Use of a baseball bat in self-defense will likely be viewed as an imbalance of force," Shanahan wrote in the memo, according to the story. "However, Will's mother harassed him for nearly three hours before the incident."
In an interview with the newspaper this week, Shanahan said he wrote the memo hours after the attack in preparation for his son's first court appearance and before he knew the seriousness of his ex-wife's injuries, and that what he wrote was wrong.
"Quite frankly it's difficult to relive that moment and the passage was difficult for me to read. I was wrong to write those three sentences," Shanahan said. "I have never believed Will's attack on his mother was an act of self-defense or justified. I don't believe violence is appropriate ever, and certainly never any justification for attacking someone with a baseball bat."
Before joining the Pentagon in July 2017, Shanahan work for defense contractor Boeing for 31 years, eventually becoming its senior vice president for supply chain and operations. Like Shanahan, Esper worked for a defense contractor before becoming Trump's Army secretary in November 2017. He spent several years at Raytheon, a defense contractor for which he was most recently vice president of government relations.
In reaction to Esper being named defense secretary, Mandy Smithberger, director of the Center for Defense Information at the Project On Government Oversight, a non-partisan government watchdog organization, said in a statement that she is "not thrilled" that the former Raytheon executive was chosen to be the next acting defense secretary.
"As tensions increase over Iran, we need a permanent Secretary of Defense who has the credibility necessary to make sure the Pentagon is acting in the best interests of our national security, not what's in the best interest of contractors," she said.
Esper is a 1986 graduate of the U.S. Military Academy at West Point and spent 21 years in the Army, rising to the rank of lieutenant colonel before retiring from the Army Reserves in 2007. He served more than 10 years on active duty, including in the 1990-1991 Gulf War and later served in the Virginia and the District of Columbia National Guard before transferring to the reserves.
Esper holds a master's degree from Harvard University and a doctorate in public policy from George Washington University.
Outside of uniform, Esper has worked at the conservative-leaning Washington think tank the Heritage Foundation, as an adviser to the House Armed Services Committee, as a professional staff member on the Senate Foreign Relations and Government Affairs committees, and as the deputy assistant secretary of defense for negotiations policy during the George W. Bush presidency.
As Army secretary, Esper has focused on building combat readiness as the service has shifted its focus to prepare for major combat operations in the case of a war with a near-peer power competitor such as Russia or China. He has traveled extensively as the Army's top civilian, visiting troops in Afghanistan and Iraq, as well as throughout Europe, Asia and at installation across the United States.
He has said policies he has implemented – such as cutting mandated classroom and computer-based training requirements – have been driven by soldiers' feedback.
kenney.caitlin@stripes.com Twitter: @caitlinmkenney
dickstein.corey@stripes.com Twitter: @CDicksteinDC
---
---
---
---