Several Republicans march out during House VA committee debate on female veterans' health bill
by
Steve Beynon
October 29, 2019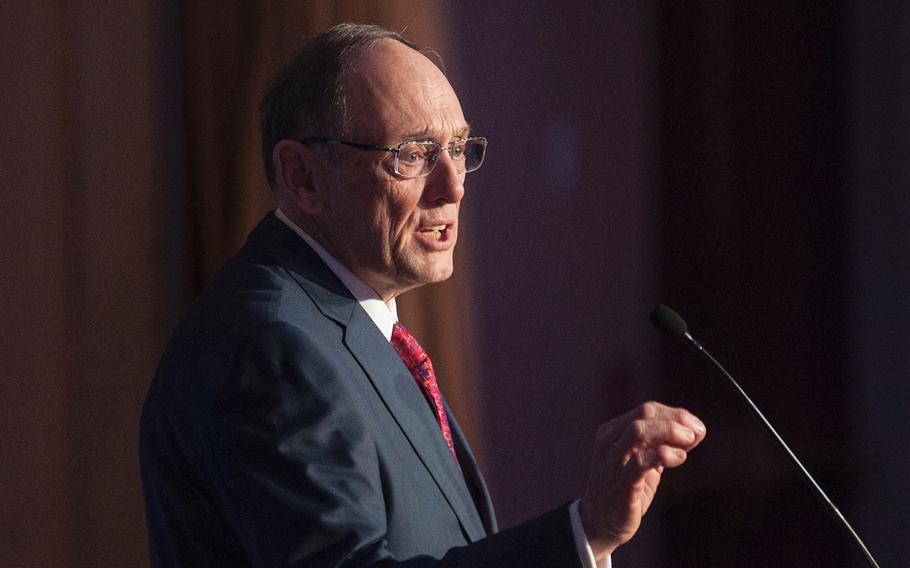 WASHINGTON — Several Republicans stormed out of a House Committee on Veterans' Affairs hearing Tuesday after the panel's Democratic chairman refused to allow them to introduce amendments to a health care bill for female veterans.
"It's frustrating and it angers me to think this is what this great committee has come to be. I'm embarrassed today to be on the Veterans Affairs committee," said Rep. Phil Roe, R-Tenn., the ranking Republican on the committee. "I could care less what your political party is when it comes to veterans issues. I just want to help take care of veterans. Today, we didn't do that. We made a partisan committee out of something that should never have happened."
The House VA committee often works in a nonpartisan way on legislation to improve the lives of service members. But Tuesday, Republicans marched out of the hearing intended to debate bills impacting veterans and send them to the House floor for a full vote.
In a discussion on a bill aimed to expand health care at VA hospitals for women, Republicans wanted to add an amendment to the bill to prohibit the VA from paying a child care provider if they employ someone who has been charged with a sex offense, an offense involving a child victim, a violent crime, a drug felony, or other offenses that VA determines inappropriate.
Republicans also wanted to raise an issue with veterans having legal trouble purchasing firearms if they have a third party who helps them manage their VA benefits. The VA considers veterans who cannot manage their own finances as "mentally incompetent," and the agency reports the names of those veterans to the National Instant Criminal Background Check System — a database that gun merchants are required to check before selling a firearm.
"My Republican colleagues had a seat at the table every step of the way. Instead of bringing forth meaningful, productive additions to legislation that will improve the lives of women veterans, they added toxic, partisan amendments — none of which worked to address how women veterans receive care," said Mark Takano, D-Calif., the committee chairman.
Takano denied multiple Republican attempts to clarify the rules when discussing legislation. After a tense back and forth between Takano and Republicans demanding they be allowed to discuss their amendments, Republican lawmakers marched out of the room.
"By attempting to hijack a bipartisan bill backed by 14 Veteran Service Organizations, including six specifically advocating for women veterans, they have left these veterans behind," Takano said.
Takano did not specify which proposed Republican amendments are problematic or why he didn't allow them to clarify the rules when discussing legislation.
"House Republicans only left because the chairman made it clear that the markup was over and our requests to meaningfully participate were going to be ignored," a Republican spokeswoman said after the hearing.
The bill at the heart of the bickering aims to tackle sexual harassment and assault issues at VA hospitals. The measure was born out of the committee's women veterans task force, Takano's signature effort as chairman of the committee, which sets to improve health care for female veterans and tackle gender-specific issues in the veterans community.
"Committee Republicans abandoned their duty to help women veterans receive the quality health care they have earned." Rep. Elaine Luria, D-Va., said in a statement. "I am disappointed because my colleagues know better, and women veterans deserve better."
The GOP marching off comes amid a tense week in Washington with House Democrats moving into a new phase of their impeachment inquiry against President Donald Trump, with plans to vote this week to formalize the next steps of the investigation.
Last week, a slew of Republicans stormed the House Sensitive Compartmented Information Facility, or SCIF — the secure room where impeachment depositions are being held. They claimed Democrats are leaving them out of the process, despite Republicans being on the three panels conducting the impeachment inquiry.
beynon.steven@stripes.com Twitter: @StevenBeynon