Several Democrats call for the firing of acting Navy Secretary Modly
by
Caitlin M. Kenney
April 7, 2020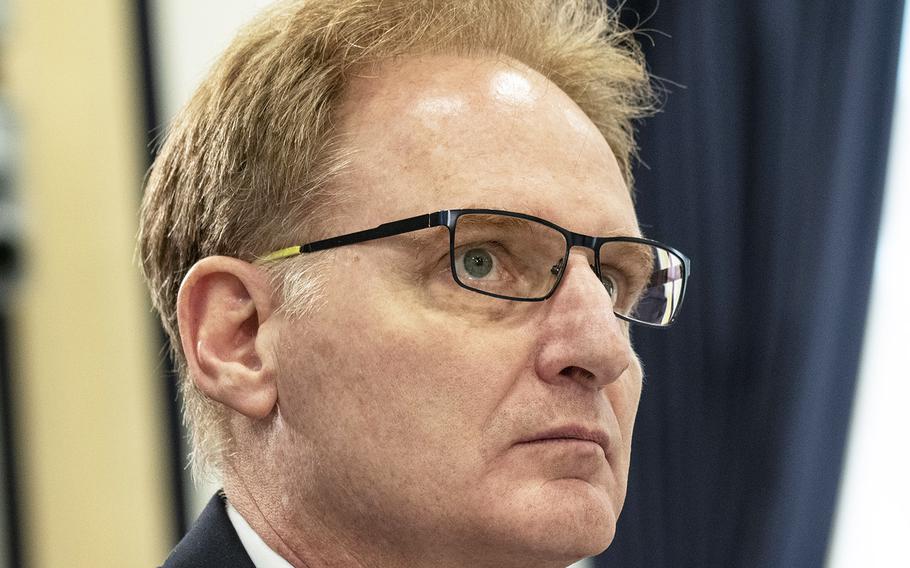 Stars and Stripes is making stories on the coronavirus pandemic available free of charge. See other free reports here. Sign up for our daily coronavirus newsletter here. Please support our journalism with a subscription.
WASHINGTON — Several Democratic lawmakers said Tuesday that they want acting Navy Secretary Thomas Modly fired for calling Capt. Brett Crozier of the USS Theodore Roosevelt stupid after he relieved the officer of command over a leaked letter about the coronavirus outbreak aboard the ship.
"Acting Secretary of the Navy Thomas Modly's remarks to the crew show that he is in no way fit to lead our Navy through this trying time. [Defense] Secretary [Mark] Esper should immediately fire him," Rep. Elaine Luria, D-Va., a Navy veteran, said in a statement.
Crozier had emailed a letter Sunday to at least 20 people requesting assistance for the Roosevelt amid a coronavirus outbreak that had caused the aircraft carrier to be diverted to Guam. More than 200 sailors aboard the ship have now contracted the illness, according to CNN.
Modly announced Crozier's firing Thursday in a Pentagon news briefing after the letter was published two days earlier in the San Francisco Chronicle. He then traveled to the Roosevelt in Guam where he disparaged the fired captain in a speech to the crew of nearly 5,000 sailors.
In a leaked recording Monday of Modly's speech, the Navy secretary is heard saying if the captain did not believe his letter requesting help for the virus outbreak would be leaked to the media after sending it to more than 20 people, then he was "too naïve or too stupid to be the commanding officer of a ship like this."
The fallout from the speech was swift.
"Acting Secretary Modly's decision to address the sailors on the Roosevelt and personally attack Captain Crozier shows a tone-deaf approach more focused on personal ego than one of the calm, steady leadership we so desperately need in this crisis," Rep. Adam Smith, D-Wash., the chairman for the House Armed Services Committee, said in a statement.
Modly initially defended his words Thursday in a statement but hours later issued an apology, after President Donald Trump weighed in on the unfolding Navy controversy, saying he was thinking about stepping in to mediate because he's "good at settling these arguments."
Modly said in his statement that he did not think Crozier is naïve or stupid.
"I believe, precisely because he is not naive and stupid, that he sent his alarming email with the intention of getting it into the public domain in an effort to draw public attention to the situation on his ship. I apologize for any confusion this choice of words may have caused," he said in his apology statement.
But Democratic lawmakers have been quick to send out statements calling for Modly's firing following.
Reps. Ted Lieu, D-Calf., an Air Force veteran, and Ruben Gallego, D-Ariz., a Marine Corps veteran, said in a joint letter Monday to Defense Secretary Mark Esper that Modly had "become more than just a distraction to the [Trump] administration and our military, he has shown he can no longer lead the best Navy in the world."
Kenney.Caitlin@stripes.com Twitter: @caitlinmkenney