'Serial' podcast: Politics made Bergdahl a 'target'
---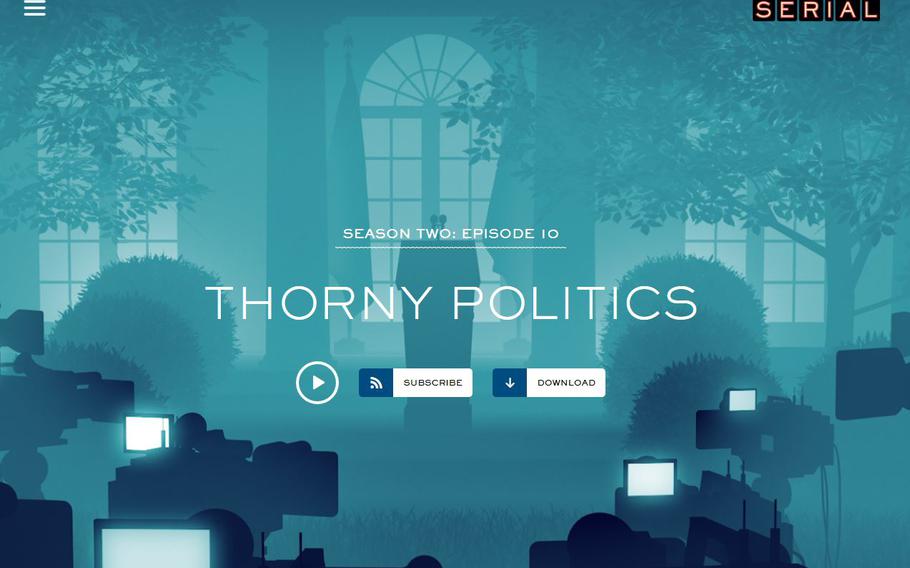 The latest episode in the "Serial" podcast about Bowe Bergdahl explored how politics distorted the case from the moment the Army sergeant's release from years of Taliban captivity was announced on a sunny May day in the White House Rose Garden in 2014.
President Barack Obama's announcement, followed by an assertion by National Security Adviser Susan Rice that Bergdahl had served "with honor and distinction," infuriated fellow soldiers who were certain that Bergdahl had deserted his post, perhaps to join the Taliban, and believed that a massive search for him had caused combat deaths. The soldiers took to social media, and before long half a dozen of them were discussing their views on national television.
Mike Waltz, an Army Reserve officer who had gone on TV saying he believed men had died searching for Bergdahl — something Defense Department officials have denied — told podcast host Sarah Koenig for Thursday's installment that the Rose Garden ceremony had emboldened him to speak out.
"I was afraid this would be politically swept under the carpet," said Waltz, and that justice would not be served.
In addition, congressional Republicans were irate that the Obama administration did not give them the required 30-day notice that five prisoners at Guantanamo Bay, Cuba, were being transferred to Qatar in a secret deal brokered with the Taliban to get Bergdahl back after nearly five years in brutal captivity. Congress had been assured that no such deal was in the works, according to the podcast. Rep. Mac Thornberry, R-Texas, told Koenig he thought Congress was intentionally misled. As a result, last year Thornberry threatened to propose that the Defense Department's budget be cut by 25 percent.
The 10th episode of the podcast examining Bergdahl's odyssey from idealist soldier to Taliban captive to court-martial defendant began with a recording of Donald Trump, Republican presidential front-runner, calling Bergdahl a "traitor" deserving of execution. A day before the latest episode was posted, Bergdahl's chief lawyer, Eugene Fidell, released documents in the case that show the Army was considering less serious charges against Bergdahl after he was first recovered in the spring of 2014. Bergdahl, according to the documents, was lauded by debriefers as providing "very, very, beneficial, very, very helpful" intelligence and told that "all of your suffering did bear a lot of value in those areas."
At that time, the documents indicate, Bergdahl was being investigated for possible charges of desertion, being absent without leave and fraudulent enlistment. Those crimes carry a maximum penalty of five years in prison.
There is no mention of the most serious charge Bergdahl is facing: misbehavior before the enemy, for endangering troops who had to participate in searching for him. That rarely used charge carries a maximum penalty of life in prison.
Fidell has questioned whether the misbehavior charge resulted from improper command influence or political pressure.
The documents include a 371-page transcript of Bergdahl's interview in August 2014 with then-Maj. Gen. Kenneth Dahl, who headed the Army's investigation into Bergdahl's disappearance from his outpost in Afghanistan in June 2009.
Bergdahl told Dahl that he'd walked off his post to seek an audience with a general officer to report what he believed was dangerous leadership within his unit.
"So, I had to come up with some plan because I knew nobody else was going to do anything about it." Bergdahl told Dahl. "But, from what I was looking at, I seriously saw a threat. I seriously saw the possibility of something going wrong. And I saw that somebody needed to do something about it."
Bergdahl, whom an Army psychiatrist has diagnosed with a personality disorder that features symptoms of paranoia and difficulties with interpersonal relationships, has been described in testimony by debriefers and Dahl as a sincere idealist who attempts to do the right thing but is stymied by misperception.
"It is not the general's Army. It is not the captain's Army. It is America's Army," Bergdahl told Dahl. "So, as a citizen of America, I have that duty as well."
Bergdahl had no idea as he was being reintegrated at the Army hospital in Landstuhl, Germany, that his parents had met President Obama, that his character and actions were being discussed nationally, and that significant public opinion was against him, according to the podcast.
Those overseeing Bergdahl's reintegration viewed him sympathetically, but it was clear from daily briefings that some higher-ups did not. A staffer had given Bergdahl a compass, for instance, a gift that infuriated the Army chief of staff, according to the podcast, then Gen. Ray Odierno.
He said, "Why would you give a deserter a compass?'' the podcast said.
Staffers had to take it away.
---
---
---
---