Senate panel gives nod to McMaster's 3-star status
---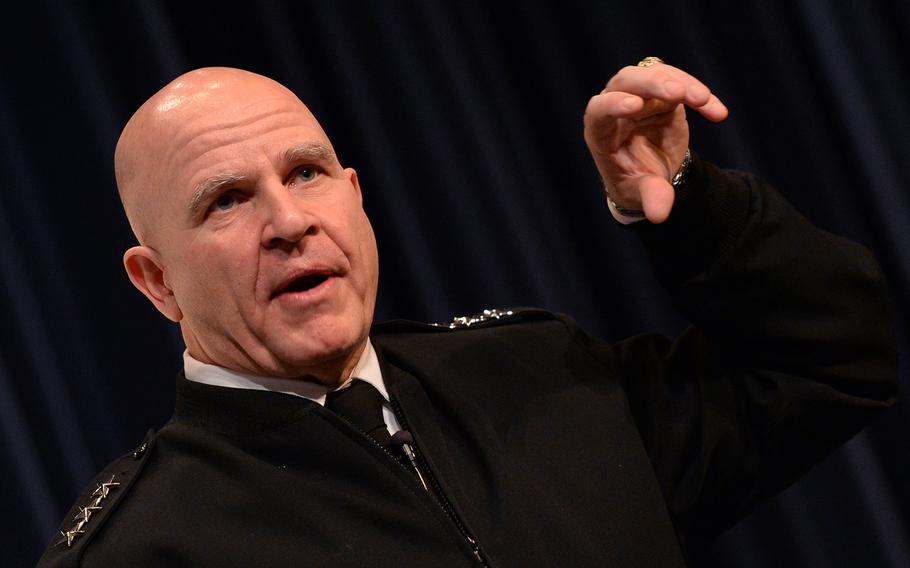 WASHINGTON — The Senate Armed Services Committee on Tuesday recommended that White House National Security Adviser H.R. McMaster should be allowed to continue serving in the position as an active-duty, three-star general.
Sen. John McCain, R-Ariz., the committee chairman, said the 23-2 vote sends McMaster's service status to the full Senate for a final decision. However, some committee members raised questions over White House chief strategist Steve Bannon's position on the National Security Council and some Democrats balked at recommending McMaster because they wanted more time for consideration.
President Donald Trump picked McMaster, an Army lieutenant general, as his new national security adviser Feb. 20 after Lt. Gen. Mike Flynn resigned. Under federal law, the Senate must reappoint McMaster so he can continue to serve as a three-star general while acting as national security adviser.
"We will now schedule his promotion issue to the full Senate and I am confident that it will be approved particularly given the overwhelming vote in favor that was just given in the Armed Services Committee," McCain said.
The committee chose to expedite its consideration of McMaster's active-duty status during the closed-door executive session meeting with the general, waiving a rule that requires it to deliberate for seven days. But McCain said he could not rule out attempts by Democrats to delay a final Senate vote, which had not been scheduled yet.
McCain said committee members raised questions during the meeting about Bannon's unorthodox role as a member of the National Security Council, which weighs national security and foreign policy issues for the president. McMaster was tasked with reorganizing the White House foreign policy staff after Flynn's departure and questions have swirled over whether he will address the National Security Council issue.
"I have voiced concern over having for the first time in history the president's political adviser as a member of the National Security Council," McCain said. "It should not be and no less a person than former Secretary of Defense Robert Gates said that it was totally unacceptable."
Sen. Claire McCaskill, D-Mo., was among two Armed Services Committee members who abstained from voting on the McMaster recommendation, saying she did not have enough information following reports that the general had been rebuked by the Army in 2015 for his handling of sexual assault allegations.
As commanding general at Fort Benning, Ga., McMaster violated regulations by allowing two officers to attend Ranger School while they were under investigation over allegations they assaulted a female cadet at the U.S. Military Academy at West Point.
"I have not had an opportunity to meet with the general nor have I had an opportunity to look at the documents that not only surround the incident in question but also more importantly his entire record as commander as it relates to sexual assault," McCaskill said.
---
---
---
---