Senate Democrats rip Pentagon's coronavirus response in letter to Esper
by
Corey Dickstein
April 28, 2020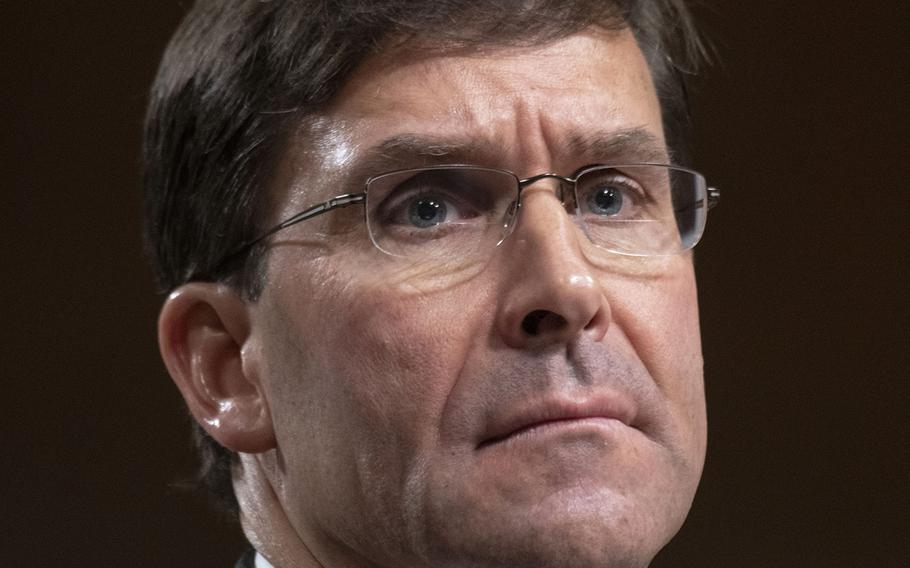 Stars and Stripes is making stories on the coronavirus pandemic available free of charge. See other free reports here. Sign up for our daily coronavirus newsletter here. Please support our journalism with a subscription.
WASHINGTON — Ten Democratic senators blasted the Pentagon's response to the coronavirus crisis as "disjointed and slow" in a letter to Defense Secretary Mark Esper, accusing him of unnecessarily placing troops at risk.
"Civilian leadership of the Department [of Defense] has failed to act sufficiently, quickly, and has often prioritized [combat] readiness at the expense of the health of service members and their families," the senators wrote Monday in the eight-page letter shared by the office of Sen. Elizabeth Warren of Massachusetts. "This failure has adversely affected morale, and, despite the department's best intentions, undermined readiness."
The letter was signed by Democratic Sens. Warren, Mazie Hirono of Hawaii, Kamala Harris of California, Patty Murray of Washington, Richard Blumenthal of Connecticut, Jeffrey Merkley of Oregon, Sherrod Brown of Ohio, Ron Wyden of Oregon, Amy Klobuchar of Minnesota, and Edward Markey of Massachusetts.
Warren, Harris and Klobuchar were all presidential candidates in 2020 campaign and are expected to be among the top potential vice presidential candidates to run alongside Joe Biden, the expected Democratic nominee for president. Warren, Hirono and Blumenthal are members of the Senate Armed Services Committee.
In their letter, the senators took issue with a series of steps that Esper has taken since the pandemic began in February that have impacted the U.S. military. Among them, they criticized Esper's decision to restrict data about outbreaks at installations, the department's inability to test its troops on a mass scale, and the Pentagon's handling of its largest coronavirus outbreak — aboard the aircraft carrier USS Theodore Roosevelt, which has seen nearly 1,000 sailors contract the virus since last month.
But the senators were especially critical of Esper's decision to issue broad guidance to the force on protective measures, leaving much of the military's response to the pandemic in the hands of local commanders who, especially in the early weeks of the pandemic, implemented varying interpretations of social distancing measures and other health guidelines.
"Your inability or unwillingness to issue clear, department-wide guidance has forced the services and local commanders to make their own decisions on a case-by-case basis," the senators wrote. "Although local commanders know their units and operating environments better than anyone in the Pentagon, they are not public health experts. And they are now left to make decisions they should never have to make."
They pointed to an unusual exchange between Esper and the military's top officer during a televised news briefing on April 14, in which the defense secretary suggested local commanders should relax haircut standards and allow on-post barber shops to close. Army Gen. Mark Milley, the chairman of the Joint Chiefs of Staff, then cut in, saying troops should "not take that as guidance yet."
Milley — who is not in the chain of command — appeared to contradict his boss in public, they wrote.
"This level of miscommunication on even relatively simple matters indicates that dysfunctional decision-making starts at the top of the department," the letter reads.
Esper has repeatedly defended his decisions throughout the pandemic response. He has said providing commanders broad guidelines was necessary to give them leeway for differing coronavirus threats around the world and varying operating environments — such as service members who serve in tight quarters aboard submarines or in bomber aircraft.
The letter marks one of the first public lashings Esper has taken from Congress, as he has largely avoided serious criticism from lawmakers, including Democrats who have saved their grievances over national security policies for the White House. They have been especially critical of its decision to send troops to the U.S.-Mexico border and reroute DOD construction funding to President Donald Trump's border wall.
Esper has largely enjoyed bipartisan support through his 10 months on the job. The former Army secretary was easily confirmed to the Pentagon's top job in July by a 90-8 mark. Warren, Klobuchar, Harris, Merkley, Markey, Wyden were among the senators voting against his promotion. The other senators who signed the letter Monday approved his confirmation.
The Pentagon's top spokesman on Tuesday pushed back on the premise of the senators' letter, saying they "cherry picked false and repeatedly debunked assertions."
"We are proud of the work we have done leading the fight against [the coronavirus] – and the American people and members of Congress should be proud as well," Jonathan Hoffman, the Pentagon's chief spokesman, said in an emailed statement. "While we are not above criticism, this letter does not even remotely accurately reflect our record of action against the coronavirus and the great lengths we have gone to protect our people. We look forward to continuing to discuss the lessons learned from this outbreak and our path forward with our highly informed and engaged oversight committees."
The Pentagon reported Tuesday that 4,265 service members had tested positive for the coronavirus, including 1,303 who had since recovered. Two service members — an Army National Guard officer and a Navy chief petty officer aboard the Roosevelt — have died of complications of the virus.
In their letter, the senators asked Esper to answer a series of 10 questions about the Pentagon's coronavirus planning by May 11. Among them, they ask for the Pentagon's plans to expand testing and how many of its troops are likely to have contracted the virus, since only a fraction of the military has been tested and so many infected individuals show no symptoms of the virus.
Hoffman and other Pentagon officials on Tuesday did not indicate whether they would be able to answer those questions on time.
dickstein.corey@stripes.comTwitter: @CDicksteinDC