Senate Armed Services Committee approves Mattis
by
Travis J. Tritten
January 18, 2017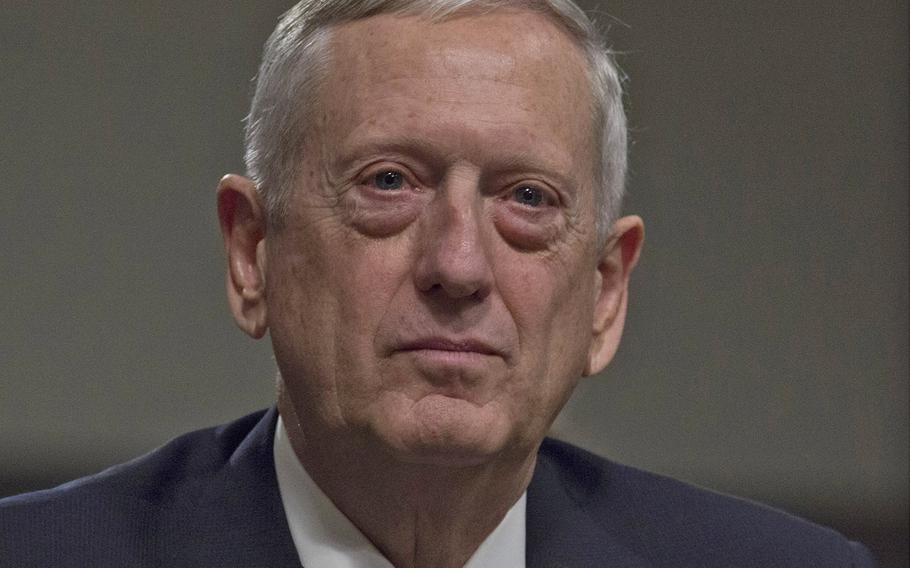 WASHINGTON — Confirmation of retired Marine Gen. James Mattis as defense secretary could occur this week following a vote in favor of his nomination Wednesday by the Senate Armed Services Committee.
The committee, led by Sen. John McCain, R-Ariz., voted 26-1 to send Mattis' nomination to the full Senate, which has the final say on approving cabinet appointments. It could hold a final confirmation vote Friday immediately after President-elect Donald Trump is sworn into office and officially nominates the general.
"I think it is really a testimony to the man because so many members of the committee had known him when he was [commander of U.S.] Central Command and they know of his reputation," McCain said after the vote. "You know he's a very unique individual."
Mattis, 66, has wide support in the Senate – the only 'no' vote Wednesday was from Sen. Kirsten Gillibrand, D-N.Y. – and he is expected to be easily confirmed, which could make him the first career military officer in nearly 70 years who has required a special waiver from Congress to take the Pentagon's top civilian job.
Congress approved the waiver last week because Mattis has not been retired at least seven years as required by law. Gillibrand opposed bending the rule, saying putting a recently retired general in charge could erode civilian control of the military.
Mattis is known for his intellect, colorful quotes and widespread admiration from rank and file troops. During his more than four-decade career, Mattis led special operators into Afghanistan after 9/11, commanded the First Marine Division during the 2003 invasion of Iraq and lead U.S. Central Command until he retired in 2013.
His confirmation hearing before the Armed Services Committee last week went relatively smooth, despite some apparent policy differences with Trump on the NATO alliance and Russia.
Trump again said over the weekend that the longtime U.S. treaty with European allies was "obsolete" and criticized member states for not paying enough for defense. During his campaign, he suggested the United States might not come to the aid of allies who do not pay.
Trump has also said his administration will extend the same trust – at least in the beginning -- to Russian President Vladimir Putin as it does to German President Angela Merkel, a top ally.
But Mattis, who helped lead NATO, said he would strongly back the U.S. treaty commitments and named Putin's Russia as a top adversary that is working to break the alliance.
"NATO from my perspective, and I served once as the NATO alliance supreme allied commander, is the most successful military alliance in modern world history, maybe ever," Mattis testified to the committee. Policy toward Russia is riling Washington and will likely dominate the early days of Trump's administration after the U.S. intelligence community determined Putin directed hacking and propaganda operations during the presidential campaign. The joint assessment found Putin attempted to sway the election in Trump's favor.
tritten.travis@stripes.com Twitter: @Travis_Tritten