Sen. Johnny Isakson, chairman of veterans' affairs committee, to resign at end of 2019
by
Nikki Wentling
August 28, 2019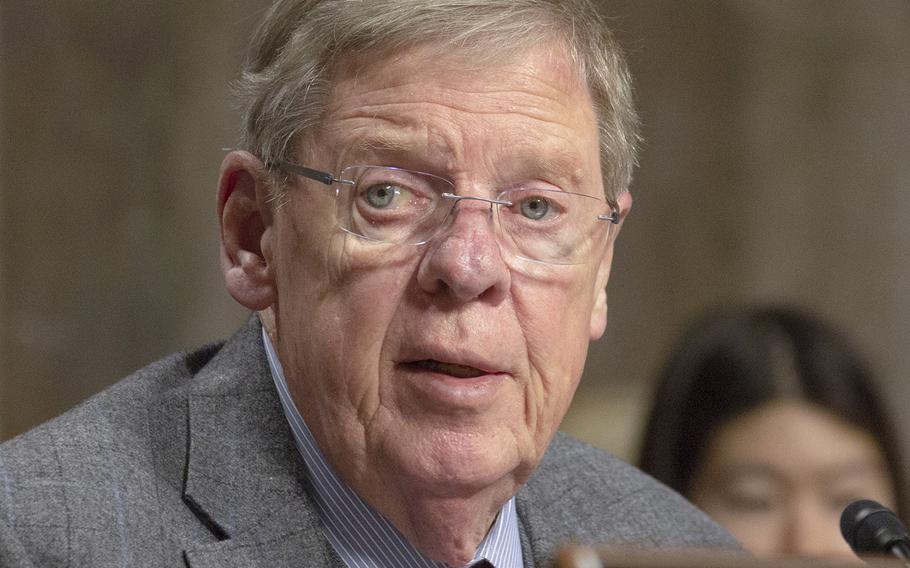 WASHINGTON – Sen. Johnny Isakson, a Republican from Georgia and chairman of the Senate Veterans' Affairs Committee, announced Wednesday that he will resign at the end of the year because of ongoing health problems.
Isakson's resignation will take effect Dec. 31.
The longtime senator, 74, was diagnosed with Parkinson's disease in 2013. He was hospitalized in July after he fell in his Washington apartment, suffering four fractured ribs and a torn rotator cuff. On Monday, he underwent surgery in Marietta, Ga., to remove a carcinoma from one of his kidneys, according to a statement from his office.
"In my 40 years in elected office, I have always put my constituents and my state of Georgia first," Isakson said in a statement Wednesday. "With the mounting health challenges I am facing, I have concluded that I will not be able to do the job over the long term in the manner the citizens of Georgia deserve. It goes against every fiber of my being to leave in the middle of my Senate term, but I know it's the right thing to do on behalf of my state."
Isakson was first elected to the Senate in 2004 and was re-elected to a third term in 2016. He took over the Senate Veterans' Affairs Committee in 2015, succeeding Sen. Bernie Sanders, I-Vt.
During that time, he's helped garner bipartisan support for several pieces of Department of Veterans Affairs reform legislation, including the VA Mission Act, which expands the number of veterans who are eligible to receive private-sector health care.
Republican and Democratic lawmakers reacted sadly to the news of Isakson's resignation. He's known as a cordial, old-school senator, and for the past 11 years has hosted an annual barbecue lunch for senators from both sides of the aisle.
"One of the many fine adjectives to describe Johnny Isakson is a word not used enough in the halls of Congress these days: kind," Senate Minority Leader Chuck Schumer, D-N.Y., said in a statement. "Not only is Johnny a diligent and successful legislator, he is one of the kindest, most thoughtful senators. Independent of any party or politics, everyone will miss Johnny."
Sen. Lindsey Graham, R-S.C., described Isakson as the "gold standard" for a U.S. senator.
"He is a consensus-builder who is admired by all his colleagues for his passion, intellect and kindness," Graham said. "As chairman of the Veterans' Affairs Committee, he has led the charge to dramatically improve the lives of American veterans."
Former VA Secretary David Shulkin reacted on Twitter, calling Isakson's resignation a "big loss for veterans." Joe Chenelly, national director of AMVETS, credited Isakson for cultivating bipartisanship on the Veterans' Affairs Committee, which he described as a "mammoth accomplishment in this political environment."
Isakson plans to return to Washington when the Senate goes back into session Sept. 9 to finish out the year.
His resignation prompted speculation about his replacement. Georgia Gov. Brian Kemp will name a replacement to serve temporarily, until a statewide special election can be held in 2020.
Wentling.nikki@stripes.com Twitter: @nikkiwentling