Sen. Ernst calls for hazard pay for troops fighting coronavirus
by
Rose L. Thayer
May 5, 2020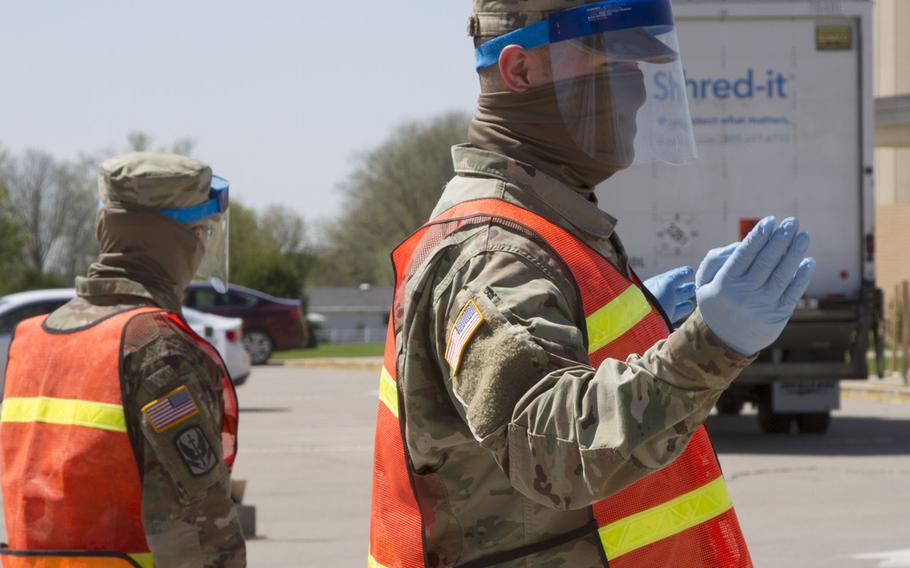 Stars and Stripes is making stories on the coronavirus pandemic available free of charge. See other free reports here. Sign up for our daily coronavirus newsletter here. Please support our journalism with a subscription.
AUSTIN, Texas – A proposed Senate bill would direct the Pentagon to provide tax-free hazardous duty pay to the more than 62,600 military personnel fighting on the front lines of the coronavirus pandemic.
Sen. Joni Ernst, R-Iowa, announced the proposed bill in a news release Tuesday and described it as a "small step to recognize the hazardous work they're doing during this pandemic and provide them the pay they deserve."
The legislation directs the Defense Department to provide at least $150 in monthly tax-free hazardous duty pay – including back pay — for National Guard members, active-duty service members and medical corps professionals responding as part of the military's coronavirus operations, according to the release from Ernst, a retired lieutenant colonel in the Iowa Army National Guard.
As of Tuesday morning, about 46,800 National Guard members were deployed nationwide and about 13,500 military personnel were operating under the control of U.S. Northern Command, which is tasked with overseeing the military's coronavirus response efforts. That includes about 2,600 medical personnel and those service members conducting expeditionary medical operations across America at 22 hospitals, five alternate-care facilities, a hospital ship and a skilled nursing facility, according to the Pentagon's daily coronavirus update.
Guard missions began in various states as early as mid-March and have included testing the public at drive-through facilities, helping feed people through food banks and delivery programs and transporting protective equipment and supplies to where they are most needed. Some of them have come into closer contact with the virus by working in medical facilities and nursing homes.
"Whether it's delivering personal protective equipment, food, or medical supplies, our National Guardsmen and women have answered the call to help during [coronavirus]," said Ernst, who also serves as chairman of the Senate Armed Services Committee's subpanel on emerging threats and capabilities. "As a former Iowa Army National Guardsmen, I could not be more proud of their tireless and selfless efforts."
Nearly 890 National Guard members have tested positive for the coronavirus, according to the Pentagon. However, it's unclear how many of those troops infected were deployed at the time that they contracted the virus. In March, Army Capt. Douglas Hickok of the New Jersey National Guard was the first service member to die from the virus.
The Enlisted Association of the National Guard of the United States announced its support for Ernst's proposed bill.
"The risks are great; so are the hazards. By definition, hazardous duty incentive pay is a monetary incentive for volunteers who perform hazardous duty based upon the inherent dangers of that duty and the risks of physical injury," retired Sgt. Maj. Frank Yoakum, the association's executive director, said in a statement.
Retired Brig. Gen. J. Roy Robinson, president of the National Guard Association of the United States, thanked Ernst in a statement for introducing the legislation, which supports Guard members who serve as the majority of military response.
"Through her years of service, Sen. Ernst knows what it means to serve in harm's way and we are proud that she is leading the effort to classify the current contingency operation as hazardous duty," he said. "National Guard soldiers and airmen are on the front lines with our brave doctors, nurses, and first responders and deserve this critical recognition and financial support as they risk exposure to this virus every day."
Robinson and the association have been at the forefront of advocating for Guard members to receive the same federal benefits and compensation of the Reserve and active-duty personnel with whom they work, performing the same functions.
In March, Robinson began the call to get troops onto a federal status known as Title 32, which provides Guard troops access to federal benefits for education, housing allowances, health care and a death gratuity. Previously troops operated on a state status that only allowed them benefits from their state.
Now the vast majority of National Guard are serving on Title 32 orders, but it's unclear whether the federal status will be extended beyond the 31 days authorized by President Donald Trump.
Ernst's home state has about 850 Guard troops activated. She said she planned to send a letter Tuesday to President Donald Trump asking that he grant Iowa Gov. Kim Reynolds's request to extend the federal status authorization through June 30.
Thayer.rose@stripes.com Twitter: @Rose_Lori