SEAL Team 7 leaders fired as Navy looks to shake up commando culture
by
Corey Dickstein
September 6, 2019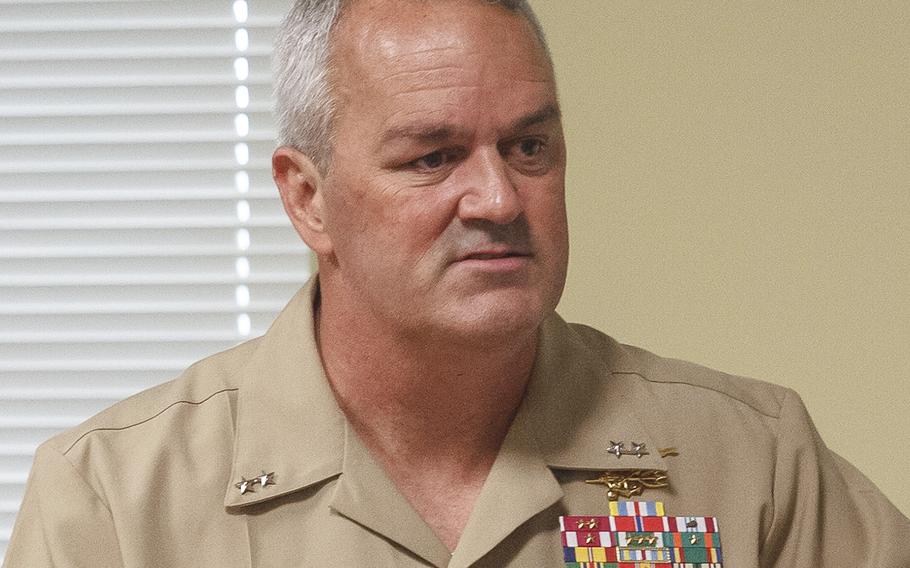 WASHINGTON – The Navy's top SEAL on Friday fired SEAL Team 7's top three leaders from their duties as the service cracks down on a cultural and ethical crisis within the ranks of its elite commandos, according to Navy officials.
Rear Adm. Collin Green, the commander of Naval Special Warfare Command, dismissed Cmdr. Edward Mason, the team's commander; Lt. Cmdr. Luke Im, its executive officer; and Command Master Chief Hugh Spangler, the unit's senior enlisted leader over problems with leadership in the team's ranks, according to a Navy statement. The move comes after at least one of the California-based SEAL Team 7 platoons was sent home early from Iraq in July amid allegations of serious misconduct, including alcohol abuse downrange and accusations of a sexual assault occurring during an unofficial Independence Day celebration within the unit.
Green fired the SEAL leaders "due to a loss of confidence that resulted from leadership failures that caused a breakdown of good order and discipline within two subordinate units while deployed to combat zones," a Navy statement reads.
A Navy spokesperson declined to provide additional details about Green's decision, but said the SEALs were not expected to face additional disciplinary action and would remain in the Navy. The spokesperson declined to say where the SEALs would be reassigned or to provide their service records.
The admiral's decision comes after he ordered major cultural changes for the Navy's special operations community late last month following a short probe into possible causes of misconduct among SEALs that have captured headlines in recent years. In addition to the problems alleged within SEAL Team 7 in Iraq this year, SEALs from other units in recent years have faced a range of other troubling allegations, including committing war crimes such as killing unarmed, detained enemy fighters, murdering a Green Beret in Africa, and use of illegal narcotics.
In an attempt to rein in his force, Green ordered last month that the SEAL force return to standard Navy uniform and appearance standards, including undergoing regular inspections. SEALs have often sported beards, longer hair and non-standard uniforms, especially during the wars in Iraq and Afghanistan. Green also ordered the implementation of a program "to track and develop an individual's leadership and ethical development" through his or her career, the implementation of special warfare history and heritage into regular activities, and for the service provide all SEALs formal legal briefings.
Leadership failures throughout the SEAL organization were to blame for the ethical and cultural problems, Green wrote in a memorandum last month announcing his decisions.
"The root of our problem begins with members who fail to correct this behavior within their sphere of leadership and prioritize this misalignment over the loyalty to Navy and nation," Green wrote.
"We must take a 'back to basics' leadership approach to correct our drift," he added. "I will hold the chain of command accountable, as I am accountable for the good order and discipline in our formations."
The firing of the three top leaders of a SEAL team appeared to be an unprecedented move. The Navy spokesperson and another Navy official said Friday that they were not aware of a similar action occurring in the SEAL's history.
In his memo last month, Green wrote his efforts to better the SEAL force were meant to ensure the public trusted his commandos were up to the task of defending the nation.
"In our business, trust is earned by demonstration of competency and character," Green wrote in the memo. "I charge all of you to perform at the highest level and own your responsibility with unmitigated competence and character – every time, everywhere. The mission is too important. The nation needs us countering violent extremist organizations, rogue regimes and in constant competition with peer and near-peer adversaries."
dickstein.corey@stripes.com Twitter: @CDicksteinDC