SEAL charged with Green Beret's death was promoted after incident was ruled a homicide
by
Corey Dickstein
January 29, 2020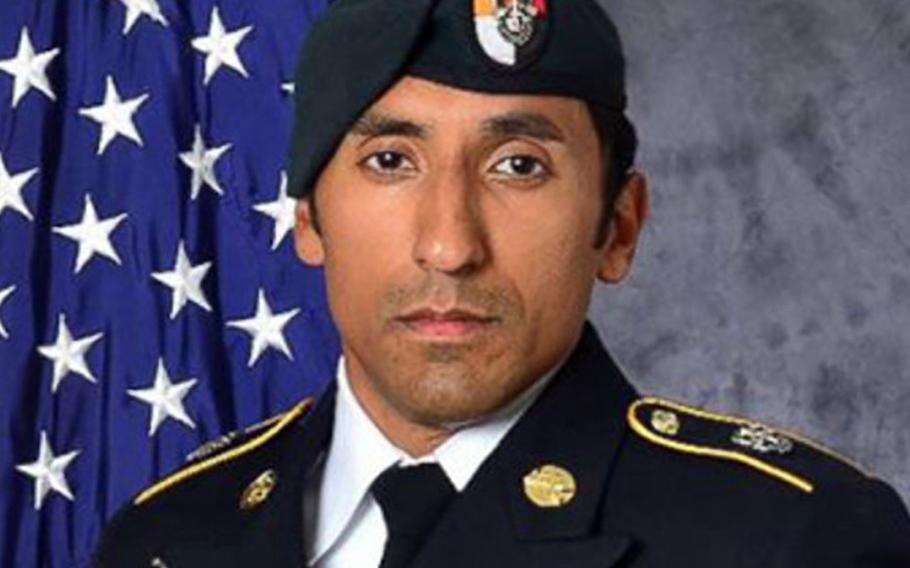 WASHINGTON — A Navy SEAL charged with murder and other crimes in the 2017 hazing death of a Green Beret in Mali was promoted to chief petty officer even after investigators suspected he was involved in the killing, according to officials and documents.
The Navy promoted SEAL Team 6 member Tony DeDolph from petty officer 1st class just weeks after Army Staff Sgt. Logan Melgar died June 4, 2017 during an incident in which fellow service members said DeDolph placed the Green Beret in a choke hold. Navy records show DeDolph was officially selected for promotion to E-7 in August 2017.
DeDolph is scheduled to appear in court for a pre-trial hearing Thursday at Naval Station Norfolk in Virginia. His court-martial is scheduled to begin March 23. He faces charges including assault, felony murder and obstruction of justice for his role in the death of Melgar, a member of the Army's 3rd Special Forces group. Three other special operators were charged in Meglar's death, including two who have received prison sentences in exchange for guilty pleas.
The Navy had previously acknowledged – including during court proceedings for the other service members involved in the case – DeDolph had been promoted since Melgar's death, but the timing and some details about that advancement were first reported Wednesday by The Daily Beast.
An announcement from the chief of naval operations' office dated August 2017 identified selectees at that time for promotion to E-7, including DeDolph, who was named the 15th best qualified petty officer 1st class for promotion among Naval Special Warfare personnel. More than 70 of those individuals were chosen for advancement, according to the announcement.
DeDolph was serving in Mali on a counterterrorism mission. But he was removed from the troubled West African nation just days after Melgar's death and returned to the Virginia Beach headquarters of SEAL Team 6, officially the Naval Special Warfare Development Group. In September, he was allowed to wear E-7 rank insignia, and he began receiving chief petty officer pay in December, The Daily Beast reported, citing unnamed officials.
DeDolph's promotion came after a military autopsy ruled Melgar's death a homicide, a defense official said Wednesday, but his advancement was not flagged for further consideration because he had not been charged or named a suspect through "official channels." DeDolph and the others charged in the case — Navy SEAL Team 6's Chief Petty Officer Adam Matthews and Marine Raiders Gunnery Sgt. Mario Madera-Rodriguez and Staff Sgt. Kevin Maxwell Jr. — were charged with Melgar's death in November 2018.
Matthews and Maxwell pleaded guilty last year in exchange for sentences that included one- and four-year prison terms, respectively. They testified at their trials that DeDolph placed Melgar in a choke hold after the four — and other non-American individuals — broke into the Green Beret's room in a hazing effort meant to embarrass him for perceived slights.
Maxwell described DeDolph as the instigator of the hazing plan, launched over a night of binge drinking in Mali's capital Bamako. The Marine said the plan was to culminate in a "sexual molestation" of Melgar captured on video. He said the soldier's death was purely accidental, and occurred after DeDolph placed Melgar in a choke hold for a second time in an attempt to get him to temporarily lose consciousness. The group performed CPR and, eventually, an emergency tracheotomy before rushing Melgar to a local clinic where he was pronounced dead, Maxwell said.
Maxwell and Matthews agreed to testify at trials for the other service members charged in the case, as part of their plea agreements.
DeDolph and Madera-Rodriguez are expected to go to trial for their roles in the death in the spring. They could face up to life in prison, if convicted of the most serious charges. DeDolph's lawyer, Phillip Stackhouse, did not return a request for comment Wednesday.
DeDolph first enlisted in the Navy in 2003 and had been assigned to SEAL Team 6 since 2008, according to Navy records. He has served multiple combat and ship deployments, including service in Afghanistan. His awards include the Bronze Star with combat "V" for valor, a Purple Heart, a Joint Service Commendation Medal with combat "V" for valor and a Navy-Marine Corps Commendation Medal with combat "V" for valor, according to the Navy.
dickstein.corey@stripes.com Twitter: @CDicksteinDC