Screening procedures at NAS Pensacola didn't cover international students
---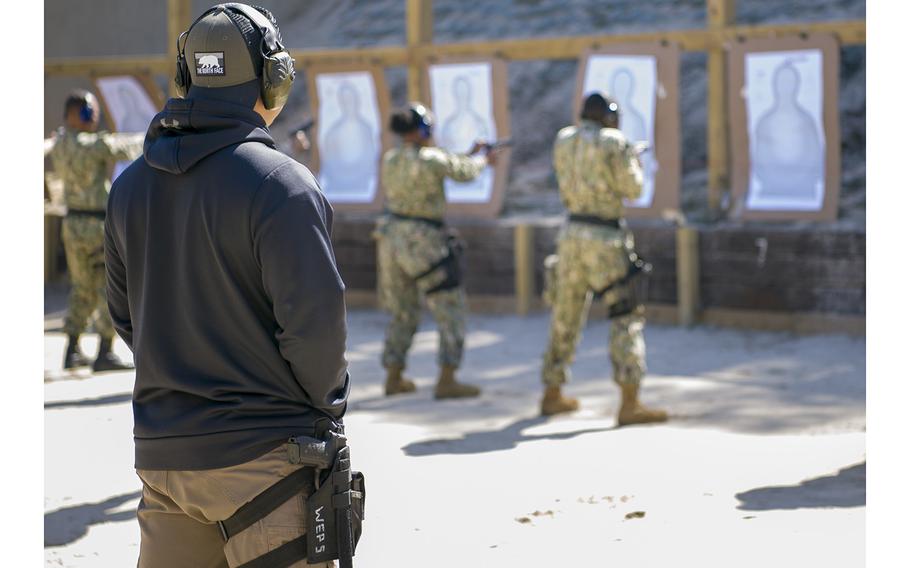 WASHINGTON — Pentagon procedures meant to detect and prevent threats at U.S. military bases didn't cover international military students, such as the Saudi officer who carried out a deadly attack on Naval Air Station Pensacola, Fla., last year, a defense official said Wednesday.
Garry Reid, director for defense intelligence, testified before a Senate Armed Services subcommittee about his office's review of how foreign military students are screened before entering the United States and accessing U.S. military bases. The Pentagon is "overly reliant" on the Department of State's vetting procedures for these students, and the agencies fail to share information, Reid said. There are also loopholes that allow foreign military students to purchase firearms, despite restrictions for non-immigrant visa holders.
Defense Secretary Mark Esper ordered the review after the attack in Pensacola on Dec. 6. Mohammed Alshamrani, a second lieutenant in the Royal Saudi Air Force, killed three U.S. sailors: Ensign Joshua Watson, 23; Airman Mohammed Haitham, 19; and Airman Apprentice Cameron Walters, 21. Eight others were injured. Alshamrani was training at Pensacola through the International Military Education and Training Program.
The shooting was deemed an act of terrorism. Alshamrani was motivated by "jihadist ideology," Attorney General William Barr said, and had posted anti-American messages on social media.
Esper directed Reid's office to immediately strengthen vetting for international military students. They screened all students from Saudi Arabia in the U.S. and are working to vet students from other countries – about 5,000 total. None of the screenings so far have found new threats or triggered removal or further investigation, Reid said.
Separately, during the FBI's investigation into the attack in Pensacola, 21 Saudi students were expelled from the U.S. for having "derogatory material" on their computers and phones, Barr said.
"Defense Secretary Esper directed my office to take steps in two areas – to strengthen the vetting process for international military students immediately and to conduct a comprehensive review of policies and procedures in place for screening foreign students and granting access to our bases," Reid said.
To address the second mandate, Reid's team produced a 12-page report about security involving foreign military students and made six recommendations to address 21 findings. However, the full report is classified. To discuss its details, members of the Senate Armed Services Committee's subcommittee on emerging threats and capabilities went into a session Wednesday that was closed to the public.
During the public portion of the hearing, Sens. Joni Ernst, R-Iowa, and Gary Peters, D-Mich., questioned Reid about Alshamrani's ability to legally purchase a firearm. The Saudi officer was able to buy a semiautomatic handgun with a hunting license.
"Clearly, there are many ways in this country to obtain a firearm," Reid said. "Most states in this country, if you have a valid hunting license, there's no further requirement for documentation."
After the attack, Esper imposed a restriction on foreign military students having privately owned firearms on base. Reid said Wednesday his office is working with the Bureau of Alcohol, Tobacco and Firearms on a legislative fix.
"Right now we intend to put forward changes, legislatively, to close down what looks like a loophole there," Reid said.
During the hearing, Lt. Gen. Charles Hooper, director of the Defense Security Cooperation Agency, talked about the importance of allowing foreign military students to train in the U.S. The program helps build lasting relationships between the U.S. and its allies and exposes foreign military members to American culture and values, Hooper said.
When asked by Sen. Rick Scott, R-Fla., whether the U.S. military should limit or change its training of Saudi students, Hooper said only that he was working with Saudi defense officials to improve perceptions of the students they send to the U.S.
Saudi Arabia has committed to increasing cultural awareness training for students who train in the U.S. and distributing a code of conduct. Saudi students will also be under more supervision, and there will be more scrutiny about their attitudes toward America and people of all backgrounds, Hooper said.
Reid said the Pentagon is "well underway" to implement the six recommendations his team made in the classified report.
"We have a responsibility to the victims to learn all we can from the attack and to implement changes that will mitigate the risk of future occurrences to the greatest extent possible," Peters said. "Despite the clear benefits, we must ensure that such training does not risk the safety of U.S. military personnel."
wentling.nikki@stripes.com Twitter: @nikkiwentling
---
---
---
---