Scores of Air Force Academy cadets spent spring break doing hard labor
---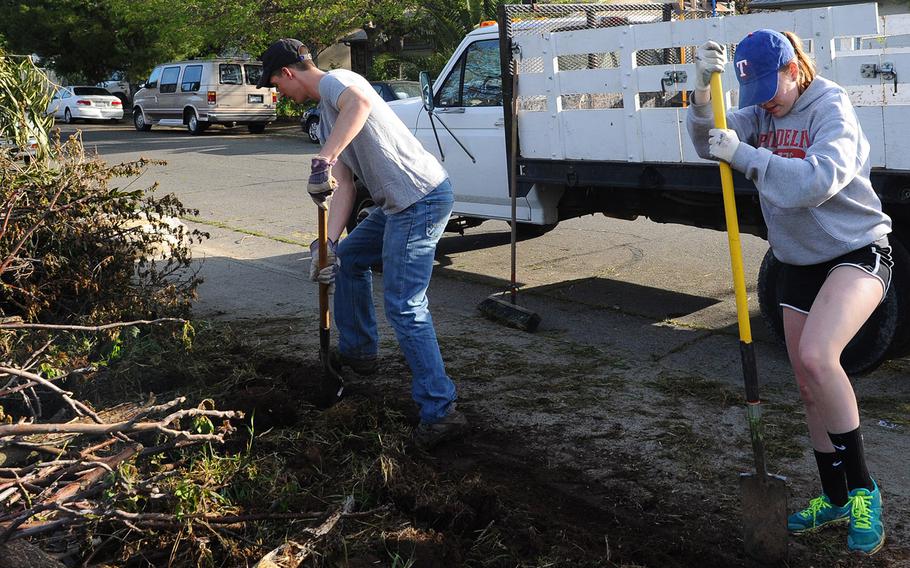 COLORADO SPRINGS, Colo. (Tribune News Service) — While their college peers relaxed on ski slopes and beaches, scores of Air Force Academy cadets spent spring break with shovels and hammers.
The school's alternative spring break program sent cadets to work at Habitat for Humanity sites around the country.
Senior Gautam Venkataraman said one of the most difficult parts of the program happened weeks before cadets departed for their volunteer work.
The academy had slots for 75 cadets in the program, but more than twice that number volunteered.
"The response we got from the cadet wing was enormous," he said.
Junior Dylan Dempster helped tear down a home in Houston so the parts could be salvaged for the charity. Cadets traveled to six cities to help the charity that builds houses for low-income families.
"It was a lot of work, but it was also a lot of fun," he said
Junior Anthony Mountain was among the cadets who helped out in Sacramento, Calif. Seeing cadets get up early for a day of hard labor when others were taking a break from the rigorous life at the academy showed Mountain something about leadership.
"We learned a whole lot about what makes us tick," he said. "You can learn who has that stuff to be a great leader."
Volunteerism is nothing out of the ordinary for cadets. The 4,000 cadets give an average of more than 30,000 hours of volunteer time annually, with most of it spent in the Pikes Peak region. Alternative spring break takes that volunteer spirit nationwide.
Junior Sage Keltee said the spring break program has an allure for cadets.
"I went because I though it sounded fun," said Keltee, who labored in Des Moines, Iowa. "I really enjoyed it."
Junior Zach Gerlach, who worked in Corpus Christi, Texas, during the break, said he and his classmates were motivated by a simple precept.
"This country has given us so much," he said.
"This is a great opportunity for myself and other cadets to give something back."
©2016 The Gazette (Colorado Springs, Colo.) Visit The Gazette (Colorado Springs, Colo.) at www.gazette.com Distributed by Tribune Content Agency, LLC.
---
---
---
---