video
San Diego community rallies around USS Bonhomme Richard sailors who lost possessions in blaze
by
Seth Robson
July 14, 2020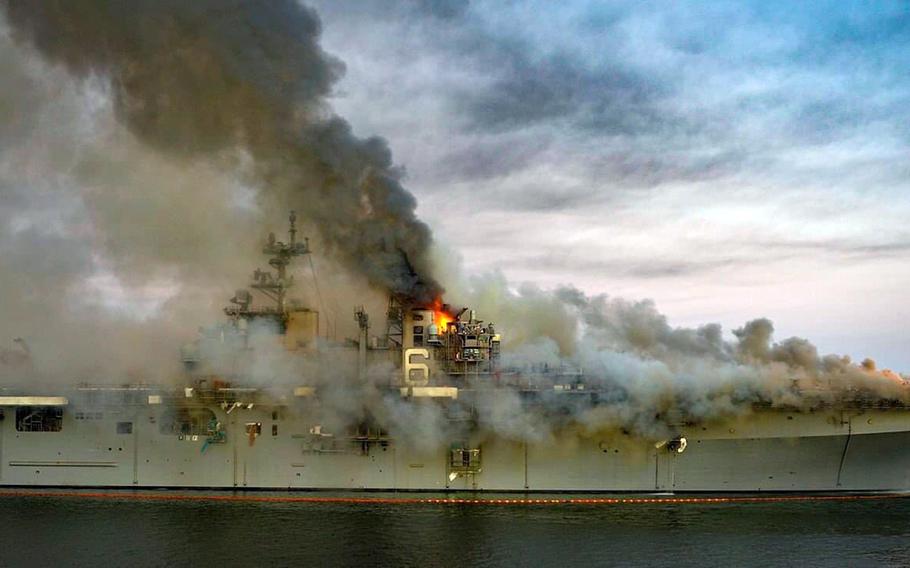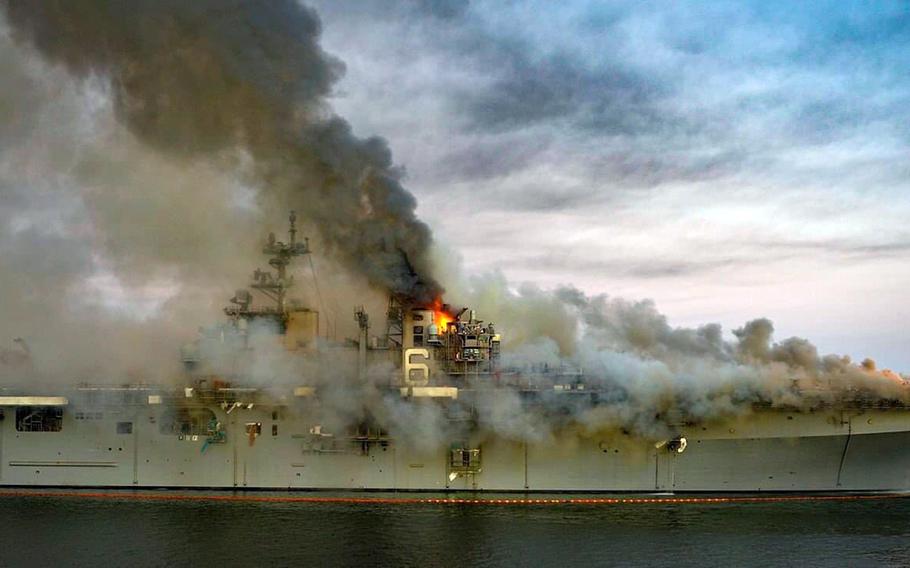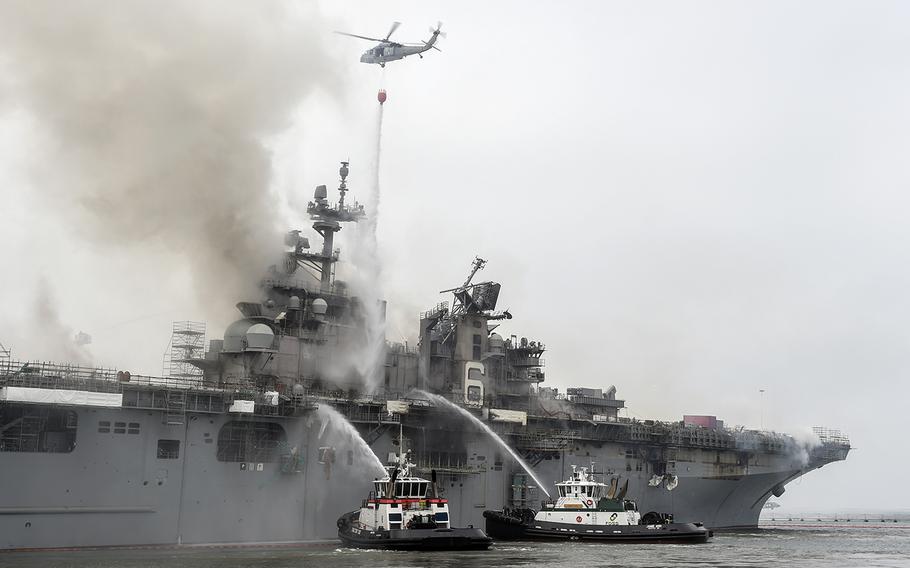 Donations for displaced sailors who lost possessions in the fire on the USS Bonhomme Richard are flowing in from the community, according to relief organizations in San Diego.
Naval Base Point Loma is providing emergency accommodation for 84 sailors who fled the vessel after a devastating fire broke out Sunday morning, said Senior Chief Petty Officer Jeremy Domagalski, a Bonhomme Richard sailor who is helping care for his displaced crewmates. The fire is believed to have started in the ship's cargo hold.
As of Monday, 34 sailors and 23 civilians had been treated for minor injuries while firefighters battled the fire aboard the ship for a second day, said Lt. Cmdr. Nicole Schwegman, a spokeswoman with Naval Surface Force, U.S. Pacific Fleet. Of the 17 sailors hospitalized Sunday, five remain there for observation and are in stable condition.
The sailors who fled the vessel have lost all their possessions, Domagalski told Stars and Stripes in a telephone interview Monday.
"All they have are the clothes on their backs," he said.
Despite the trauma, the sailors are still putting in 12-hour shifts fighting the fire or providing support to the effort, he said.
"I'm right next to [the Bonhomme Richard]," he said. "They have helicopters going back and forth with the water trying to put the fire out."
The community is supporting the stricken sailors, Domagalski added.
"Sailors from other ships have rallied around and even the local community firefighters are helping," he said.
The Fleet and Family Support Center San Diego on its Facebook page Monday warned people to avoid scammers seeking donations for the sailors. It listed USO San Diego, the Navy-Marine Corps Relief Society and the Support the Enlisted Project as legitimate organizations seeking to help them.
USO San Diego executive director Ashley Camay said by phone Monday that people can drop donations off at its Liberty Station location. Donations are already flowing in and there have been many calls from people seeking to donate, she said.
Those who want to help can drop off toiletries, gift cards to replace lost uniforms, food items or monetary donations there seven days a week.
"The USO can be the vetted resource for them to have a positive impact on these service members," Camay said.
On Sunday night the USO delivered six pallets of water bottles for firefighters at the pier.
"Today we did a drop to Naval Base Point Loma where the service members displaced form the ship are residing," she said.
People can also donate online at https://sandiego.uso.org and https://www.nmcrs.org.
robson.seth@stripes.com Twitter: @SethRobson1