San Antonio base delays coronavirus town hall, bans guests from basic training graduations
---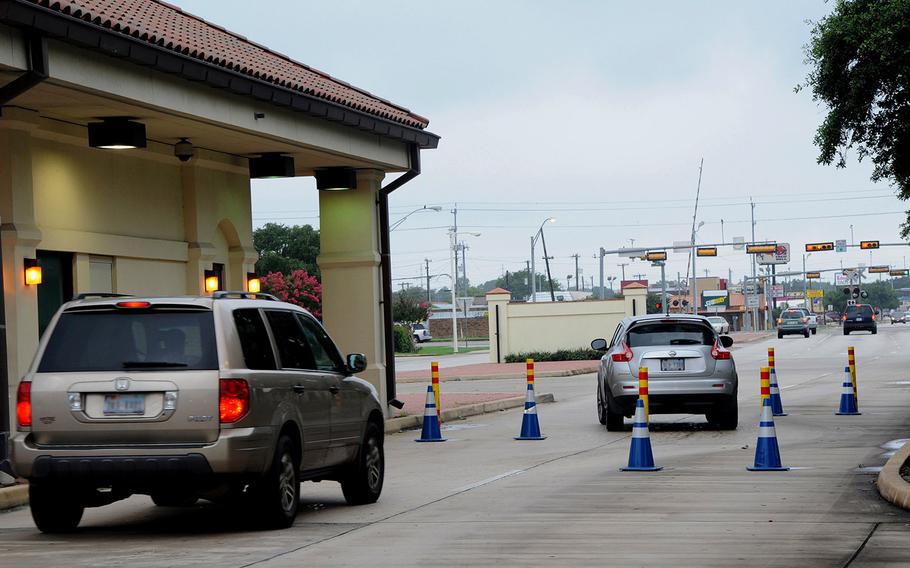 AUSTIN, Texas – An online town hall for residents of Joint Base San Antonio, Texas was moved to Wednesday evening to allow for leadership to have a better understanding of the rapidly changing procedures to prevent the spread of the coronavirus, according to the base public affairs office.
The primary concern was the ability to provide clear answers regarding graduation ceremonies for basic training that occur on base nearly every Friday. Base officials announced Tuesday that only mission essential personnel can attend ceremonies and guests and family members who would have attended are encouraged to watch a livestream on the 37th Training Wing's Facebook page.
• See more coronavirus coverage from Stars and Stripes.
"It is our responsibility to keep our force, our families and our base communities safe," Brig. Gen. Laura Lenderman, 502nd Air Base Wing and Joint Base San Antonio commander, said in a statement. "These force health protection actions are necessary to ensure mission readiness for our forces and their families."
Base officials will continue to monitor and discuss the situation with medical experts to determine when guest attendance at graduation events will resume, according to a news release.
Meanwhile, the base is accepting a new round of repatriated Americans who were exposed to coronavirus while aboard the cruise ship Grand Princess. The ship docked in California on Monday and 98 people arrived Tuesday at Lackland Air Force Base, which is part of the joint base, to undergo a two-week quarantine, San Antonio City Manager Eric Walsh told the city council during an emergency meeting Wednesday morning.
Another plane carrying 120 people is expected at the base Wednesday.
Quarantine protocols are expected to be part of the town hall discussion, because the military community in San Antonio, as well as the larger civilian population, have expressed concerns that people quarantined will be released and spread the virus throughout the city.
Last month, a still-infected woman repatriated from China was released from quarantine, checked into an airport hotel and then visited a local mall, fanning the flames of those fears. The mall was closed for cleaning and has since reopened.
Walsh said the city has asked the Department of Health and Human Services to ensure all people in quarantine will fly in and out of Lackland, instead of being released into the local community to travel home.
Texas Gov. Greg Abbott released a statement Wednesday assuring no one who is not a Texan will be released to a local or state health facility so resources are not taken from Texans who have or might contract the coronavirus or are dealing with other health issues.
Health and Human Services also assured Abbott that they are working to send non-Texans to their home states as quickly as possible so they can receive care there, according to the statement.
Joint Base San Antonio consists of three large military bases that are geographically spread across the south Texas city. Lackland Air Force Base is in the southwest portion of San Antonio while Randolph Air Force Base is in the northeast. The Army's Fort Sam Houston is more centrally located within the city. In total, the joint base supports about 47,000 active-duty service members.
Thayer.rose@stripes.com Twitter: @Rose_Lori
---
---
---
---