Russian bombers intercepted off Alaska's coast
---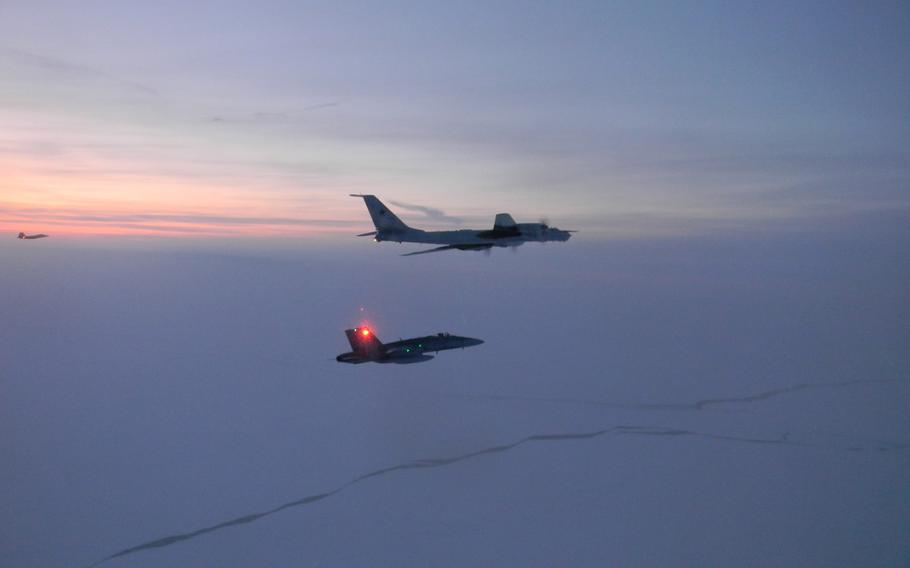 WASHINGTON — American and Canadian fighter jets intercepted a pair of Russian reconnaissance planes in international airspace about 50 nautical miles off Alaska's coast on Monday, the North American Aerospace Defense Command announced Tuesday.
American F-22 and Canadian CF-18 fighter jets intercepted the two Tu-142 Bear maritime reconnaissance turboprop aircraft over the Beaufort Sea north of Alaska, NORAD said. The Russian planes were intercepted after entering the Alaskan Air Defense Identification Zone, which extends roughly 200 miles from Alaska's coast.
U.S. and Canadian aviation officials expect any aircraft entering their air defense zones to identify themselves in the interest of national security.
NORAD said the Russian aircraft remained within the Alaskan Air Defense Identification Zone for about four hours and they were escorted the entire time. The planes never entered American or Canadian sovereign territory, which extends 12 nautical miles out from the nations' coasts.
The fighters were supported Monday by an American KC-135 airborne fuel tanker and an E-3 Sentry AWACS radar and surveillance plane.
Air Force Gen. Terrence J. O'Shaughnessy, the chief of NORAD, which is responsible for defending territory over the United States and Canada, said the intercept showed NORAD's ability to defend its airspace.
"NORAD continues to operate in the Arctic across multiple domains," he said. "As we continue to conduct exercises and operations in the north, we are driven by a single unyielding priority: defending the homelands."
Intercepts of Russian aircraft off the coast of the United States and Canada, especially near Alaska, are a relatively common occurrence. Russian aircraft routinely fly into that area on training or surveillance missions. Last year, NORAD intercepted nuclear-capable Russian bombers in the area on several occasions without incident.
U.S. defense officials have said they expect more such incidents as Russia and other nations commit more military assets to the Arctic region.
O'Shaughnessy told the Senate Armed Services Committee last month that the United States "had no choice" but to improve its homeland defense posture in Alaska as Russia bolsters its posture in the Arctic.
Dickstein.corey@stripes.com Twitter: @CDicksteinDC
---
---
---
---