Ruling a step forward for gay servicemembers, but questions remain
by
Steven Beardsley
July 1, 2015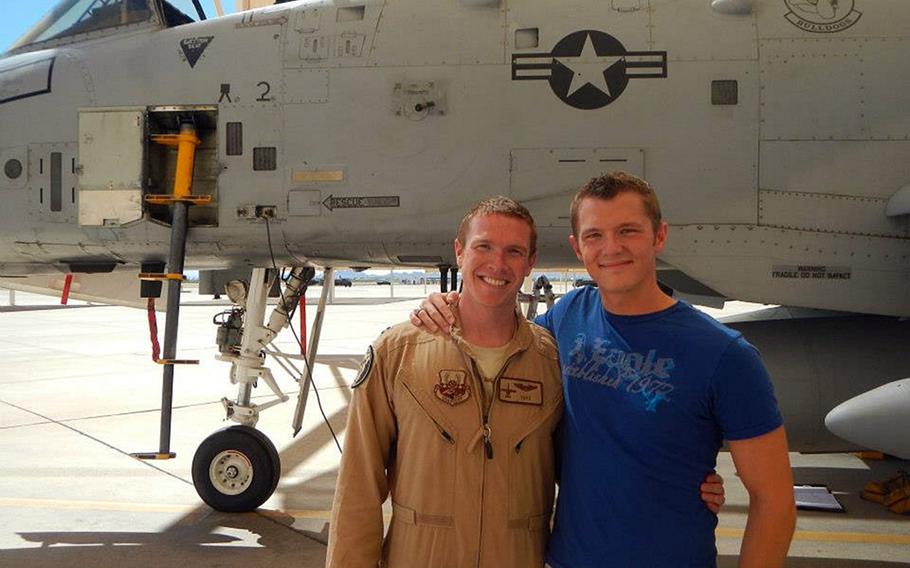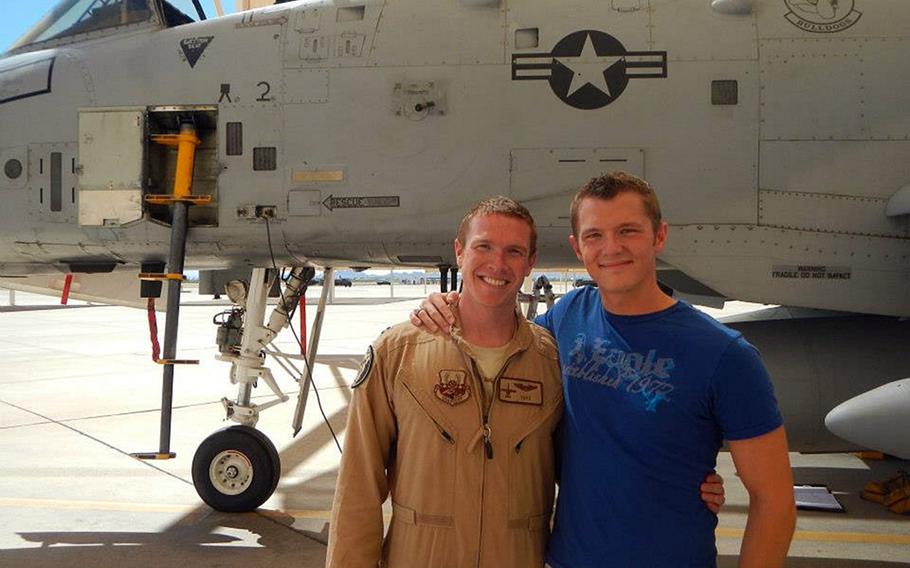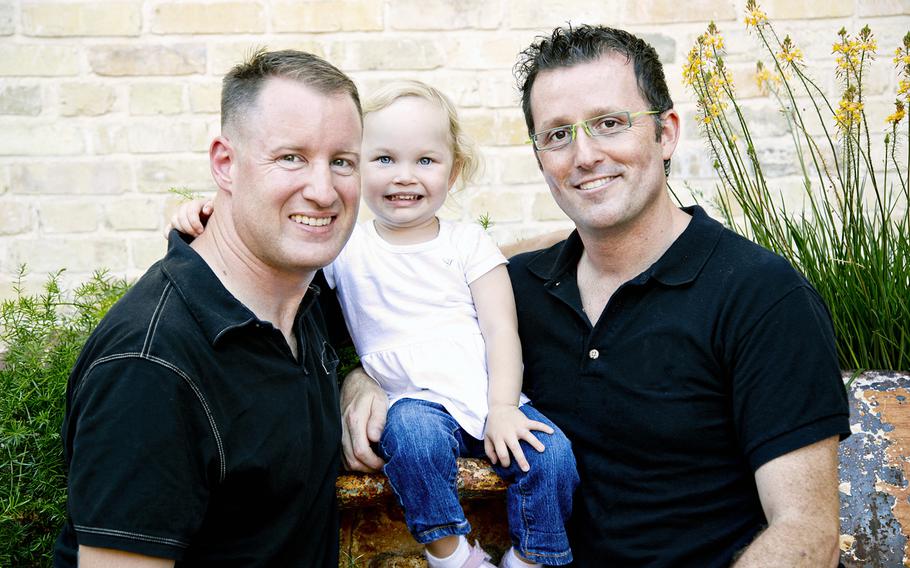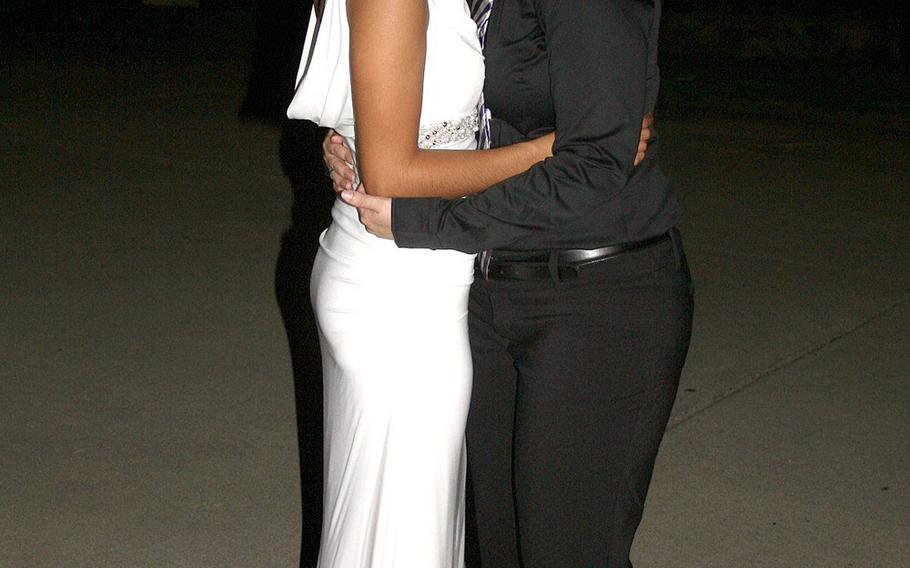 NAPLES, Italy — When Army Lt. Col. Josh Hawley-Molloy arrived for duty in San Antonio with his husband, Johnathon, and their 2-year-old daughter, Kylie, he wondered how his family would fare in a state that didn't recognize their marriage.
"One of our big fears was that we would not be able to make decisions for each other, that our parental rights would not be recognized," Hawley-Molloy said.
His fears were calmed in part Friday, after a landmark Supreme Court decision legalized same-sex marriages across the United States. Servicemembers in states that refused the benefits of marriage to same-sex spouses now say they're breathing easier — even as some states drag their feet on implementation and look to keep other discriminatory laws in place.
Some states lack protections for gay employees in the private sector, for example, a problem for same-sex spouses of servicemembers. So-called religious freedom laws, which allow businesses to cite religious beliefs to refuse services, have become more common across the U.S. Adoption rights and birth laws also remain sticky issues.
The biggest gains for same-sex military families stationed in states such as Texas, Georgia and Kentucky were guaranteed recognition of marriage by hospitals, the right to inherit from their spouse and access to Department of Veterans Affairs benefits.
The 13 states that prohibited same-sex marriage before Friday's ruling are home to more than a quarter of the total active-duty military population, according 2013 military statistics. That figure doesn't include reservists and veterans.
Friday's ruling had little bearing on the Defense Department itself, which recognized same-sex marriages and extended benefits to same-sex spouses in 2013, after the Supreme Court struck down part of the federal Defense of Marriage Act. That decision opened up benefits, including health care, ID cards and access to base privileges like the commissary, and the ability to join a partner stationed overseas.
But for gay servicemembers stationed in the South and Midwest, recognition often ended at the base gates. Some hospitals, particularly those in rural areas, were not required to recognize same-sex marriages, forcing couples to draw up medical powers-of-attorney to ensure they could make decisions for one another during an emergency.
Army Spc. LaReina Gomez-Lorraine said an unexpected visit to an emergency room outside the base was one her biggest concerns after she received orders to the 14th Combat Support Hospital at Fort Benning, Ga.
"There's that fear of, say you get in a car accident or, God forbid, something were to happen, I wouldn't be able to sit at her bedside or she at mine," she said.
Other families felt the consequences of the VA policy of linking its benefits to state law, including home loan guarantees, burial rights and death pensions. On Monday the agency confirmed it would open those benefits to all servicemembers, regardless of state.
Tyler Haugseth, a former Air Force officer and husband of an active-duty officer in San Antonio, said clarity from the VA would've been helpful months ago when the couple were visiting lenders for a home loan.
"In all cases, the office had to go up to their management and say, 'What do we do with this couple? They're not recognized in the state,'" he recalled.
Ashley Broadway, president of the advocacy group American Military Partner Association, said the ruling changes the need for such preparation.
"With the Supreme Court decision, now no matter what state a servicemember moves to, their marriage will be recognized, which in itself gives a peace of mind," she said. "There are federal protections in place wherever they go and wherever they travel."
Some concerns remain for same-sex military families.
Adoption and birth issues can be problematic. Many states require that only biological parents be named on a birth certificate. That's a problem for lesbian couples in particular, who are often forced to go to court to seek a "second-parent" adoption, an expensive workaround that gives normal parental rights to the non-biological parent.
The military follows state law for births in on-base hospitals, Broadway said.
Those who choose surrogacy or adoption face similar problems. While Friday's ruling is expected to open adoption to same-sex couples across the U.S., full parental rights aren't guaranteed.
Texas, for example, requires the supplementary birth certificate created for adoptions to name a man and a woman as parents. That means that only one parent in a same-sex relationship will have full rights without a court order saying otherwise.
Hawley-Molloy said the birth certificate for their daughter, whom they adopted in Hawaii, names both of them as parents. Yet whether both have full parental rights in Texas remains unclear.
After last week's Supreme Court ruling, Lambda Legal, an organization that advocates for gay, bisexual and transgender issues, recommended non-biological parents in same-sex marriages continue to seek adoption or court order to ensure parental rights.
Gomez-Lorraine, in Georgia, said she and her wife are considering having a child — and mulling the legal work involved. It's another reminder that Friday's ruling was one more step in a long process, she said.
"It's a huge win, but the fight's not over," she said. "It's kind of like, 'OK, let's see what's going to happen next with this.' "
beardsley.steven@stripes.comTwitter: @sjbeardsley